Finally the time has come. All those months of stocking up on baby stuff are over. Your bundle of joy is home with you, and you couldn't be happier. But there's just one problem: you're more exhausted than you ever thought possible. How come no one coached you on how to get sleep with a newborn at home?
Screaming babies and night feeds aren't exactly conducive to getting the rest you need to function, let alone recover from childbirth and take care of your other obligations. But no matter how tired you are, it's hard to sleep when you know you need to be up in an hour.
Your brain won't stop reminding you of the laundry, dirty dishes, and everything else you could be doing while Baby naps. Or, perhaps you think too hard about the fact you need to get to sleep. Either way, by the time you finally doze off, Baby is awake again!
This is many new parents' reality But it doesn't have to be this way. I first became obsessed with quality sleep as a stressed student. By the time I became a parent, I already had an arsenal of tricks ready to go. If this is the first time you've really struggled with shut-eye as an adult, take hope: there are things that CAN work!
With the right techniques, you really can get to sleep at a moment's notice. Here are some of my fave tips on better sleep. Try them to see which make a difference. If you still need more inspiration on how to get sleep with a newborn, I'll link to other posts on sleep at the end.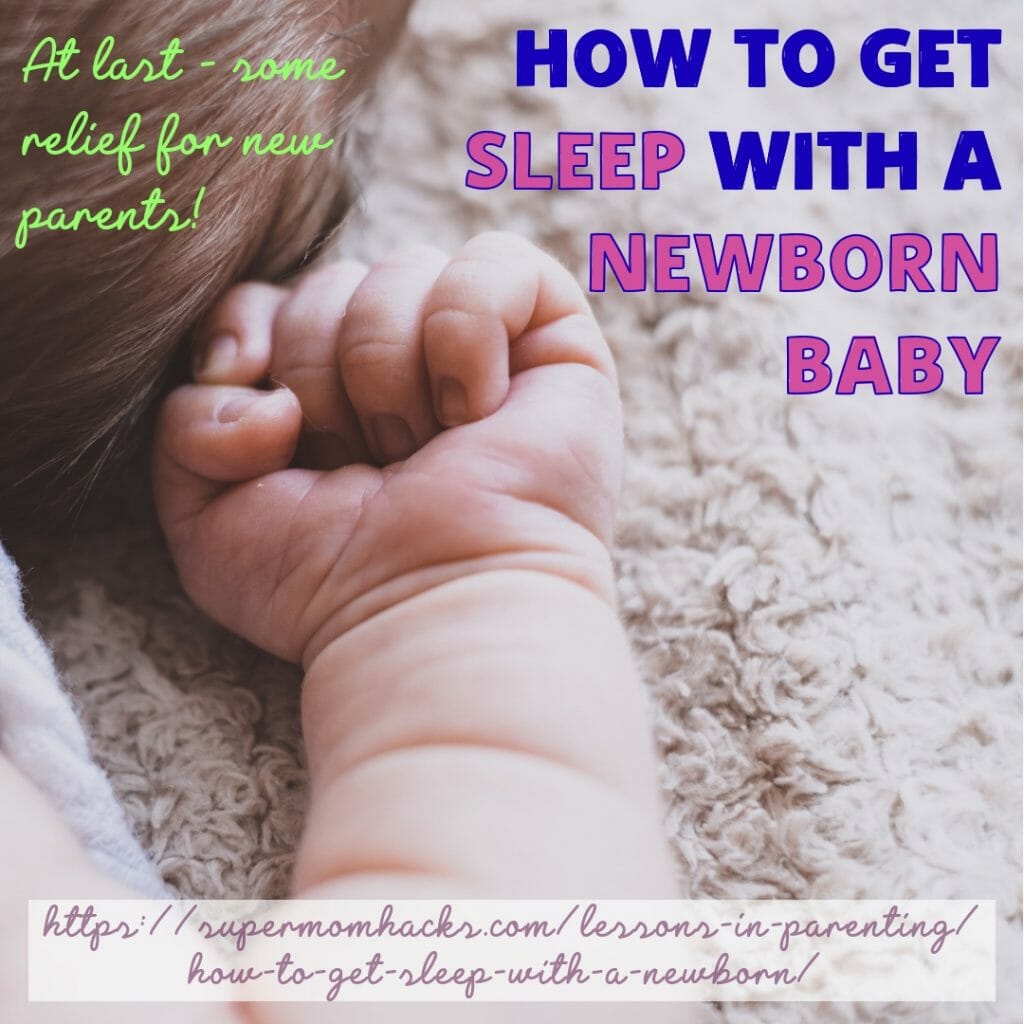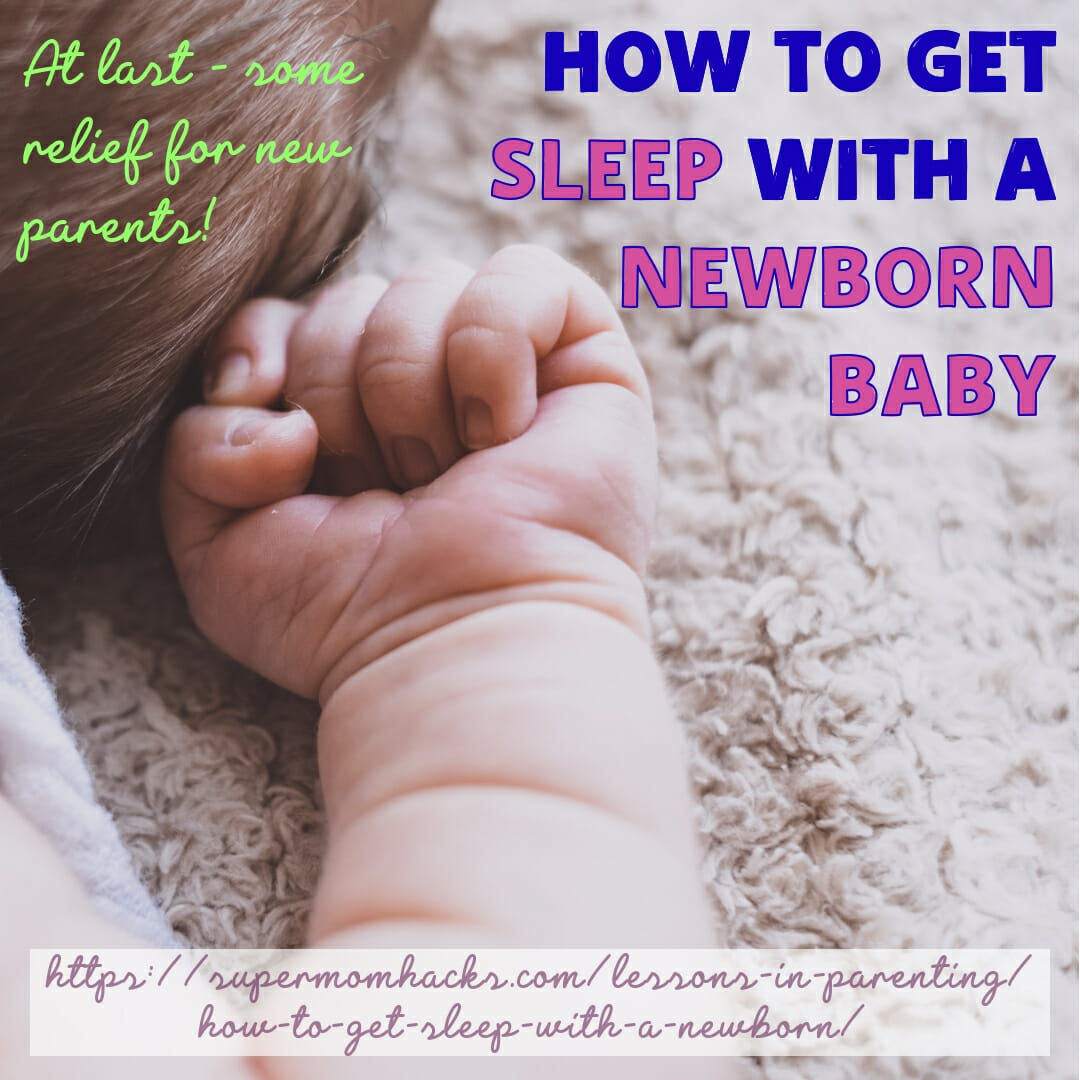 This is a collaboration post. However, please know I stand behind everything written here, and only include links to products/services/resources I'm willing to recommend personally.
How to Get Sleep with a Newborn Baby:
Block out that light!!!
First things first: Sleep works best when our surroundings are dark. That's basic biology.
Our body clocks depend on the sun. That's why many of us struggle to get up on dark winter mornings, and find it hard to nap during the day. Even with the curtains shut, that light could be bright enough to keep you awake.
As such, block out all that light for starters. A cheap and easy way to do this is to invest in a sleep mask. You want a decent one that's thick, with solid elastic and an extra flap of fabric at the bottom edge. (This blocks light creeping in at the bottom.) If you also like quiet, some masks have a front pocket to store your earplugs.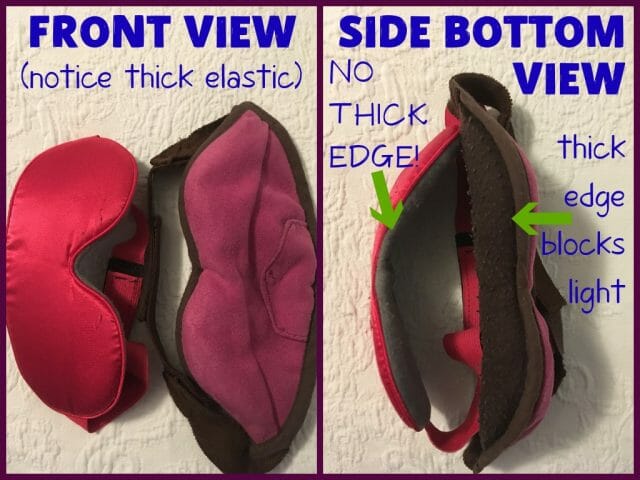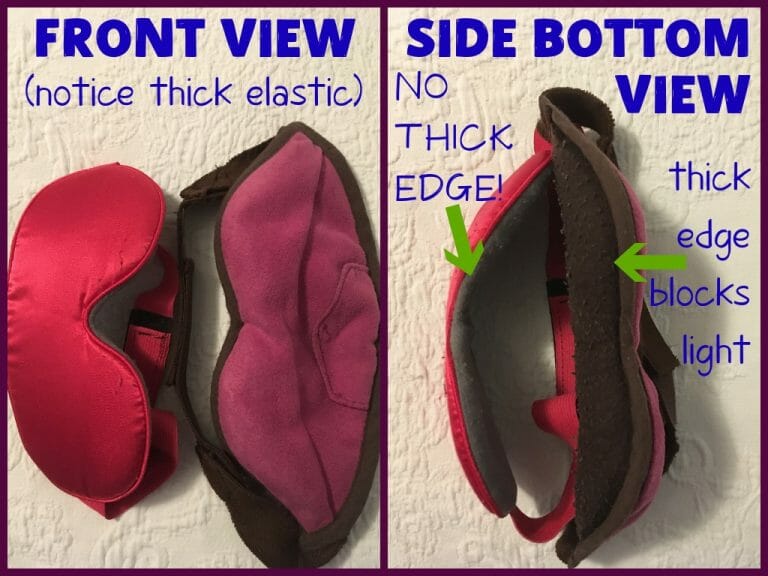 You also need light-blocking shades, curtains, and/or blinds. I have all three in our bedrooms, and keep them drawn all the time. That way, we all get the sleep we need when days are long. And whenever someone's sick, a nap-friendly dark room is ready. With these drawn, and your eye mask on, you'll sleep like it's night even during the day.
Relax and unplug
Even a dark room won't help if you can't silence your thoughts. This means you may have to work at mentally unplugging for the night. Give these a try:
Keep running to-do lists. It's hard to remember things when you're sleep-deprived, so they're always floating around in your brain. Writing them down clears your head. You could start a Bullet Journal if you feel super-scatterbrained (as most new parents do),. Or place a notepad/pen next to your bed.
Is Baby's chatter keeping you in "alert" mode? Again, get some earplugs and USE THEM. Trust me, if Baby really needs you, you WILL hear that cry. Sleep is more important than hearing Baby's cute gurgles.
Others find calming background sounds from a

noise machine

helpful. To test out the idea first, tune an old analog radio to the static between stations. While my hubby and I prefer sleeping in silence, we got each girl her own own noice machine at birth, and they LOVE them. (Theirs is no longer available, but if I ever need a replacement, I'd get

this one instead.

)
Still others use calming scents. Though not for us (Dear Husband's nose is super-sensitive), many people find lavender relaxing and sleep-inducing. Adding lavender to something like these

Aromatech scent diffusers

could soothe you to sleep; I know people who swear by this. (Another way to accomplish this is by tucking dried lavender sprigs in that little front-pocket on your eye mask before bed.)
Or try guided relaxation. My Fitbit Charge 2 comes with a built-in "Relax" breathing routine that I do every time I crawl into bed. (So does

the newer Charge 3 model

.) As soon as I'm done with the program, I usually doze right off.
Get comfy
When Baby's on a feeding schedule, you won't have time to toss and turn getting comfortable. So just skip that step:
You'll have better luck sleeping on a bed than on a sofa or in a rocker. When the girls were little, I had their future twin beds set up in their rooms even before the crib! It was more comfortable for nursing them to sleep at nap time. Plus, it was faster and easier for me to catch some shut-eye alongside them after I moved Sleeping Baby to her crib.
You just can't fall asleep if your feet are too cold or too hot. If it's summer and they're too hot, sit on the edge of the tub and run cold water over them. Too cold? Keep some slipper-socks on your bedside table. Now that it's winter, I slip on my blue fuzzies each night.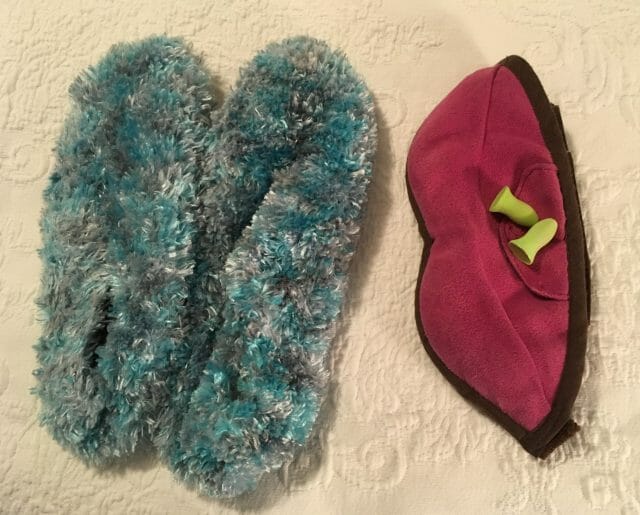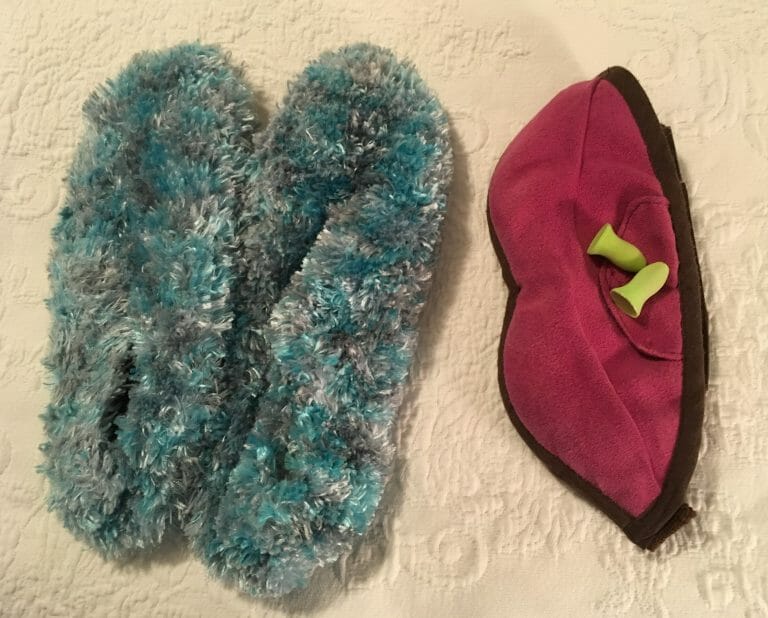 Keep the right pillows handy. When I was nursing the girls on their future bed, I found I needed two pillows under my head to be at the right height. And ever since using pregnancy pillows while pregnant with Essie, I can't get to sleep unless I have something propped between my knees. To this day, I keep a small pillow right next to my bed, where I can reach down for it at bedtime.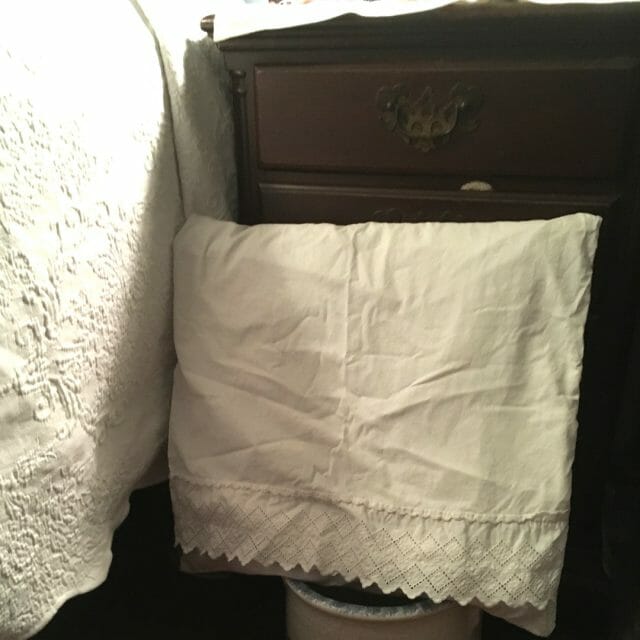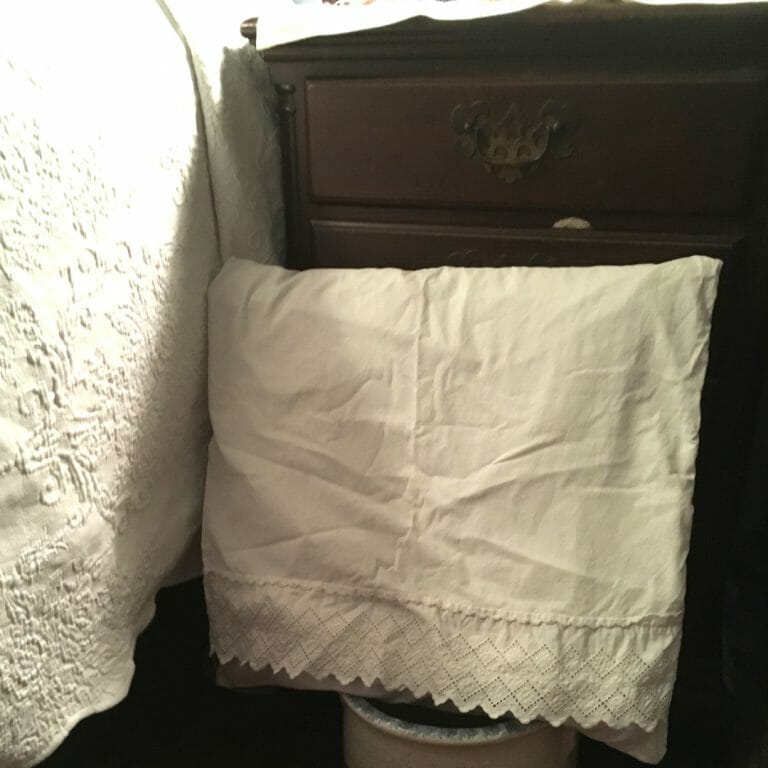 And for goodness' sake, you need

comfortable sleep clothe

s

! Button-down fronts are easiest for night nursing, but whatever you do, treat yourself to some new PJs. After generating a new life, you deserve it! And besides, you'll need something that fits your new body while you recover from labor/delivery (and possibly a C-section). Trust me. some pretty new sleepwear will cheer you up on those nights when you dread having to get up in a few hours for that next feeding.
Still need more ideas?
OK, those of you mamas (and dads) who've already been around this block once or twice: What are YOUR best tips on how to get sleep with a newborn at home? Let us know in the comments!
If you enjoyed this post on how to get sleep with a newborn, why not share it with others by pinning this image?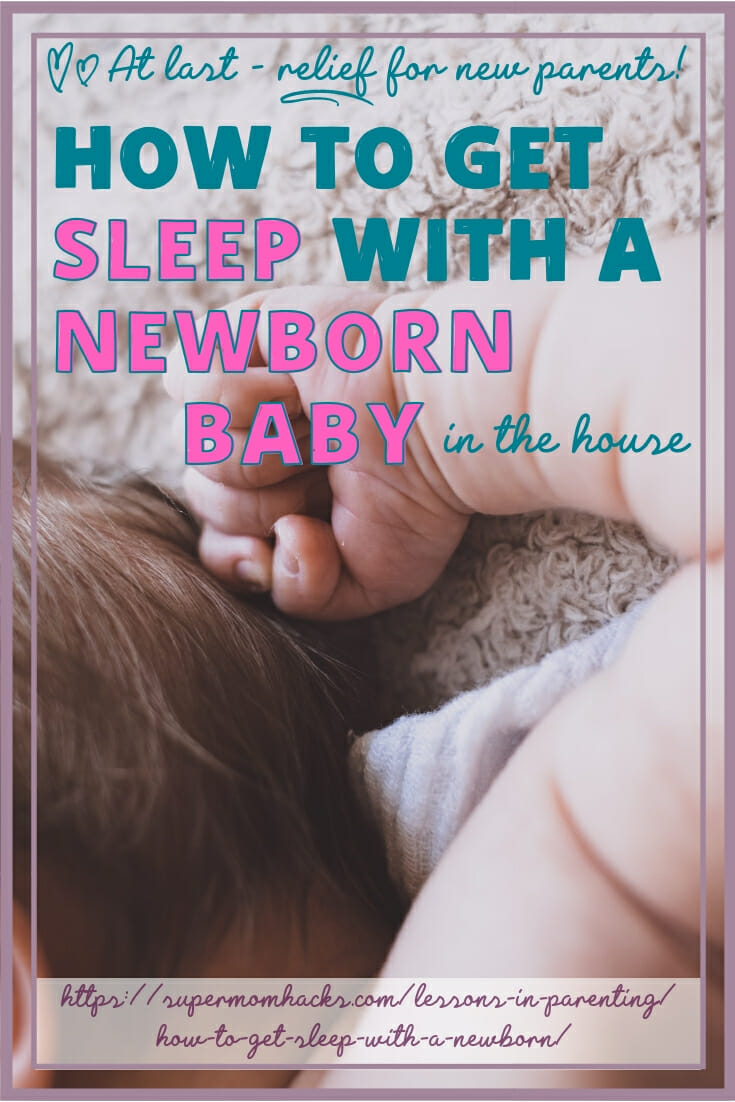 NOTE: This site contains affiliate links. I may earn a small commission from any purchases made through affiliate links, at no additional cost to you. For more information, please read the full disclosure/privacy policy.