My Seven Favorite Ways to Save Money on Groceries:
I love a morning of leisurely shopping as much as anyone. But ever since I became a parent, running errands has become more like a tactical strike operation. While single me would spend an hour of Sunday afternoon browsing store ads for the best deals, parent me has to get the grocery shopping done as efficiently as possible.
Whether wrangling toddlers, trying to squeeze in errands between school drops, or scheduling a grocery run around everyone's Zoom meetings for working at home and homeschooling, I'm betting other parents can relate. That's why I'm sharing some of my fave grocery shopping tips, for saving as much time and money as possible on your routine errands.
Give these supermarket shopping hacks a try, and you'll start saving a ton of time AND money, too!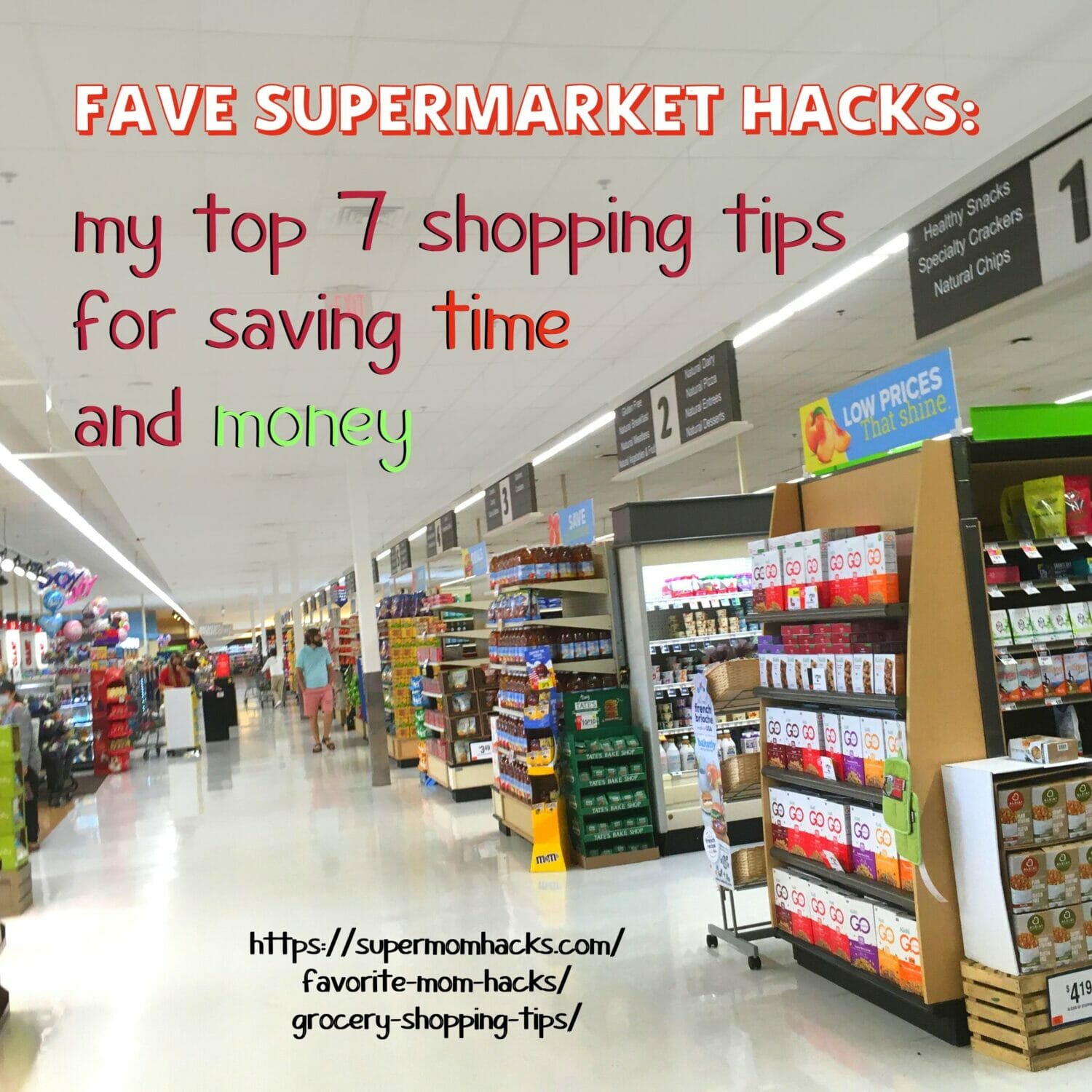 My 7 Favorite Tips for Saving Money on Groceries (Save Time, Too!)
Smart Grocery Shopping Tips – Tip #1: Make your list first
The best way to speed your way through the supermarket is to write down your grocery list before you go, and stick to it when you get to the store.
If you don't already have a running list going in your household, now's the time to start one. Especially since so many of us are trying to limit trips out of the house these days, it's easy to forget those two items you ran out of five days ago, unless you wrote them down at the time.
There are a few ways you can do this. My husband and I both keep running grocery lists on our phone, so we know we won't forget to bring it to the store with us.
If you have a central location in your kitchen, you might also keep a running list there. For example, we have a small magnetic grocery list pad that hangs on the door connecting our kitchen to our garage. This way, it's easy for the whole family to jot down items as we use them up, and equally easy to grab the paper list (or take a picture of it) on our way out the door.
Efficient Grocery Shopping – Tip #2: Organize your list
While making a list is a great start, one way you can take this time-saving one step further is by putting your list in order based on your store's layout. (This is easiest to do if you've got a running list on your phone, where it's easy to cut/paste the list items to reorder them.)
For example:
Many stores have shoppers enter the produce section first, then go past the deli/butcher's/seafood counters, then past the packaged meats, with canned goods and boxed goods on interior shelves, grouped by categories.
In stores without a separate pharmacy section, household/paper goods, health and beauty items, and pet supplies are toward the end of the aisles, with frozen goods, dairy, and alcoholic beverages often at the very end of the aisle layout.
The store's baked goods are sometimes near the dairy; in other stores, the bakery is next to the produce section.
Just by putting the produce items at the start of your list, the meats and non-refrigerated items in the middle, and the household goods, then frozen goods, then dairy items at the end, you've already trimmed your time in the store. Being able to check items off your list in order as you go decreases the chances you'll forget something, or have to backtrack to grab it.
As you're getting ready to head out the door, taking a few minutes to put your list in order based on your store's layout will help you spend less time on the actual shopping once you get there.
Healthy Grocery Shopping Tips – Tip #3: Shop and eat in season
One of the easiest ways to save money at the store is by purchasing in season. You're going to pay a lot more for zucchini or summer squash in the dead of winter. Other summertime favorites, like corn on the cob or fresh peaches, you may not be able to find at all.
This isn't to say you can't eat any fruits and vegetables in the dead of winter, for example. But buying winter squashes and apples in the fall is going to be a less expensive, tastier proposition than trying to buy them in the dead of summer.
RELATED POST: Winter Squash Made Easy: How To Cook Winter Squash in Less Time
Trying to plan your meals around seasonal favorites will not only mean fresher, tastier food on the table, but also bigger savings for you, because your store doesn't have to go out of its way to find things that were probably grown halfway around the world.
More Healthy Shopping Tips – Tip #4: Shop and eat local
Even better than just eating foods in season is trying to eat LOCAL foods in season. Many local stores and regional chains will partner with area farmers and other agricultural producers to carry their products in-store. When you make a point of "shopping local" this way, you can save money AND help support local businesses.
These partnerships are really a win-win-win for everyone. Local farmers get a convenient market for their output, and can feel good about knowing they're helping to feed their local community. Local stores can know that they're helping to support other local small businesses while helping their consumers purchase some of the freshest foods available to them.
And best of all, shoppers can eat more healthily, because the food they're consuming is farm-to-table fresh and has a smaller global footprint. If you've never tried them, trust me: it's hard to beat the taste of fresh vegetables that are barely 24 hours from field to table.
Ways to Save Money on Groceries – Tip #5: Watch for closeout savings
Something every consumer should know is where their fave supermarket hides its clearance items. Some stores will have just one of these, for all their household goods and dented cans and past-season items. Others will have several sections – one in the produce section, one near the bakery for day-old breads, another in the refrigerated foods section, etc.
Because most stores cannot sell items past their "sell-by" date, they'll drop the price and stash these items in a clearance section as they approach "sell-by" date. Other times, a store may overbuy on that week's circular specials (say, avocadoes or strawberries), and end up with produce that's becoming overripe before it's sold.
As long as you have plans to use it soon, shopping the clearance section is a GREAT way to save money:
If you're looking to make banana bread or guacamole that afternoon, you want items that area already ripe; the clearance pile is where you'll find bananas and avocadoes at peak ripeness.
The clearance pile is also a great place to snag, for example, bagged salads and other "convenience" foods whose price is ordinarily high. I won't buy packaged salads regularly because their price point outweighs the time I save on prep; but if they're on the clearance section, they can often be cheaper than buying the ingredients and prepping them myself.
I also love grabbing artisan breads from the clearance pile. Bread that's at least a day old is really what you want for making

French toast

, PB&J French toast, or

homemade croutons

; so I'd just as soon let the store age it for me, and snag it for 50-75% off regular price.
More Tips for Saving Money on Groceries – Tip #6: Don't shop hungry!
Never, EVER go shopping hungry! This is the #1 worst mistake you can make when grocery shopping. Going in on an empty stomach will leave you much more susceptible to impulse buys, purchasing excess snacks, and grabbing less healthy choices along the way.
If you really have to squeeze a shopping trip in when you're due for a meal, at least try to drink 16 oz. of water before you enter the store. Even better, carry around a healthy snack in your purse at all times, such as a small granola bar or bag of almonds. This can help to tide you over so you don't overbuy on junk food.
And finally,
Tips for Grocery Shopping On A Budget – Tip #7: Compare prices BEFORE you shop
The final tip I have to help you save both time and money when grocery shopping is to compare store flyers and weekly sales before you even leave home, so you know you're choosing the store with the best savings for what you need that week.
Some areas (ours included) send all the weekly supermarket flyers to you in your mailbox each week, whether you want them or not. At certain times of the year (e.g., Black Friday in our area), you may even get a freebie local paper paid for by the advertisers in your driveway, even if you're not a regular print subscriber.
But you probably have your favorite set of local stores already, and maybe even already have their apps on your phone. If you already know that one always wins for certain kinds of shopping, then by all means, shop accordingly. But it's also worth checking out their weekly flyers online every so often, to see if your favorite store is still the price-leader in the things you regularly buy.
What are your top tips for saving time and money when you're out running errands for the family? Let us know in the comments!
If you enjoyed these grocery shopping tips to save money (and time!) , please share by pinning this image!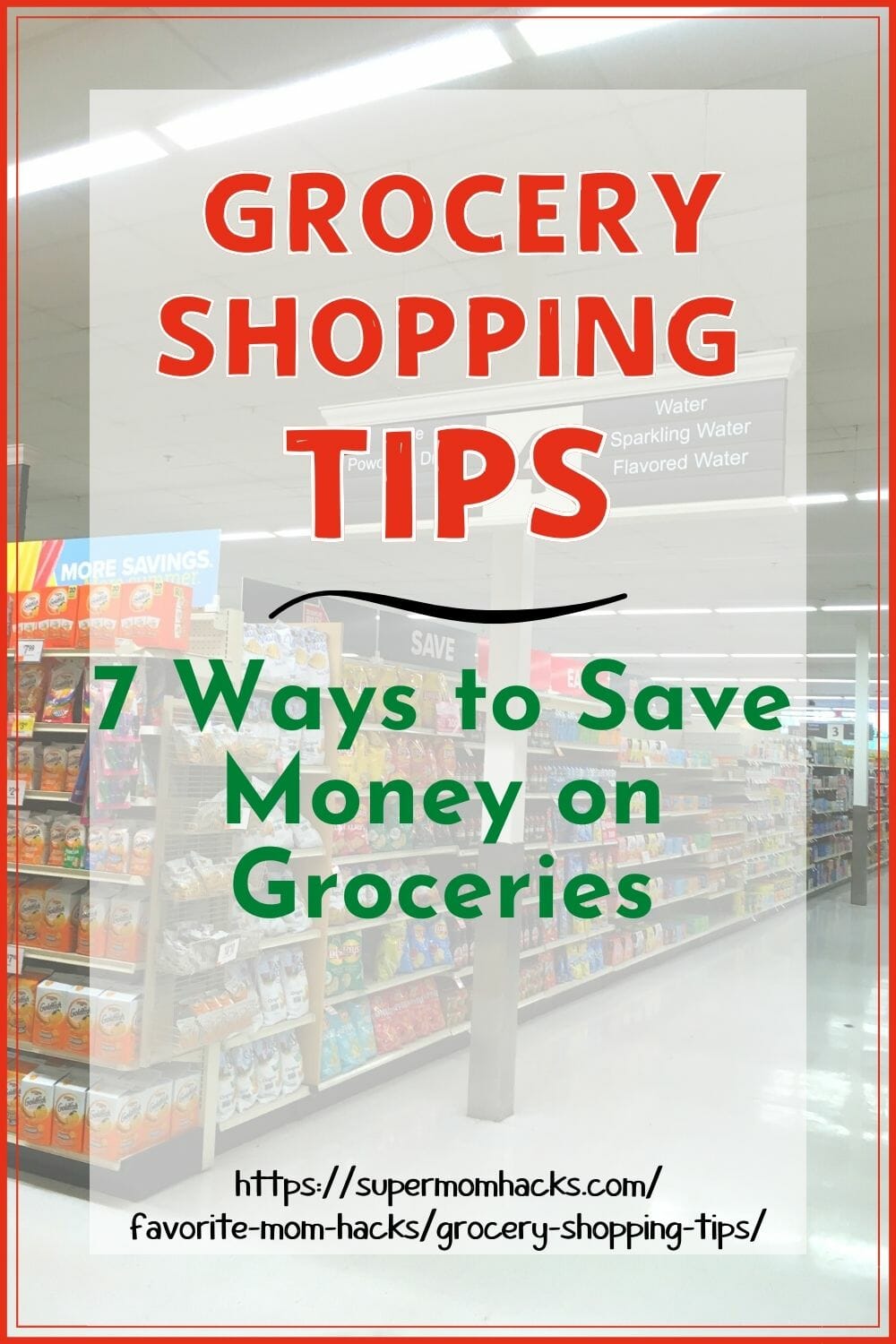 NOTE: This site contains affiliate links. I may earn a small commission from any purchases made through affiliate links, at no additional cost to you. For more information, please read the full disclosure/privacy policy.