How to Find High-Quality Affordable Furnishings Online:
Have you ever bought furniture online? It's a catch-22 that so many of us in the U.S., who used to rely on things like upscale national-chain department stores for furniture buys, now HAVE to resort to online buying because our local upscale department stores have either gone bankrupt, or closed our local store. My husband and I are in the market for a new sofa set this summer, and are struggling to figure out how and where to buy one. With so many local options near us closed just in the past year, buying furniture online is more tempting than ever.
So, if you've ever been intrigued by (but wary about) buying furniture online, you're in the right place. As we're learning in our early research on that new living room set, high-quality furniture often comes with a steep price tag (read: out of our reach). But we don't want to cheap out, either, which is what we did with our current sofa. We bought it like-new maybe 5 years ago, and the springs are already shot. (Plus, I've always hated the upholstery. But when you buy something in like-new condition, you get what you get. And to be fair, we did get it for a steal, at a local consignment shop.)
As we've been discovering so far, there are ways to buy high-quality furniture at more affordable prices. Hence, I'm going to share with you some of the useful tips I've come across so far, on how to purchase affordable home furnishings online.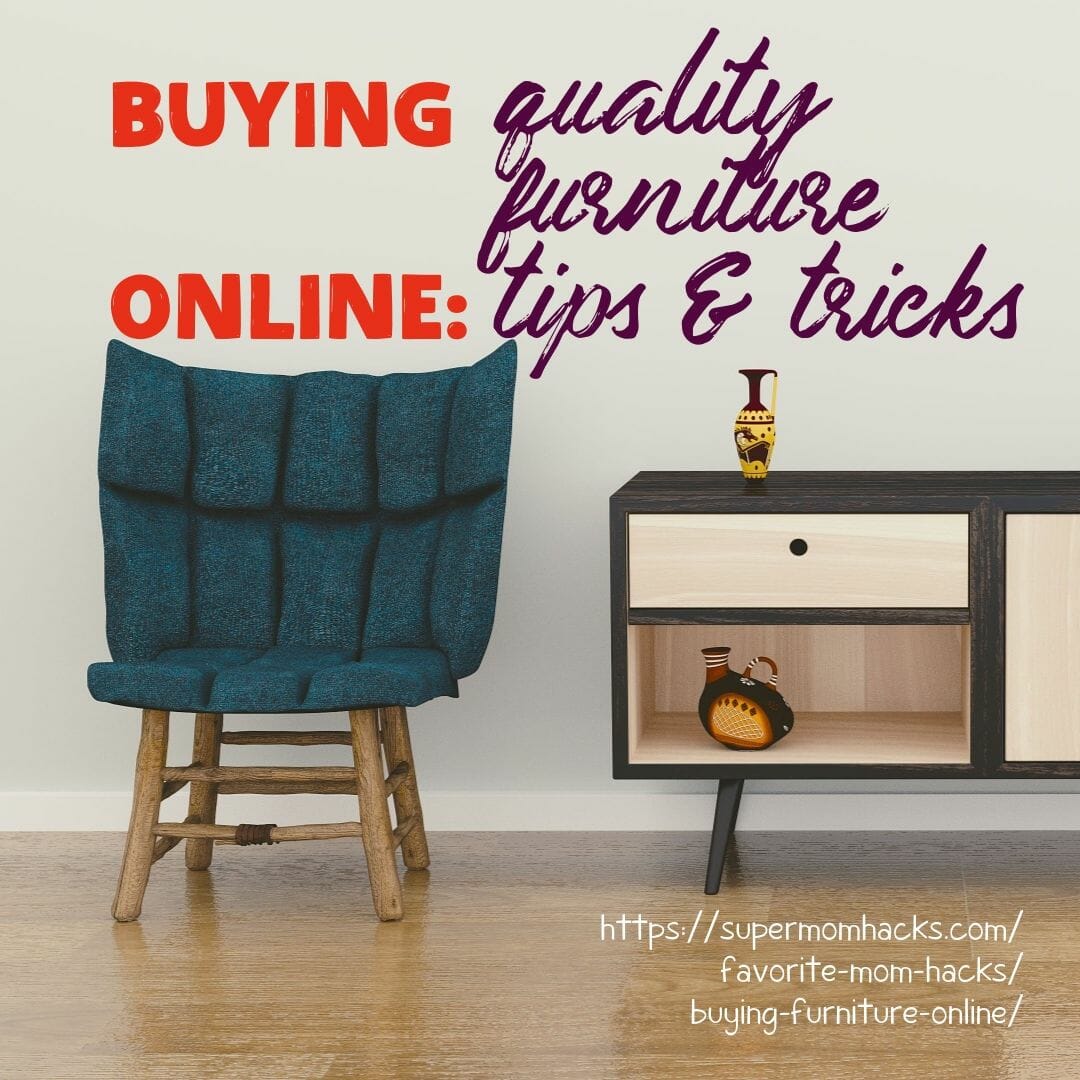 How to Save Money when Buying Furniture Online:
1) Wait and Watch for Sales
One of the best ways of getting quality furniture online at low prices is by looking out for discount periods and clearance sales. Online vendors and manufacturers will periodically offer discounts to buyers. These discounts can really be significant; sometimes, you can score deals for 50% off the original selling price, or even more!
But when, exactly, will these sales take place? If you've got a local furniture store near you, definitely sign up for their email list and follow them on all social media, as this is how you'll first hear about the best sales and coupons. (So I suppose this is technically closing the deal in person – but if not for the Internet, you wouldn't have learned about the super-sale in the first place!). Sometimes your local store might come out with crazy random coupons and sales, just to help improve their bottom line for that month.
But as far as national trends go, the general consensus is that late winter (think January-February) and late summer (think July-August) are the best times to score deals – and in many cases, you can even shop from home and place your order online! Why during these months? Well,
2) When buying furniture online, get creative
Another way of buying furniture at lower prices is by considering less-popular manufacturers with quality products. Newer manufacturers and less-recognized brands will normally sell their products at lower prices, compared to more established (and more recognized) brands:
With a little research into the exact type of furniture you're looking for, you can find online furniture sellers for great "hidden gems."
You can also find great pieces on auction websites. Again, think broadly – not just for your area, but elsewhere too.
And finally, don't forget about websites of consignment stores (not just in your area, but across the country!) for quality gently-used

wood furniture

or office furniture. (Unless allergies are absolutely no concern for you, I'd skip anything upholstered.) Many of the nicer ones will have websites where you can see pictures of each item, with complete details and price (as well as which location has the piece onsite.) Sometimes, they'll even transfer items from one store location to another for you, if that is easier.
Case in point: A few years ago, my mama actually researched new kitchen table sets by hunting online at a certain upscale consignment furniture chain near where I live. She found a handmade kitchen table plus four chairs that were perfect for her kitchen, for $600 – about 1/4 off the original price. And because she was driving to visit us anyway, she picked it up on her next visit.
My mama was fortunate to have a pickup truck with cap, so transporting her consignment-store steal back to her home was easy. However, if you're not so fortunate, North American Van Lines and companies like this can help you get your new furniture home. (And if you're buying online from someplace closer to home, they can probably deliver to your doorstep, for a modest delivery fee.)
3) If you can, inspect online furniture purchases before buying
Especially if you're considering anything in less-than-mint condition (e.g., scratch-and-dents, floor models, or Amazon Warehouse items), make sure that either
you can inspect the item before committing to it, OR
whoever you're buying it from has a good return policy.
The last thing you want is to buy a "scratch-and-dent" couch online, for example, only to find that you have to pay $300 in return shipping to return your $300 steal of a couch, when you decide that the huge tear across the back is really too much!
This is one reason that using the internet for research (but then checking out an item in person before buying) can be a good idea. With platforms like Craigslist or Facebook Marketplace, being able to check things out first (e.g., so you don't end up with solid-wood furniture that smells "smoky") is generally a given. But if you're not sure, it's always better to ask before plunking down your credit card number.
The one major exception is if you're hunting online to take advantage of a retailer's tailspin into bankruptcy. In these cases, returns and warranties are generally not available. So again, buyer beware – and make sure you're happy with your purchase before you commit. If you figure out after the fact that your new couch is actually 2 inches wider than the alcove in your living room where you'd hoped to plant it, too bad.
Your turn:
What about you? Have you ever bought furniture online? What great tips do you have for us as we sofa-hunt this summer, and/or for anyone else considering buying furniture online? Please drop us a comment and let us know!!!
If you enjoyed this post on tips for buying furniture online, why not share it with others by pinning this image?
NOTE: This site contains affiliate links. I may earn a small commission from any purchases made through affiliate links, at no additional cost to you. For more information, please read the full disclosure/privacy policy.