Steaming vegetables in the microwave is about as easy as cooking gets. If you haven't done this before – or if you wish your kids would eat more veggies – then microwave-steamed vegetables is a technique worth trying.
What you need
All you need is a microwave-safe bowl, a tablespoon or two of water, and a cover. If your bowl doesn't have a cover, you can use a plate or some microwave-safe wrap. My preferred cover is a silicone shield. It's reusable, and it seals to the top of the bowl in the microwave – maximizing the steaming effect in minimal time.
Microwave-Steamed Vegetables: The Basic Technique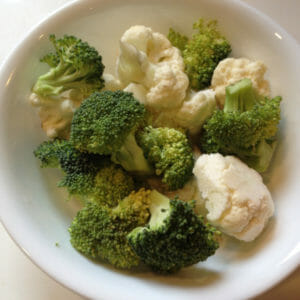 Family-favorite ideas to try:
Super-easy mashed potatoes
Are microwave-steamed vegetables a staple in your family meal prep? Let us know your tips in the comments!

NOTE: This post contains affiliate links. If you like what you've read here, please consider clicking on the links. All purchases made through affiliate links help to offset the costs of running this website. Thanks in advance for your support!