How to Maximize Space in Small Bathrooms:
Small bathrooms are fairly common, especially in older properties – and from a functional perspective, this fact is not particularly concerning. If a bathroom has everything it needs, then so what if it's tiny? But if you'd like to make that small bathroom look larger – while still retaining its important functionality – then there are actually ways to do this.
Ready to learn how? Here are some of my favorite hacks: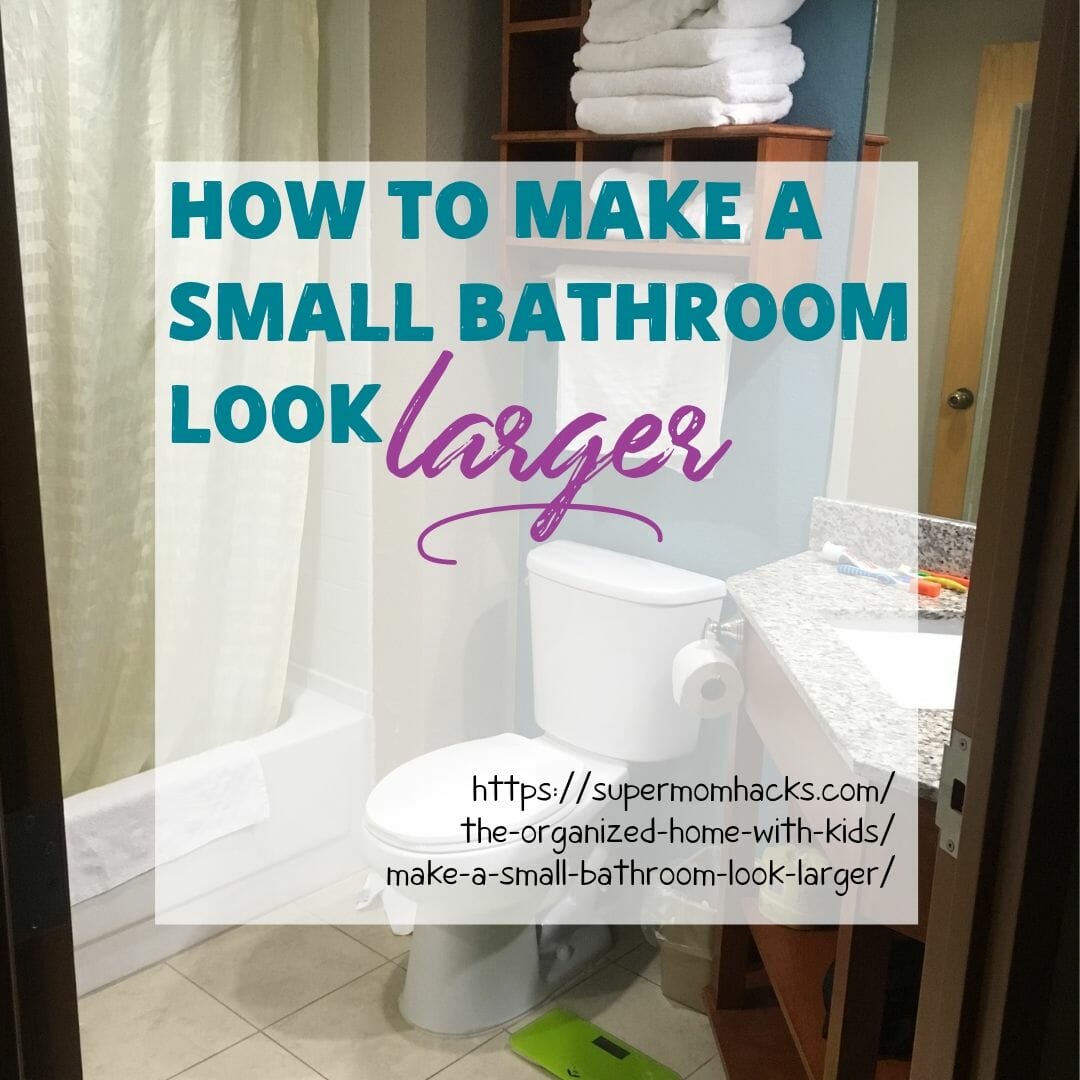 This is a collaboration post. However, please know I stand behind everything written here, and only include links to products/services/resources I'm willing to recommend personally.
Four Ways To Make A Small Bathroom Look Larger
1. Keep it light
One of the most fundamental rules of interior design is this: if you want to make a space appear larger than it actually is, choose light paint colors and a light-colored floor. White is of course the most conventional choice in this regard. But other light colors such as sand, beige, pale blue, and even light gray can also create the same effect.
You also don't need to skip color altogether in the room. Just use decorative touches to add color. For example, plants in bright pots, artwork, and even hand towels can all accomplish this. Because the girls' bathroom is all white with light beige accents, I've added rainbow-check curtains, a shower curtain with bright colored circles on it, and assorted towels in bright colors. This makes it a fun space for them, without dark walls or floors making the room seem any smaller than it already is.
2. Add mirrors
Another common design trick for adding space is to add mirrors – the larger, the better. This trick is especially well-suited suited to the bathroom, as all bathrooms generally contain at least one mirror.
Although full-wall mirrors along bathroom-sink walls are more often found in homes from the 1970s and 1980s than modern homes, I still love them (and keep them, or even reinstall them, whenever I can) for this very reason. They really do help to open up those smaller spaces, and make them feel bigger and less hemmed-in. And not only that, but if your bathroom lighting leaves a bit to be desired, those mirrors will reflect light off the light-colored walls, which will also make the room seem even lighter and brighter.
If you really want the most bang for your buck, turn an entire wall into a mirror with the help of experienced firms such as Capitol Glass. The wall behind your bathroom sink fixture(s) is the most obvious choice for such a feature. (For what it's worth, this also works wonders in other rooms. We have a mirror on the wall in our tiny dining room to make it appear larger, and in my former home, the floor-to-ceiling mirrored sliding doors on the bedroom closets were as practical as they were stunning, both in opening the space and in reflecting light.)
3. Try smaller fixtures
If you have a truly tiny space, tiny fixtures may be the only way to go. I remember a tiny bathroom my parents installed under a set of stairs once. There was barely room for a toilet in the little closet, let alone a sink. But they were able to find a small wall-mount sink that was maybe 16 inches wide by a foot deep. It was a fraction of the size you'd expect for a bathroom sink. But was the only one that fit into that closet while leaving room for the knees of the person sitting on the toilet. And because of this, it worked, where no other sink would.
From sinks and tubs to toilets and vanities, bathroom fixtures mostly come in standard sizes. This can be restrictive if you're working with a smaller space. However, many companies can provide smaller fixtures that may be more compatible with the overall space, and help the room to look far larger as a result.
In particular, it's worth considering "floating" fixtures, such as the wall-mount tiny sink my parents installed in that bathroom. This design style helps to reduce the amount of floor space that fixtures dominate; this in turn creates a larger, more open feel throughout the room.
4. Emphasize height
With a bathroom, fixtures usually finish around halfway up the space. This is, of course, necessary; bathtubs with high sides are hard to get into at best, and downright dangerous at worst. But the end result of relatively low fixtures is that the room can feel more cramped than it actually is.
This is why opening up the vertical space can trick the eye into thinking the room appears larger than it actually is. And you don't have to use a standard over-the-toilet rack to accomplish this effect. I used those in my apartment homes, but always HATED them. So I've been on the hunt for better storage options ever since.
Even a small wall-mount cupboard, or some classy open shelves above the toilet with a towel rod mounted underneath, can make the entire bathroom feel larger. If you have the space for it, look for a tall skinny cabinet to tuck between the toilet and sink, or between the toilet and shower. This will add much-needed extra storage with a minimal footprint, all while drawing the eye upward. (And don't forget about that back-of-door space. Some multi-pronged over-the-door hooks can add hanging space. On the other hand, a clear 24-pocket shoe organizer is genius for keeping hair accessories, makeup, styling products, etc. organized and off countertops; so can small floating shelves.)
Another cool design option, if you're looking to redo your bathroom walls with tile, is to consider using different tiles close to the ceiling. This will help to draw attention upward, above the midpoint occupied by the fixtures. Or you could use picture ledges close to the ceiling. They're relatively easy to install, and can help to draw attention upwards in order to achieve a more spacious overall effect.
If you or someone in your family has long enough arms, I'd even recommend maximizing towel rack space by mounting two sets of towel bars, one over the other, with the higher set as close to the ceiling as you can reach. This is the only way we've had enough space to hang multiple damp towels at once in our bathrooms.
Your turn:
These tips should allow you to create a bathroom that both looks and feels larger than it actually is. Have you discovered other hacks to make the most of tight quarters in a small bathroom? Let us know what they are in the comments!
If you enjoyed this post on ways to make a small bathroom look larger, why not share it with others by pinning this image?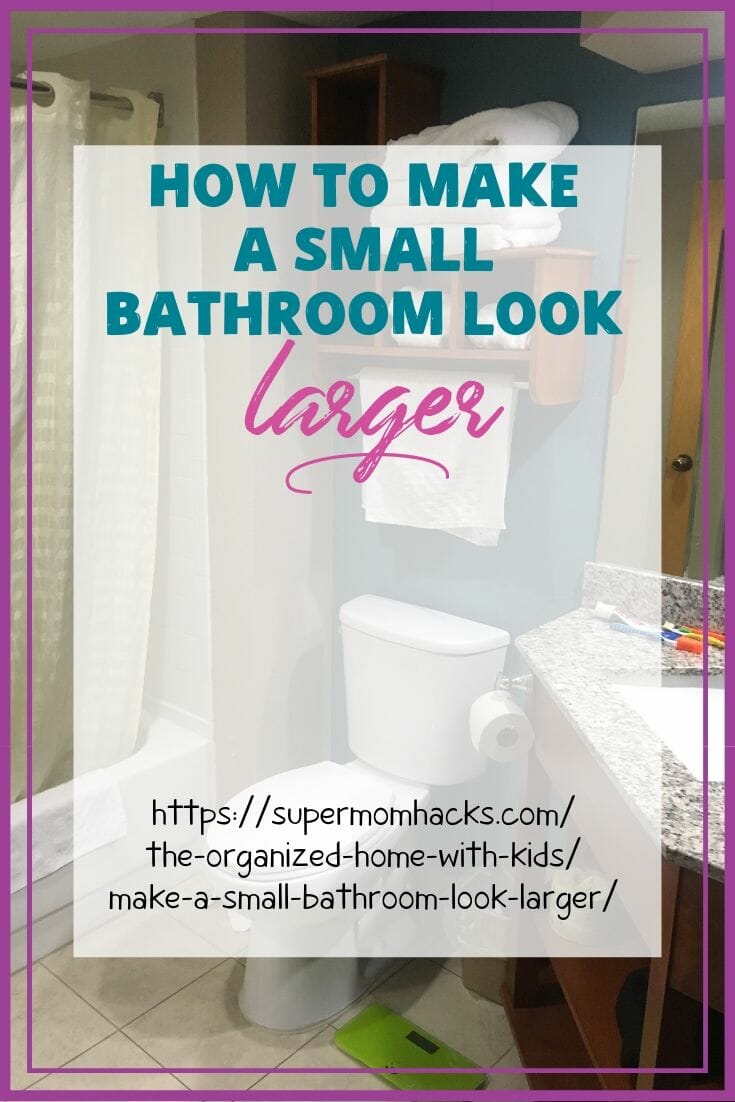 NOTE: This site contains affiliate links. I may earn a small commission from any purchases made through affiliate links, at no additional cost to you. For more information, please read the full disclosure/privacy policy.