If you live in the United States, your kids should be just about settled into their school-year routine again. How's that homework thing going? Did you get their homework station all set up before classes resumed?
If not, have no fear. It's never too late to give your kids' homework routine a much-needed boost with a custom-designed homework station.
With the girls entering 4th and 2nd grade this fall, I knew this was the year we finally needed to trade their preschool-sized art table for a larger project center/homework station. I managed to keep the cost way down through some of my favorite money-saving home hacks (more on those below).
I had every intention of setting up Homework Central before they went back to school in August. But as longtime readers may recall, our basement and kitchen flooded last May. And as Instagram followers know, the soonest the contractors could start the several weeks of work it took to repair the damage was the first week of school! Hence, Kimmie began school doing her homework in the dining room, surrounded by boxes of stuff evacuated from our kitchen.
Alas, it's going to be some time before our house is fully put back together. But I'm happy to report that the girls' new homework station finally made its debut last week. Read on to learn how you, too, can set up a budget-friendly homework station/project center for your budding scholar-artists!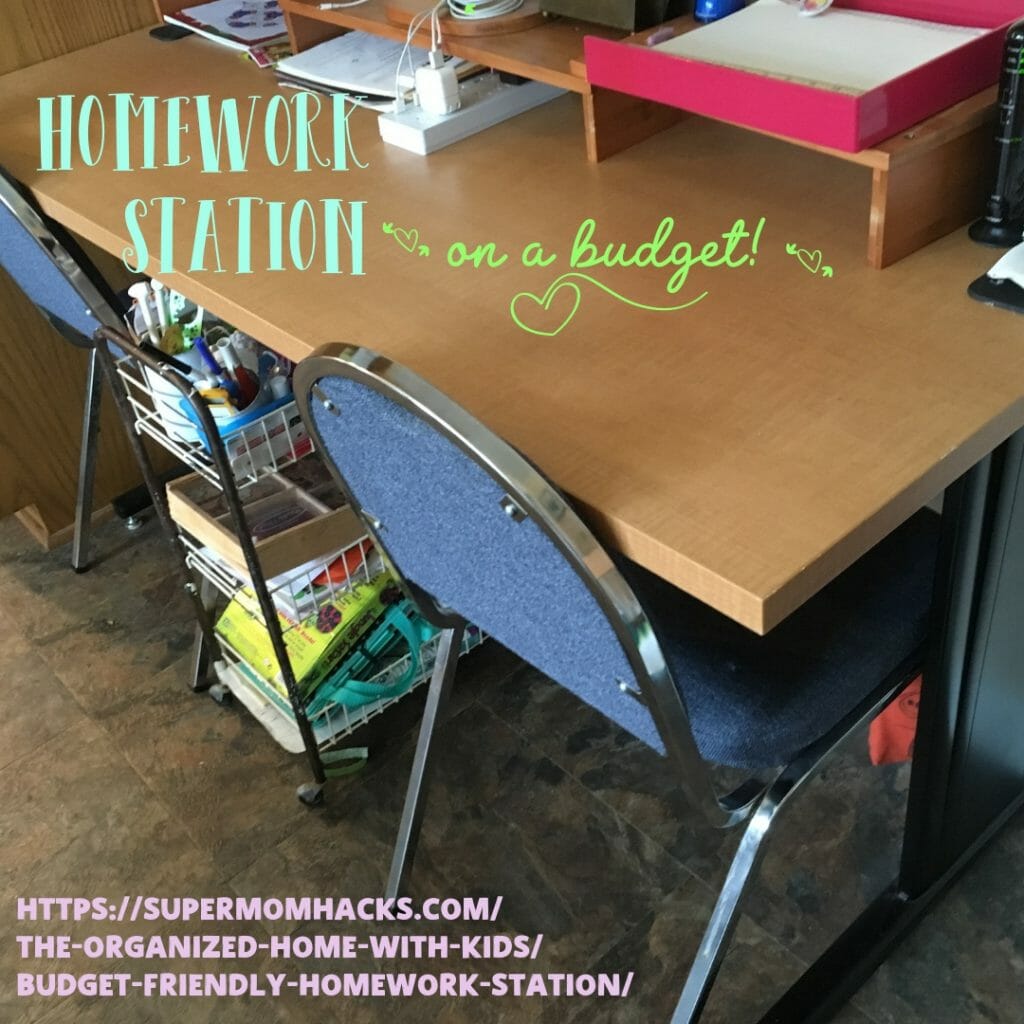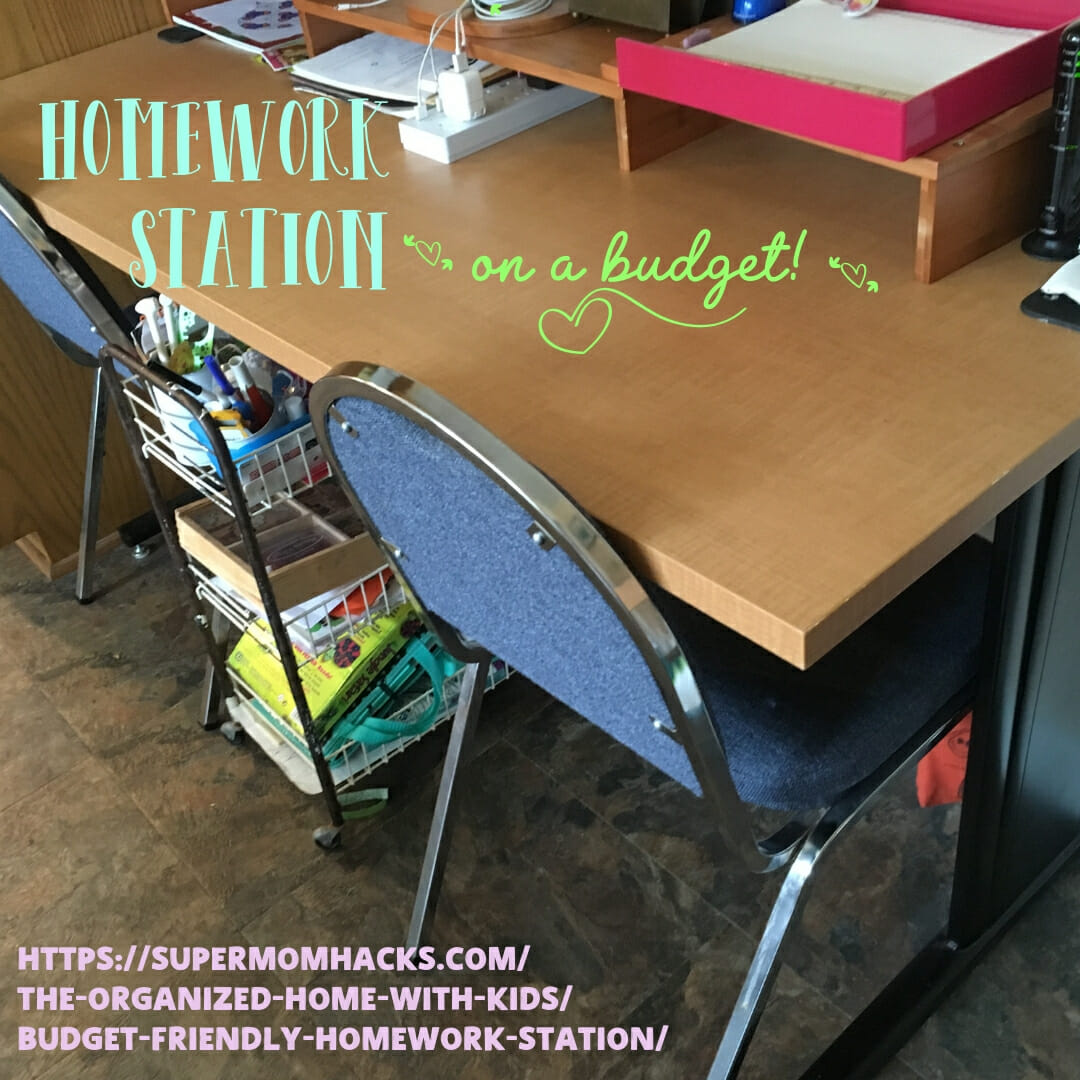 How To Make A Budget-Friendly Homework Station
In designing a kid-friendly workspace that would meet both their current needs (more art projects than homework) AND serve them down the line, I tried to think long-term. As I thought about what kind of space would best grow with them, and what their needs were both now and in the future, I narrowed it down to these crucial items:
A good-sized work surface, big enough for both girls to use at once without getting in each other's way
Accessible yet out-of-the-way storage, for both daily needs and school-related supplies
Places to write on and store reminders, whether jotting notes and memos or sketching out larger ideas
Ample power supplies for charging devices and powering essentials (lamps, a printer, whatever)
Seating, light, and a space for trash
Your family's personal needs may vary slightly from these, but chances are good your family's homework station will need to cover most if not all of these bases. But how to do so without breaking the bank? Well, here's how I covered these basics while keeping the bottom line well in check:
1) A work surface
Ideally, as with any kids' art table, one that's centrally located. I wanted the girls to have enough quiet to do their work, but easy access to grownups if the needed help. This also means we can supervise their online activities, which is rule #1 of tech use in our house.
I had been considering an updated door-on-file-cabinets-style desk for the girls, since this is what I used in my student days. I figured it would be easy enough to find a hunk of countertop or a flat door, and some matching file cabinets or pieces of narrow cabinet, at our local Habitat ReStore. (If you're not familiar with them, Habitat ReStores sell surplus and salvage building supplies for a fraction of the retail cost.)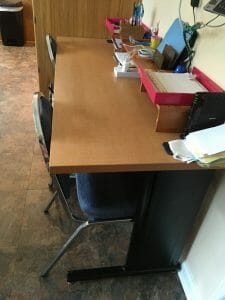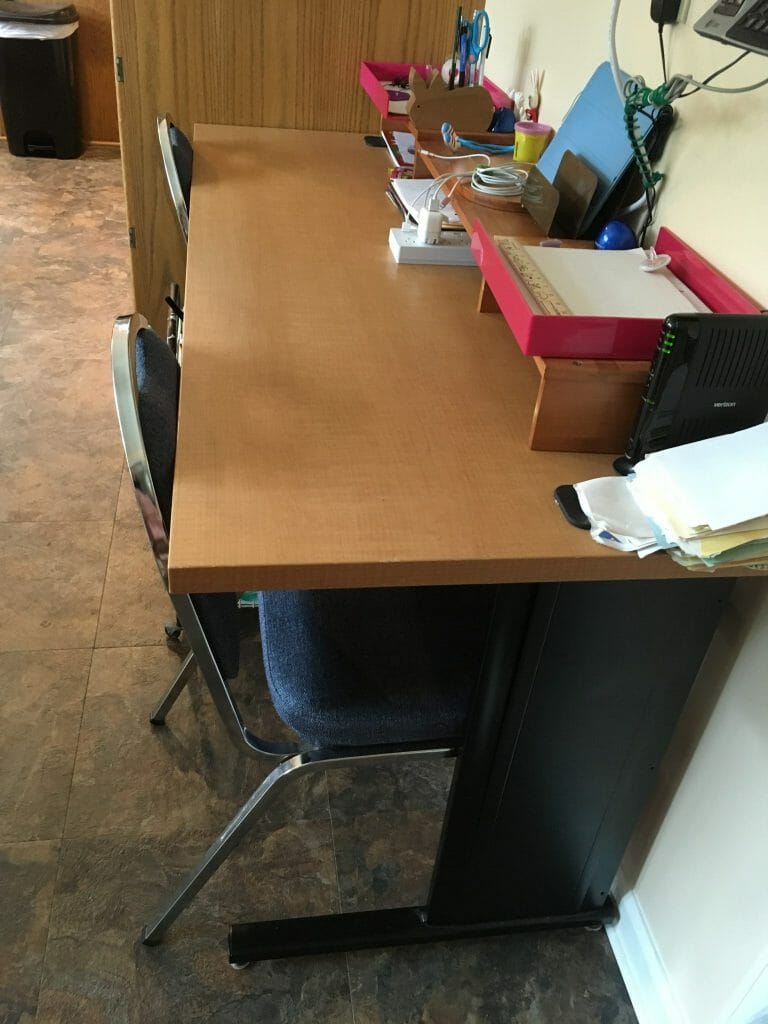 But I feared the classic file-cabinets-supporting-door wouldn't leave enough leg room for them to both use it simultaneously. However, I totally lucked out on the day my mama and I went shopping at the ReStore in June. Our ReStore also carries a decent inventory of castoff home and office furniture. And my mama spotted a beautiful table-style desk, whose finish matched our oak cabinets. It was blemish-free – AND it cost only $15!
If you don't have similar luck, other budget-friendly desk alternatives include a card table or (if you have space) a 6-ft or 8-ft folding table. If you don't already own one of these, check thrift stores or yard sales. You may need to cover the surface, especially if it's damaged; I've done this with Contact paper before. Even if you buy one new, you can often get these inexpensively at warehouse club stores or discount department stores.
2) Storage space
The desk we found was perfect for giving the girls plenty of workspace on top, and leg room underneath. But it had one serious shortfall: lack of storage space.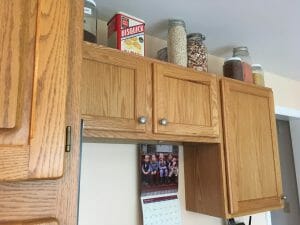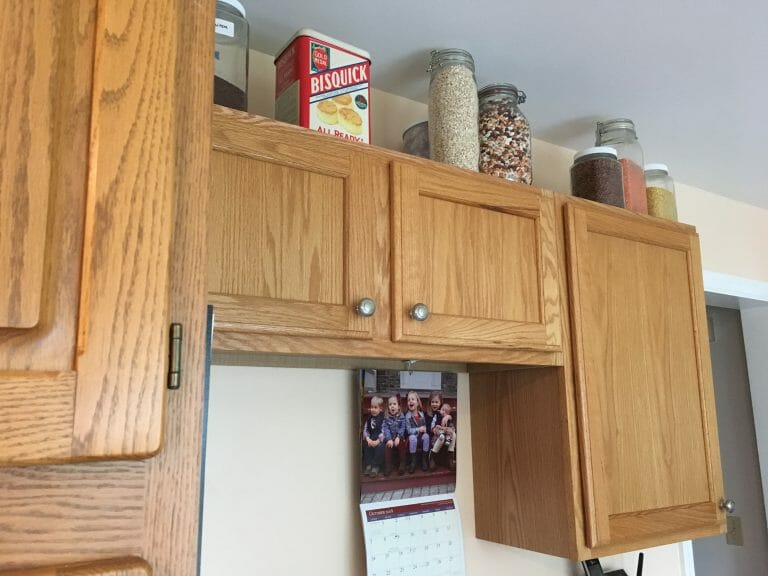 However, on the same ReStore trip, I spotted two oak cabinets that are almost identical to what's already in our kitchen. They were in super shape, and cost only $10 each! Since our post-renovation flooding repairs included reinstalling some damaged cabinetry that had to be repaired offsite, I had the renovation guys install the new cabinets at the same time. The cabinets provide plenty of space for spare school supplies and similar items.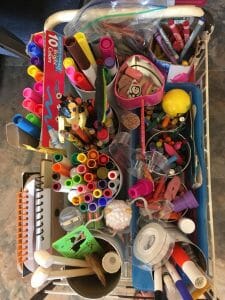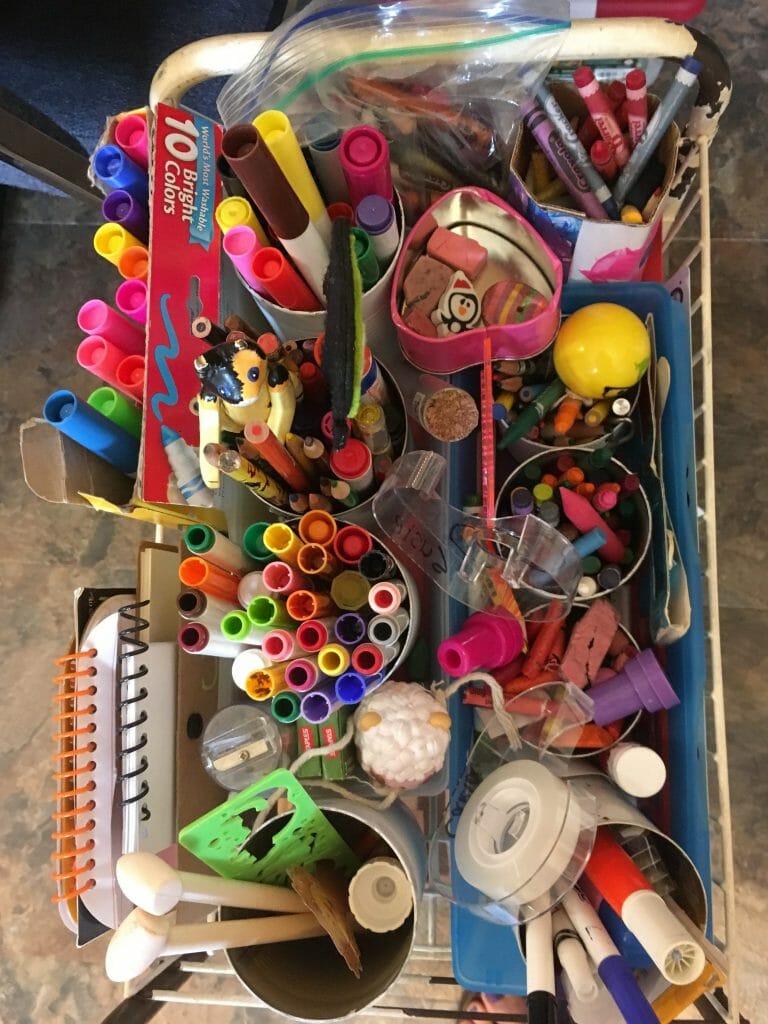 I also hauled out an old collapsible three-tier wire rolling cart from our garage. I still hope to repaint it at some point, but for now it works perfectly well. It keeps crayons and markers handy, gives each girl her own separate "space," and tucks under the table when not in use. Cost to us was zero since we already owned it, but I bought one similar to this at the ReStore last month for $5. I lined the top tier with some dollar-store bins, also repurposed from elsewhere in the house. Ditto the white cans from their old art caddy.
Next I snagged a pair of matching hot-pink file bins at at thrift store, for 50 cents each.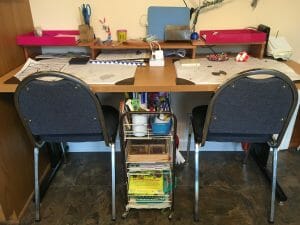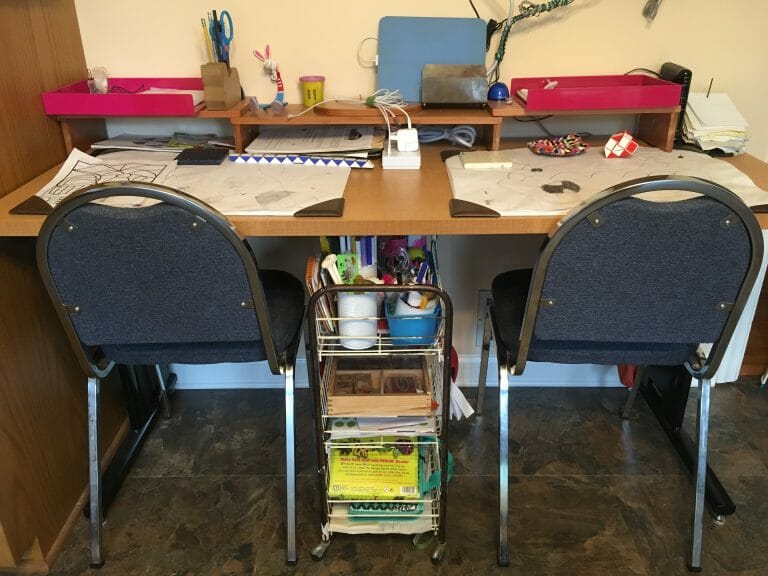 Finally, I decided to splurge on a desk riser, which creates a low shelf with storage underneath. The one I chose is large enough to spread across the entire back of the desk, and matches the table and cabinets. I scored one on Amazon's Warehouse Deals for 10% off because it has a small blemish on the wood.
Side note:
Amazon's Warehouse Deals are one of the best-kept secrets on their site. If you ever see an option to buy something "used" that seems like it shouldn't be sold "used," it's worth investigating. Chances are it's a customer return or dented package in super shape, and you'll get a discount PLUS free return shipping if it doesn't work out!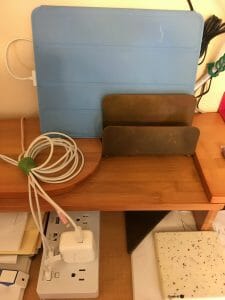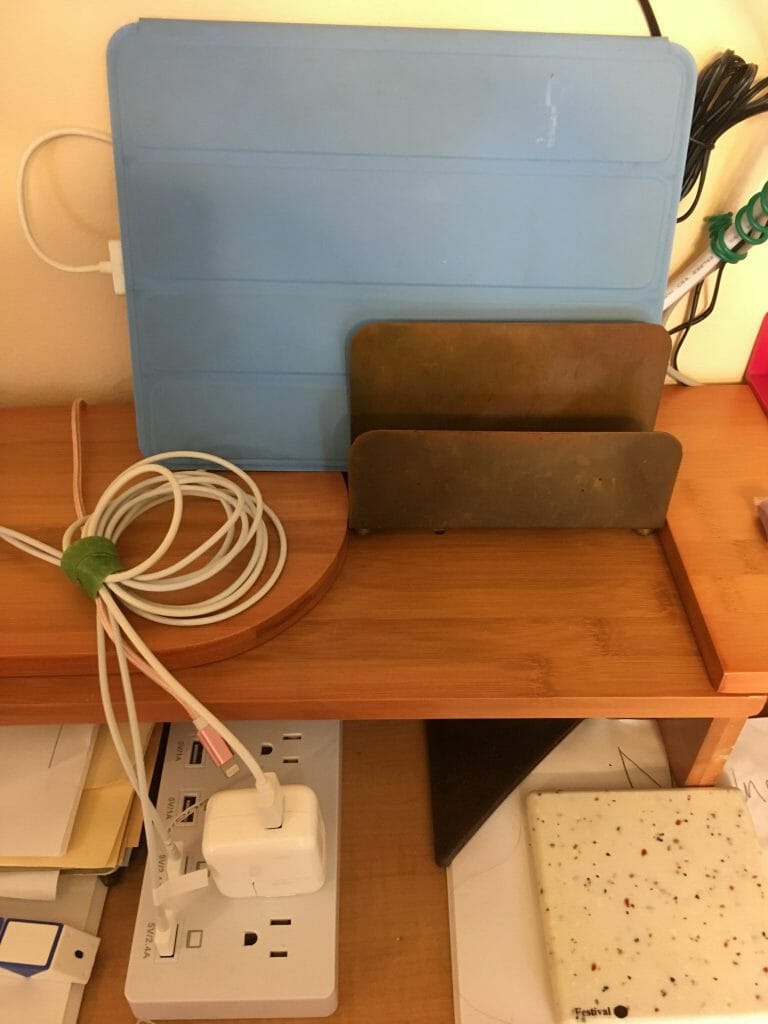 3) Plenty of power
One of the biggest family problems I wanted to "solve" with the girls' new homework station was creating a designated charging space for our devices. Our kitchen is literally the center of our home, which makes it a good charging space for our devices. But we were always fighting over outlets before, between the girls' school-issued iPads (!), the family iPad, my work iPad, Daddy's iPad, our various cell phones, our emergency power packs, and the girls' LeapFrog LeapBands (which are like fitness trackers for kids).
I solved that problem with this amazing power strip/surge protector. Like most power strips, it has a half-dozen outlets. But it also includes six USB ports! Not only was it reasonably priced, but it's perfect for all our charging and power needs. I tucked it under the edge of the riser, and made a small charging station on top with an old metal letter-holder I already had. The letter-holder neatly stacks four tablets upright in a tiny amount of space. And we still have outlets and USB ports to spare for future needs.
4) Someplace to jot notes and reminders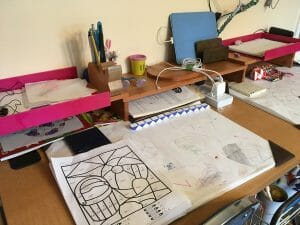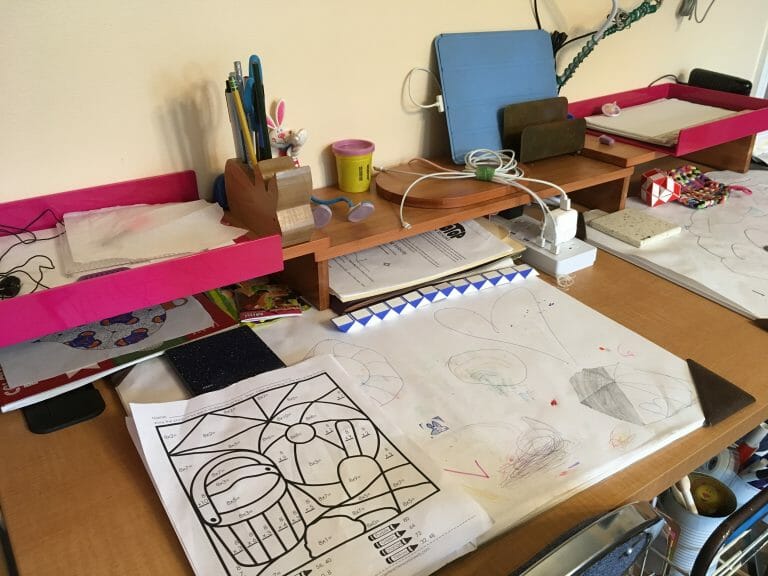 Based on my girls' history, I knew they needed an easy way to doodle while protecting the surface of their beautiful new homework desk-table. For this purpose, blank-pad desk blotters were a no-brainer.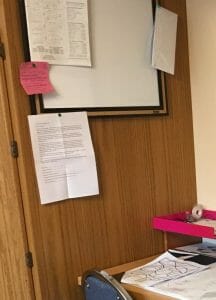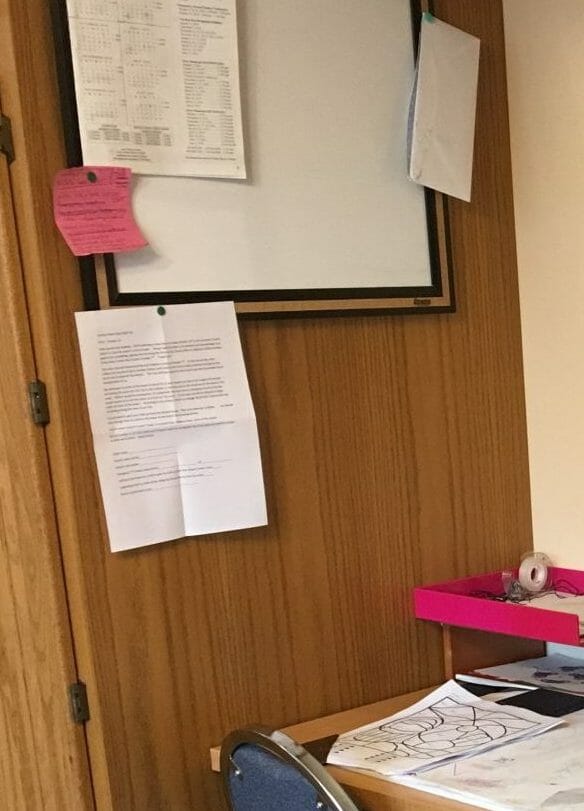 You may be familiar with executive desk blotters that contain calendar pages. However, starting back in college, I had a desk blotter that had large blank sheets of paper instead. It was great for doodling and jotting notes, as well as having a ready source of large sheets of paper when the occasional need arose.
I located an affordable option online with refillable pads, so I ordered one for each girl. They promptly decorated their workspaces, and have been super at keeping their doodles on the paper. They LOVE having ready access to a place to draw, and to larger sheets of paper for bigger projects!
I also wanted to create a space to jot calendar notes, tack up important school papers, etc. I was torn between getting a small bulletin board and a small marker board. Then I spotted a marker board with a cork border at one of my fall consignment sales. At $3.50, it was a no-brainer.
5. Lights, seats, and a trashcan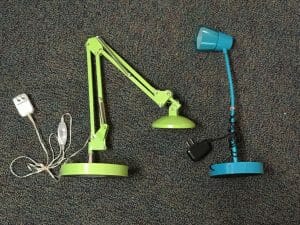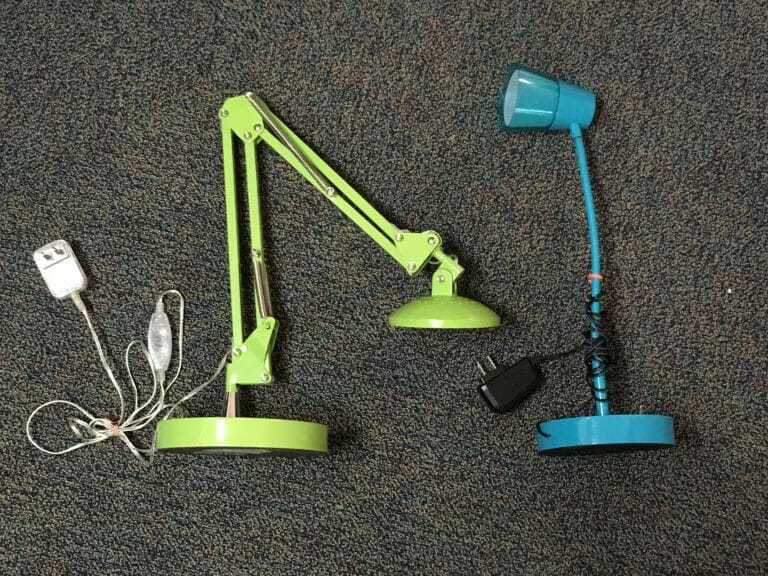 It turns out they don't actually need task lighting at their desk right now; the nearby ceiling light is bright enough. BUT I picked up two task lamps for super-cheap at the consignment sale anyway, again for about $3.50 each. (I think I'll put them on my own new project tables in the basement.)
The matching desk chairs are cushioned for comfort, and tuck nicely under the desk when not in use. And best of all, since they came from my husband's single days, we already had them on hand. Cost = free! (Cushioned folding chairs, or secondhand chairs from a thrift store, would also work. Or exercise balls. In late summer and fall, office supply chains often have deals on student desk seating, so keep this in mind if you want to buy something new.)
And every desk or workspace needs a trashcan. I reassigned an extra one from elsewhere in the house, so this was also free. Small trash cans are inexpensive enough when new, and super-cheap when used. Or you can repurpose a basket, large flower pot, whatever; just line it with a plastic bag from the store, so nothing falls through.
The final verdict:
The girls have now been using their new homework station for about a week, and it's definitely a hit. Kimmie has been finishing her math homework in record time, and Essie has done a different creative project on her half every day since she first saw it. They are THRILLED with this workspace that is designed to grow with them through high school. I'm thrilled that it all came together for just over $100. Given that I could have easily spent that on a desk alone, or on ONE desk chair, I consider this a real bargain!
What about you? Have you set up a homework station for your school-age kids? Let us know about it in the comments!
If you enjoyed this post on creating a budget-friendly homework station, why not share it with others by pinning this image?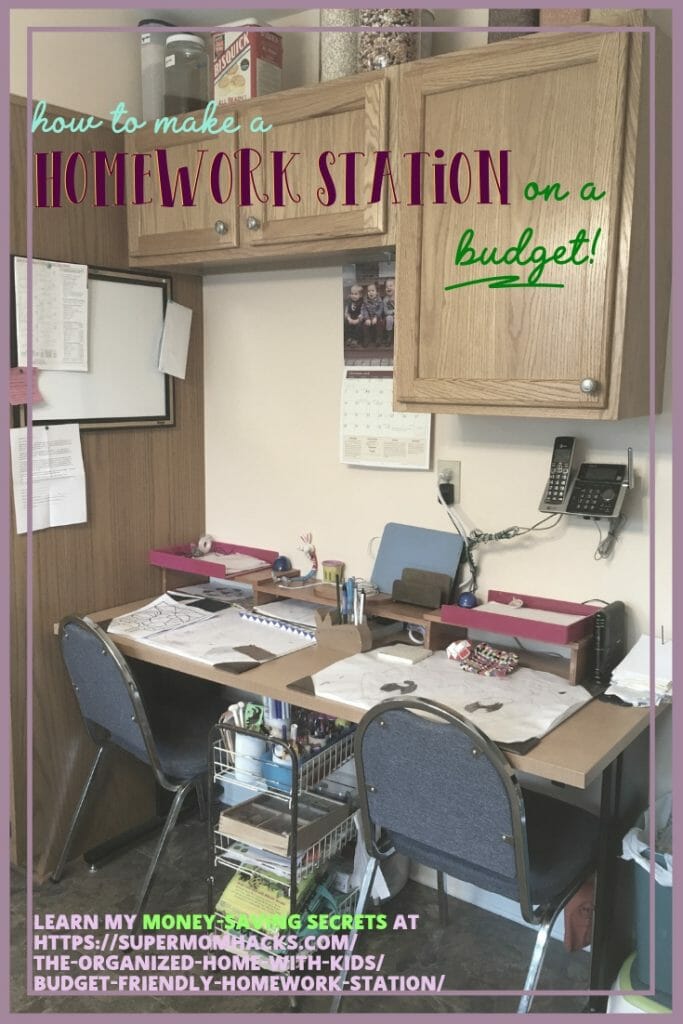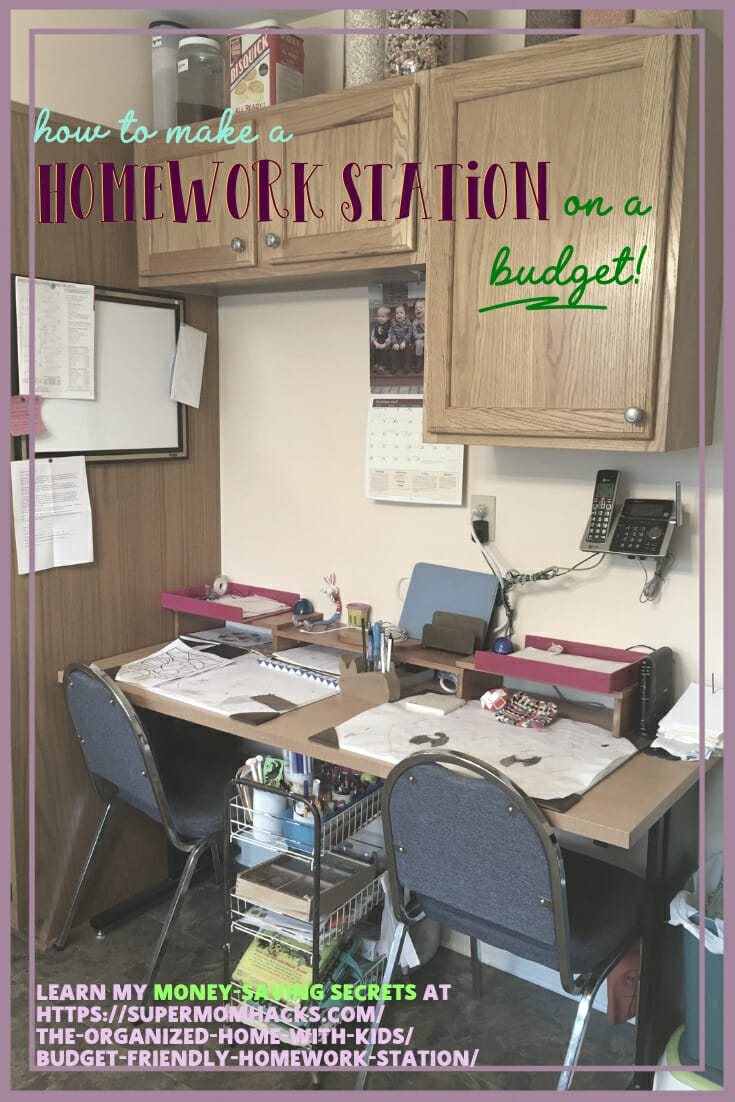 NOTE: This site contains affiliate links. I may earn a small commission from any purchases made through affiliate links, at no additional cost to you. For more information, please read the full disclosure/privacy policy.