So the New Year is coming, and you've decided it's finally time to upgrade that master bath that you've been suffering with for way too long. But between holiday shopping and other end-of-year bills, any makeover you even consider has to be a budget-friendly bathroom remodel. Which sounds like a contradiction in terms. How far can you really get with overhauling a bathroom if you're trying to keep the costs down?
You'd be surprised. No, a complete gutting down to the studs is probably not the most budget-friendly bathroom makeover idea. BUT there are lots of in-between upgrades you can consider that will easily give the room a bright new look without breaking the bank.
These little upgrade ideas range from tens of dollars and a few hours' DIY work, to slightly larger investments that are still cost-effective. Consider which is right for you, and here's to a new look for your bathroom in the new year!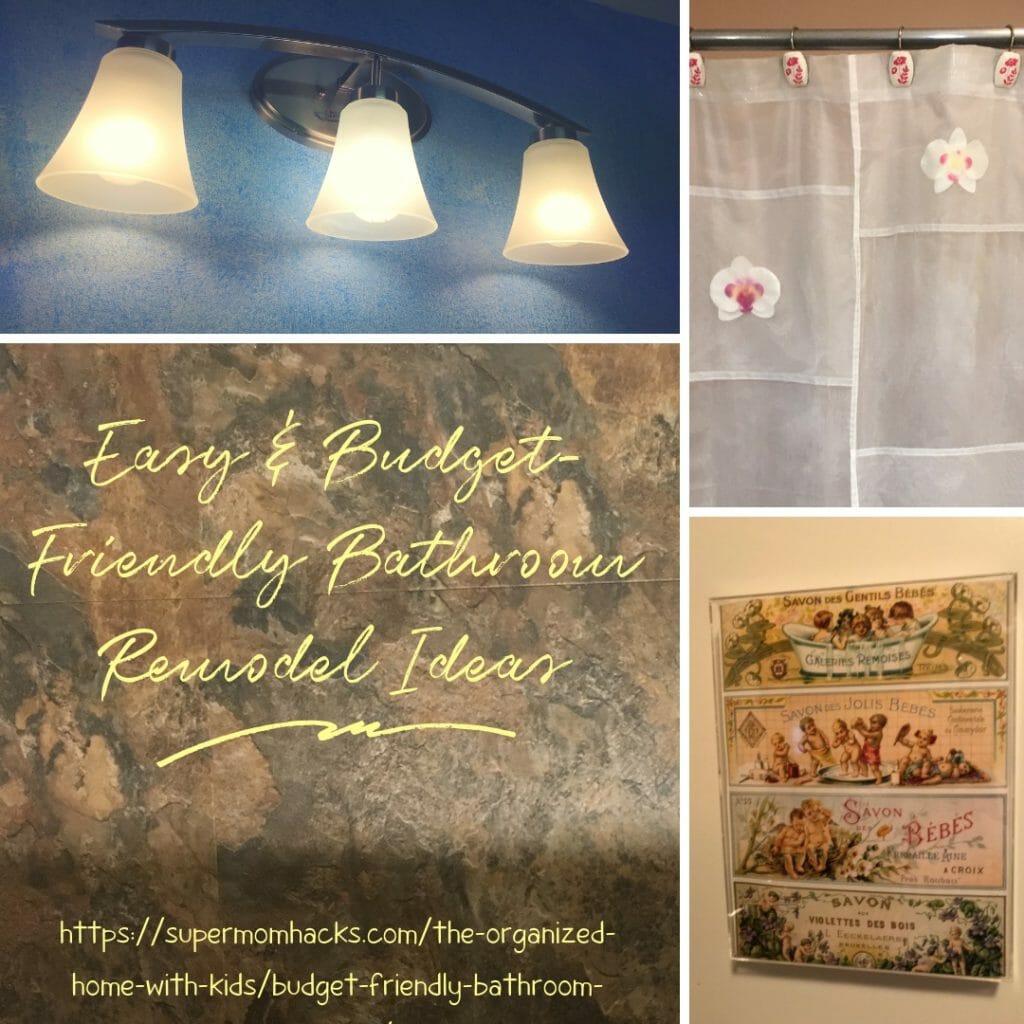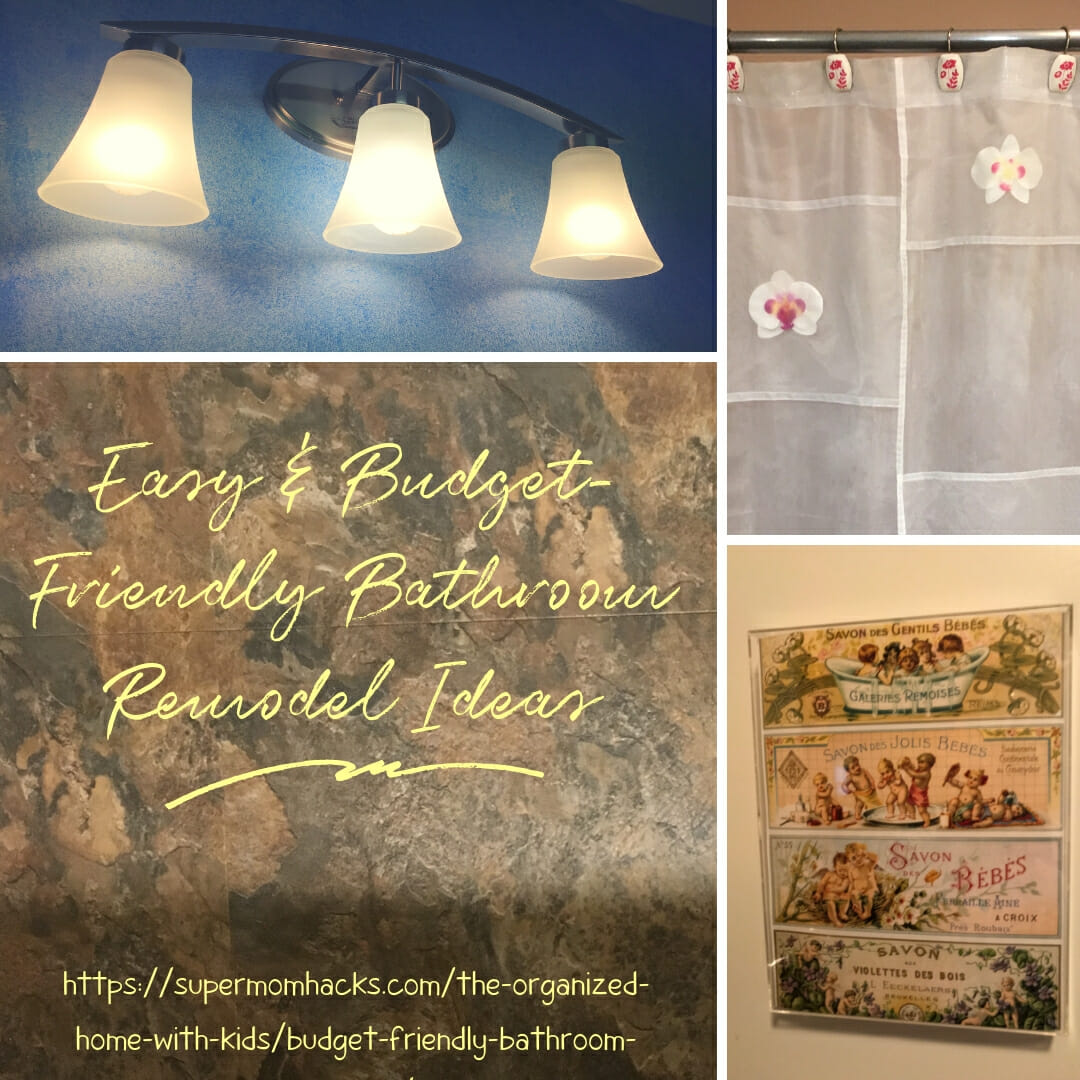 Easy & Budget-Friendly Bathroom Remodel Ideas
1. Easy cosmetic makeovers
SKILL LEVEL: 1 (on a scale of 1=easy DIY to 5=specialized skilled pros only!)
COST LEVEL: $ (on a scale of $=super-affordable to $$$$$=complete bathroom overhaul)
TIME INVOLVED: a few hours
There are soooo many easy cosmetic makeovers that will give your bathroom a whole new look, for practically no money! We're talking under $50 (many well under that!), and maybe an hour or two of your time max, from shopping to installation.
My top pick:
One of the best things you can consider, especially if yours are more than a couple of decades old, is getting and installing a new toilet seat. I swapped out all of our home's toilet seats last year for less than $100. The actual installation took me less than an hour.
If you're considering this upgrade, spend a little more to get the solid wood seats, vs. the plastic ones. The plastic ones do this weird sinking thing when you sit on the closed lid (say, when you're bathing your kiddo in the tub). It's unsettling, to say the least.
Other ideas:
Other quick-and-easy, budget-friendly bathroom upgrades include:
New fluffy towels and/or a new bath mat (I love our woven

bamboo

one for its softness, durability, easy-care nature, and eco-friendliness)
A bright new shower curtain in a pretty design
A new trash can, soap dispenser, toothbrush holder
New hardware for the cupboards. I upgraded all the plastic door handles on our home cabinets last year to more updated-looking metal ones; it made such a huge difference.
A new piece or two of wall art.


2. Easy storage makeovers
SKILL LEVEL: 1-2 (DIY to advanced DIY)
COST LEVEL: $
TIME INVOLVED: a few hours
Who can't use a little more storage, especially in their bathroom? Adding in a little extra storage – or optimizing the space you already have – CAN be elaborate. But it doesn't have to.
My top pick:
Add in some more towel bars and/or hooks! This is SO simple, and really adds functionality for practically no cost.
Over-the-door hooks are easy and inexpensive, and take about two seconds and zero tools to install. (I recommend the multi-prong kind, to get the most bang for your buck.)
An extra (or double!) towel bar on the wall can maximize space for when houseguests visit. If you're going to install a new towel bar on the wall, you'll need some basic tools, like a stud finder, cordless drill, wall anchors, leveling ruler, etc. (check this post for more on the tools you'll need). New to this kind of project? See this tutorial I did on how to install shelving for some basic pointers on how to install things on your walls, the right way.
RELATED POST: DIY Shelf Installation: Helpful Tips
RELATED POST: Give Your Kids' Closet A Makeover This Weekend With DIY Shelving
Other ideas:
In case you haven't heard me say it before:

Many of my fave super-easy home organizational ideas involve baskets

. Yes, you can shell out for fancy ones. But you can also just keep your eyes open at thrift stores and tag sales, and pick them up for almost nothing. We use baskets to contain facecloths, toiletries, and so many other little countertop-clutterers in our bathrooms.
RELATED POST: The Organized Home with Kids: Why Baskets Rock
Again, swapping out the hardware for something you like better requires minimal time, effort, and skill. But it makes a huge difference in how your storage looks. Personally, if something is pretty and pleasing to look at, I'm more likely to use it!
Consider a small floating shelf near the sink to keep essentials handy but out-of-the-way. For kids and teens especially, another great option is an over-the-door, 24-pocket clear shoe organizer. These are great for keeping hair accessories, bottles and lotions, hairbrushes, and even cosmetics handy but tucked away.
A new hamper can also help. Or maybe you want to add some extra shelving into your bathroom's linen closet. Even some under-the-counter baskets, crates, or shelf racks (which, again, I buy on clearance or secondhand) can really help to contain and organize the clutter.
RELATED POST: Easy Kitchen Organization Hacks You'll Love


3. More major cosmetic upgrades and/or complete color overhaul
SKILL LEVEL: 2-4 (advanced DIY to professional-grade)
COST LEVEL: $$ to $$$$
TIME INVOLVED: a day to a week
If you're looking for something more dramatic than just swapping in some pretty new towels or a fancy new shower curtain, maybe it's time to change the wall treatment. And/or the floor treatment. And/or the tub and other fixtures.
My top pick:
Hands-down, it's a new color theme . A fresh coat of paint is a great place to start. This is doable to DIY, if you block out the whole weekend and have the tools. Because it's a small job, it's also an inexpensive one to hire the pros for. Make sure you correctly treat and correct (or have the pros treat/correct) any moisture damage or other existing damage issues along the way, or they'll come back with a vengeance.
RELATED POST: DIY Painting Tips To Save Time And Money
Just as with any room of your house, it's easy to pick a that complements your tastes as well as your life. Alternately, another idea is to go for a much broader "theme," like Pastels or Brights or Jewel Tones. This is super for kids' bathrooms, if you're already starting with a neutral backdrop, like white or off-white or gray.
In our home, the girls' towels, shower curtain, and other accessories are mismatched odds and ends I got for cheap, but they're good quality. And together they make a bright and cheery kid-friendly room.
Need ideas for how to pick a new color scheme? Look at recent issues of your favorite home improvement mag, or browse the paint section of a home improvement store to see what paint chips catch your eye; I could literally spend hours doing this!
Other ideas:
Got ugly wallpaper on your walls? There's no reason you (or a pro) can't strip it off and paint over it. Be warned, though, that you may need to use a more advanced decorative painting technique (such as sponging or stippling) in order to cover up damage in the underlying drywall.
Instead of buying ready-made prints, consider getting some canvas prints made out of photos and hanging those on the wall. Or enlarge a favorite photo and mat/frame it. Or gather posters, prints, postcards, etc. from your travels and mat/mount/frame them. My mama did this in one of her bathrooms with some panoramic postcards she bought in Paris. All of these are more personalized and unique than an off-the-shelf option, if you can't find art that speaks to you.
If you have old tile in your tub, regrouting it every few years will help protect the walls underneath from water damage. Already crossed that bridge? Though I'm hardly a pro, I was able to patch a water-damage drywall hole in the shower wall of my previous home, and then replace/regrout the tile to prevent further damage. (Drying time makes this a multi-day to weeklong project.)


4. Mechanical/plumbing upgrades
SKILL LEVEL: 2-4 (advanced DIY to professional-grade)
COST LEVEL: $$-$$$$
TIME INVOLVED: a few hours to several days
Some of these upgrades you can tackle yourself, if you have the right tools and have done your homework. Check the website of your local or chain home-improvement store, and talk to the pros in those departments. They will point you in the right direction and troubleshoot your project before you even start. Or see if you can get the now-out-of-print Home Depot Home Improvement 1-2-3, which is still my go-to guide for any home projects I want to tackle for the first time.
My top pick:
Fix those leaky fixtures!
Swap out that ugly old faucet for one that's shiny and new.
Replace the gaskets inside your faucet.
If your toilet keeps running after you've flushed it, check the flapper and other mechanics inside the tank; replace any parts that are worn out.
While I confess I've never done these, both my dear hubby and my mama have. They swear it's not too hard. (This is another area where that old Home Depot 1-2-3 book has lots of great step-by-step illustrated tutorials, as do many websites.)
Not only will fixing plumbing leaks make your bathroom cleaner, it will also save water from being wasted, and trim your water and electricity bills.
RELATED POST: Green Home Hacks to Save Money and Save Mother Earth
Other ideas:
If swapping out your bulbs for brighter, more energy-efficient ones doesn't cut it, consider new light fixtures. We added a light fixture around the sink in our basement guest bath/laundry room a few years ago, and it's made SUCH a difference in that room.
Or maybe it's time for a more modern ceiling fan/light fixture overhead?
If your toilet is several decades old, a more modern one can lower your water bill by conserving water. The newest ones even have dual-flush functions to conserve more water.
All of these projects are probably best left to the pros (and it could be required if you live in a development/housing association). A pro will do the job safely, AND make sure your house's electrical grid is up to capacity for the upgrade.


5. More elaborate storage makeovers
SKILL LEVEL: 2-5 (advanced DIY to specialized pro)
COST LEVEL: $$-$$$$$ (the sky's the limit, but you can also do some of these on a modest budget!)
TIME INVOLVED: several hours for the easier DIY versions, to several weeks/months for more substantial pro-grade makeovers
My top pick:
Add some more shelves in your linen closet. Consider a shelf high up near the ceiling, or several shelves off to the side inside the door. This will take you the better part of a day or weekend, but is SO helpful for maxing out storage space.
RELATED POST: DIY Shelf Installation: Helpful Tips
RELATED POST: Need More Storage Space? Try Looking Up
Other ideas:
Perhaps a new vanity around the sink would expand your storage space. If buying new is still not in your budget, see if there is a Habitat Re-Store near you where you can get one secondhand for a fraction of the new cost.
Or maybe you'd consider an over-the-toilet rack or a small next-to-toilet shelf or cabinet. For small bathrooms and tight spaces, these are also a great bet.
If you have a little more money to invest, definitely consider custom bathroom cabinets. These can help in creating unique and functional bathrooms that stand out, and you can easily buy custom bathroom vanities online, which is great for saving time.
And while you're redoing the cabinets, why not consider new flooring, too? The small size of bathrooms makes this a budget-friendly place to swap out the flooring. After our flood last May, we were thrilled to replace the floors in two of our bathrooms with durable, comfortable, long-wearing luxury vinyl tile.


Your turn:
Have you done a budget-friendly bathroom renovation? What updates are on your bathroom makeover wish list? Let us know in the contents!
If you enjoyed these budget-friendly bathroom remodel ideas, why not share with others by pinning this image?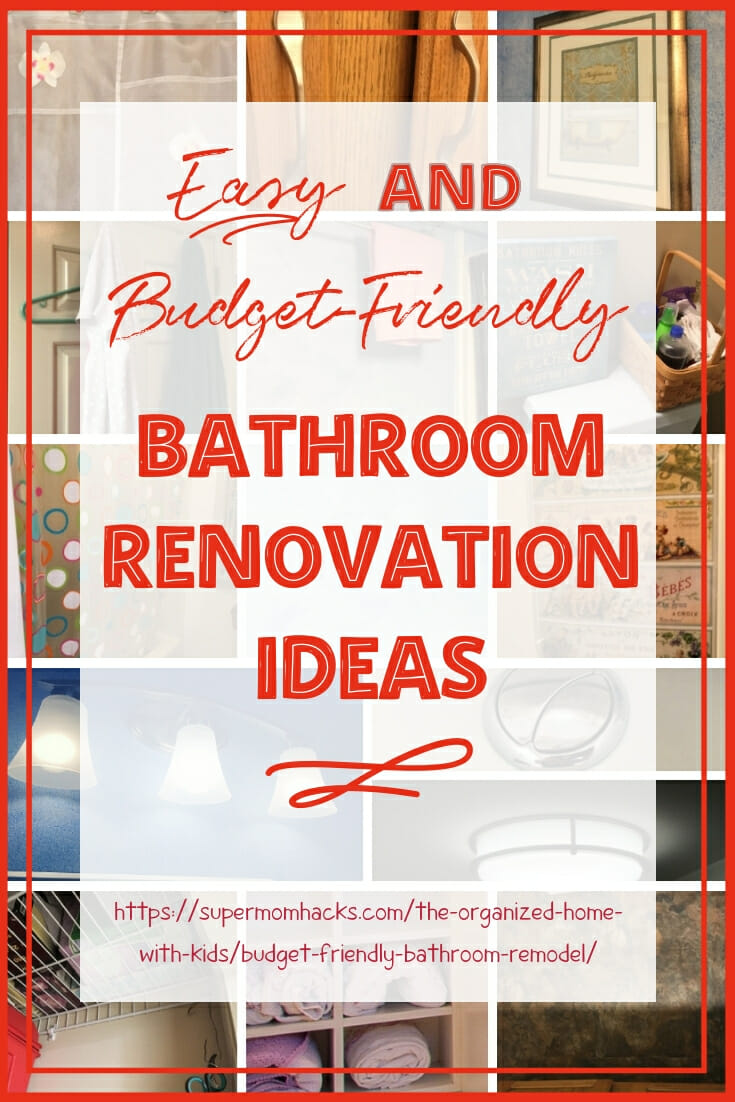 NOTE: This site contains affiliate links. I may earn a small commission from any purchases made through affiliate links, at no additional cost to you. For more information, please read the full disclosure/privacy policy.