Rice Krispie Easter Eggs that are pretty AND easy:
Looking for a fun, easy dessert for your Easter table that your kids can help make? A few weeks ago, the girls and I tried a variation on the original Rice Krispie treats recipe: we made them into Easter eggs that were as yummy as they were pretty. Our Rice Krispie Treat Easter Eggs are the perfect recipe for fun, easy Easter desserts to brighten up your Easter table this holiday!
If you've ever done any holiday baking whatsoever, there's a reasonable chance you have everything you need to make these around the house, saving you a trip to the store. So dig out those holiday baking ingredients, and have fun making this easy Easter desserts recipe with your kiddos sometime over Holy Week.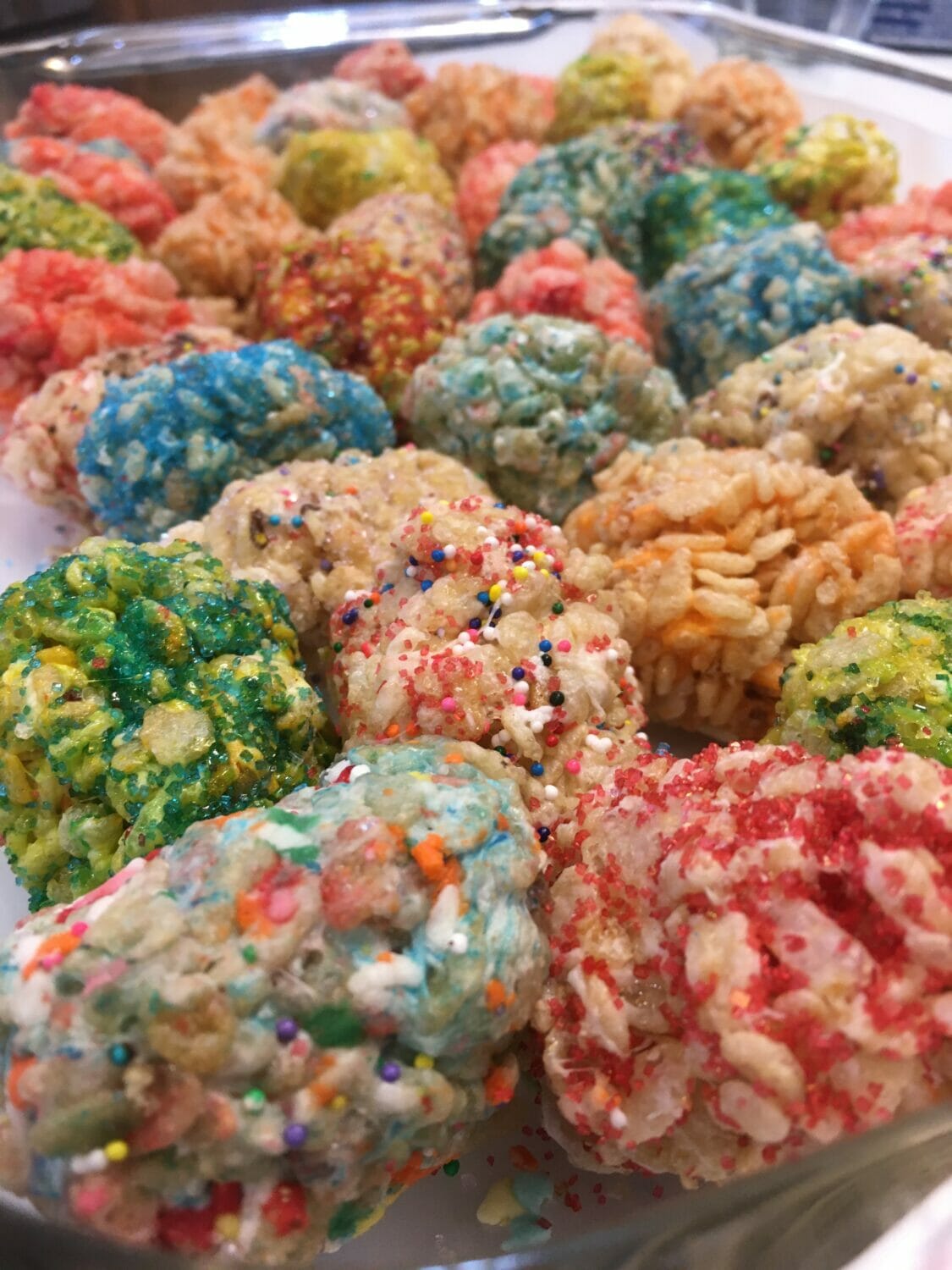 Easy Easter Desserts Recipe: Rice Krispie Treat Easter Eggs
Servings and total time vary, depending on how many batches you decide to make. Each batch makes a small recipe, so you can repeat multiple times for different colors, and the mix will still be moldable by the time you're molding the last egg in each batch.
What you'll need: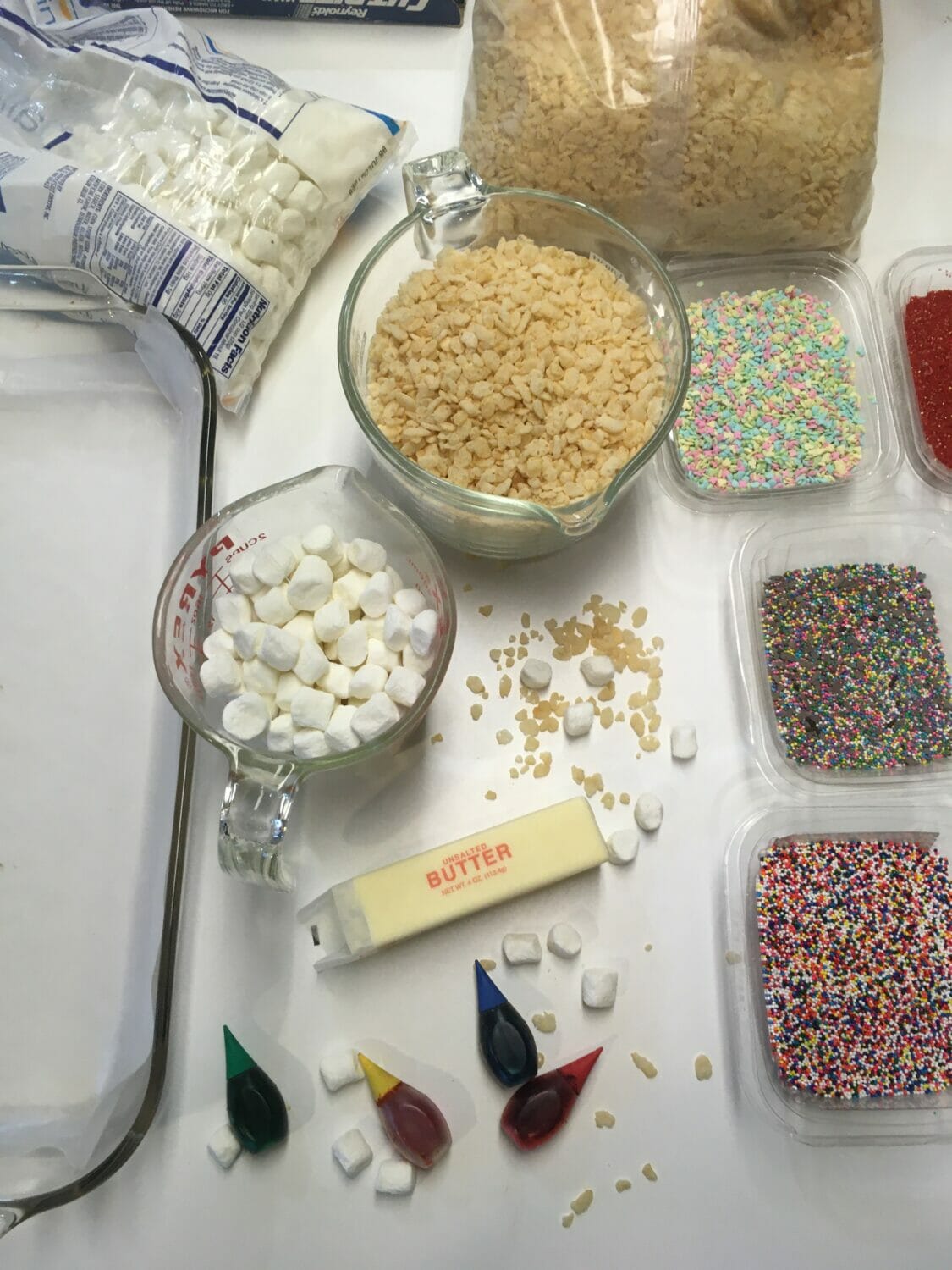 Rice Krispie treats (at least one box)*
Marshmallows, preferably miniature (at least one bag)
Butter or margarine, preferably salted (at least one stick)
Food coloring (any will do, though I hear

Wilton Gel Colors

work best – we don't have those, so have to use more drops)
Assorted sprinkles/cookie toppings (colored sugars work best, but again, any with small pieces should work)
Microwave-safe mixing bowl and scraper
Large, flat storage container with tight-fitting lid
Wax paper, parchment paper, foil, or plastic wrap
Small toppings bowls, if your cookie toppings aren't already in small, flat containers
Prep work: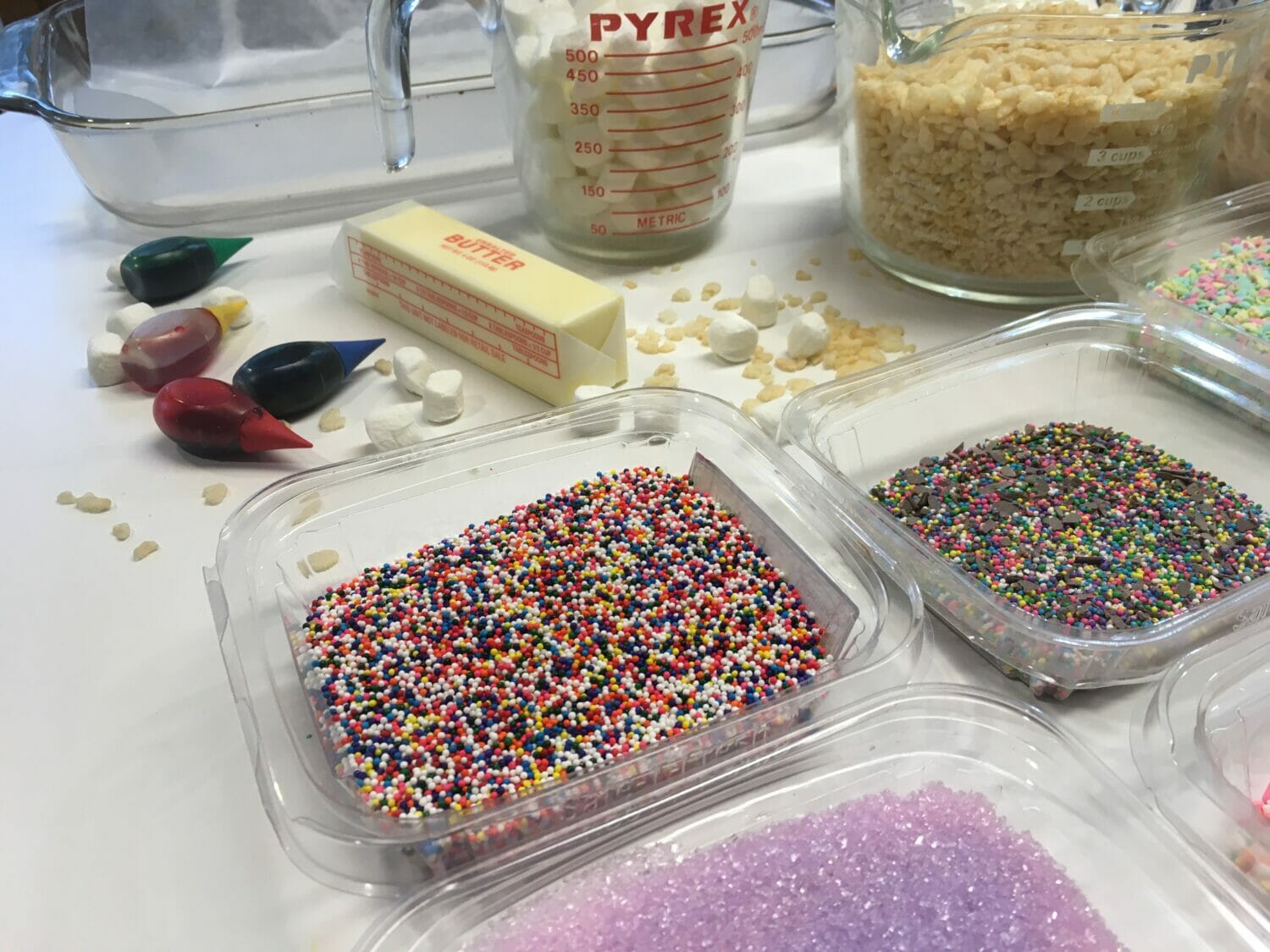 Line the bottom of a large, flat storage container with tight-fitting lid, preferably with wax paper.
Lay out your toppings on the counter next to the storage container; if they're in jars, pour small amounts into bowls. Remove the lids from containers, as appropriate.
The basic idea (per batch):
Measure out 3 c. Rice Krispies cereal; set aside.
In microwave-safe bowl, top 2 c. marshmallows with 2 T. margarine. Add food coloring as desired (up to 5 drops if using Wilton gels, up to 10-20 drops if using regular liquid food coloring).
Microwave for a minute; stir. Microwave in additional 30-second increments, stirring between each, until mixture is smooth and melted.
Stir in cereal; stir to coat thoroughly.

Essie stirring the cereal into the melted marshmallow-butter mixture

Form small handfuls of cereal into small egg shapes in your palm (think a little smaller than a regular eggs or your kids' plastic Easter eggs). Immediately roll the eggs into your topping of choice; squeeze the egg gently on all sides when you're done, to help press the topping into the egg.
Place each egg into your prepared storage container when you're done.
Repeat as many times as you like. (No need to worry about washing the bowl out between batches!)
Cool eggs thoroughly. You can make them ahead for Easter and freeze them if you like, or you can place a piece of bread in the storage container with the eggs to help keep them chewy longer; otherwise, they will get hard in a few days (if they last that long!).
Mix it up:
*Don't have Rice Krispie treats at home? Put Chex, Cheerios, Special K, or another similar (plain/unsugared) cereal into a large zip-top bag, then roll over the bag with a rolling pin to crush the cereal into somewhat smaller bits.
Mini marshmallows are easier to work with, but regular ones will work, too; use 18 for each batch, or 5 jumbo marshmallows per batch.
Fresh marshmallows will work best, but you can also use older ones; they just won't melt as well. You may want to try 3 cups of marshmallows instead of 2 c. if yours are leftover from last summer's

s'mores making adventures

.
In our experience, the various colored sugars worked the best for coating the eggs. The assorted sprinkles definitely needed to be pressed into the eggs after rolling the eggs in the toppings.
Don't have colored sugar? Mix some plain white sugar with a drop or two of food coloring in a bowl, for each color you want to make.
Don't have food coloring? Make the mix itself plain, and just use the cookie toppings to decorate your eggs.
If you have plain shredded coconut at home, you can use a few drops of green food coloring to dye some green, and serve your eggs on edible green "grass."
If you liked this Rice Krispie Treat Easter Eggs recipe, please share with others by pinning this image!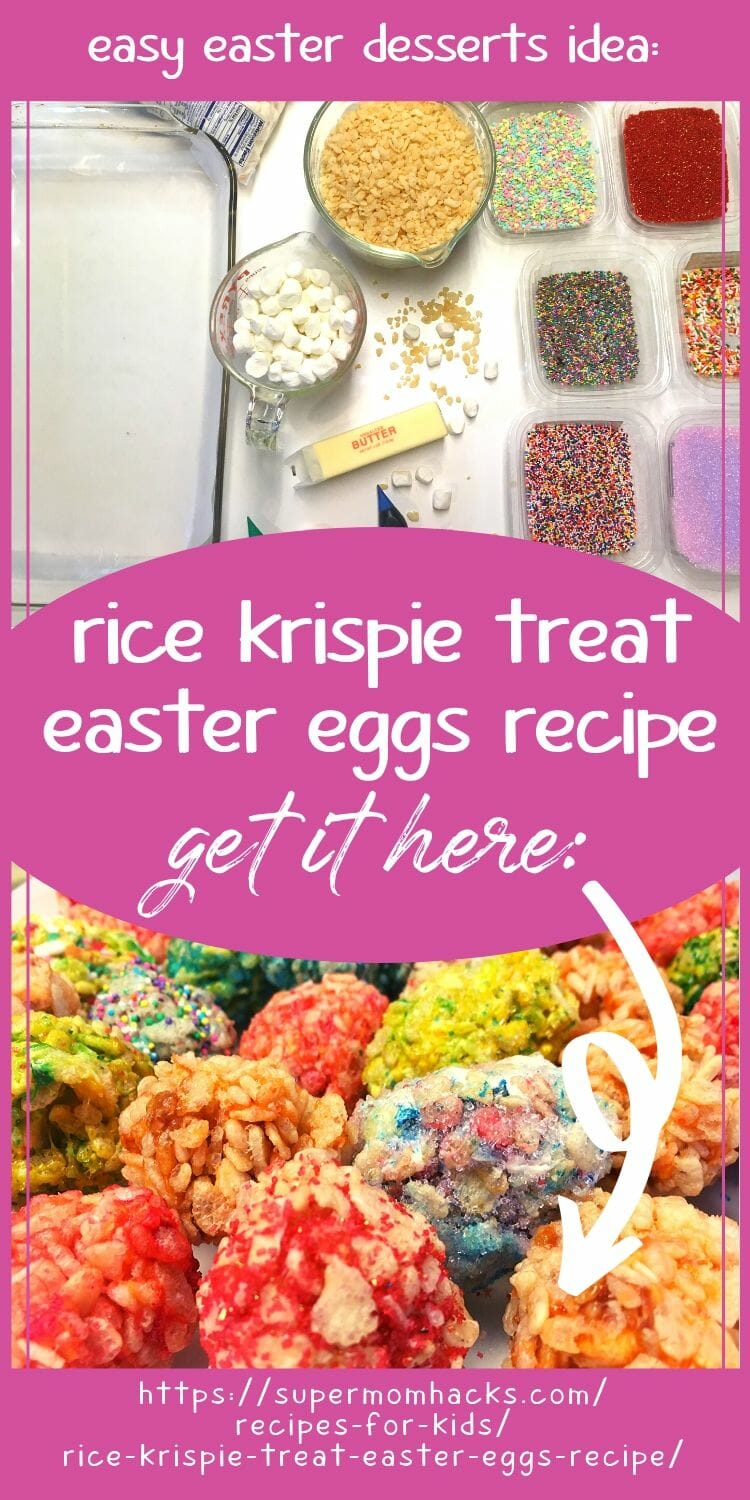 NOTE: This site contains affiliate links. I may earn a small commission from any purchases made through affiliate links, at no additional cost to you. For more information, please read the full disclosure/privacy policy.