Homemade Comfort Food, Fast: Shortcut Cassoulet Recipe
If your family is like ours, I'm guessing you're cooking from scratch even more than usual, though your ingredients are often limited to what you have on hand. Yet paradoxically, between homeschooling and trying to get your own work done, you've got less time to spend in the kitchen.
Personally, I like the challenge of cooking from the pantry and trying to use up leftovers. One of my recent pantry/leftovers challenges led to this super-simple shortcut cassoulet recipe. It's ready to go in 30 minutes – perfect for busy weeknights.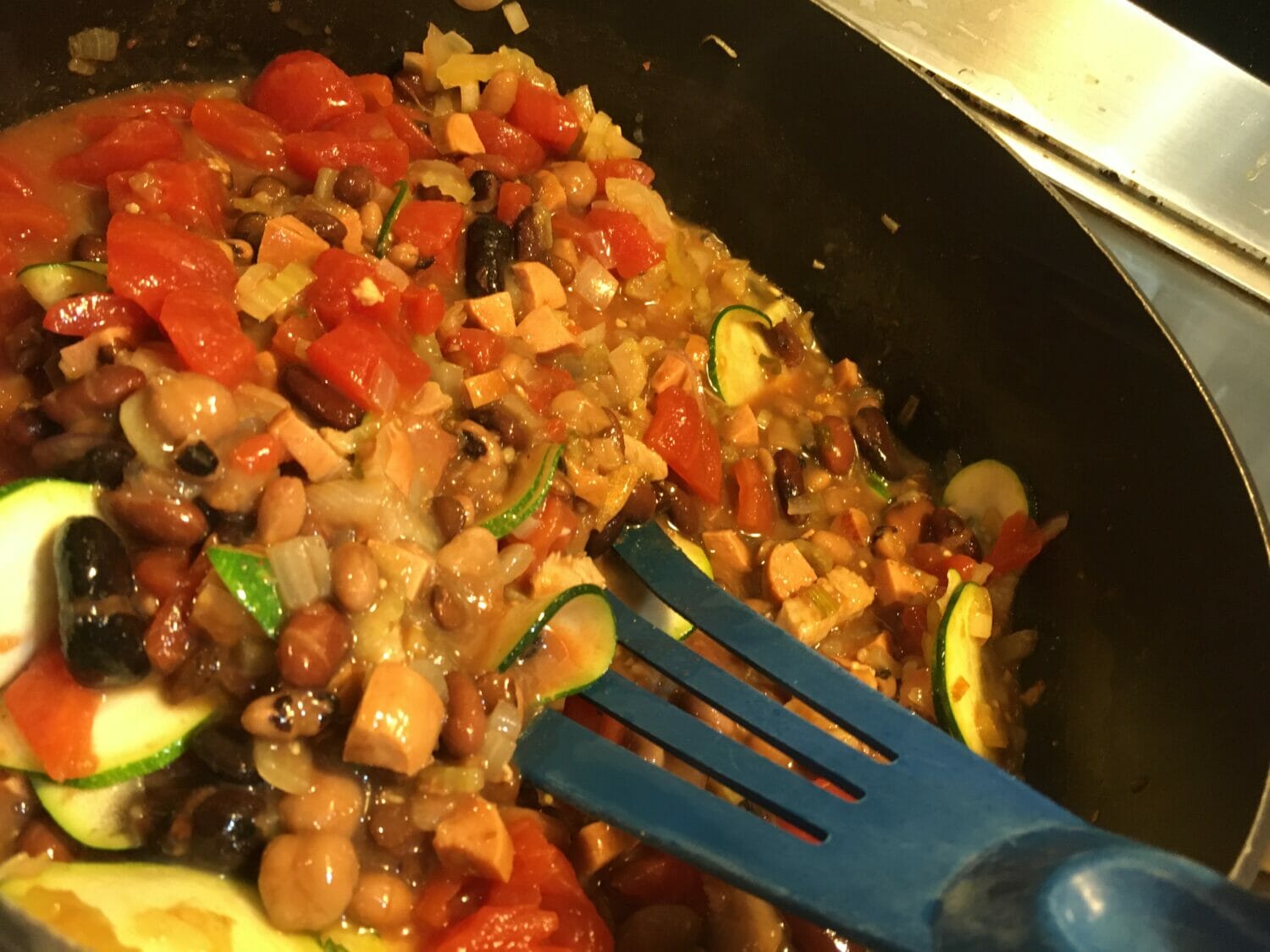 If you've never had classic cassoulet, it's a French casserole made from beans and meat, though you can skip the meat for #meatlessmonday, and swap out the butter for a vegan version. Dear Husband has made several cassoulet recipes for us before, and we love them all – but not the fact that they take forever to make.
He even found a camping-friendly version. But that still took hours of prep before we left home, plus plenty of time in camp to cook.
Now that I've nailed a foolproof, no-fuss way to cook dried beans with minimal effort, I've been making a pot of beans every week or two. I use them in place of canned beans or meat in some of our favorite recipes, but have also been experimenting with new recipes.
That's how I came up with an easy shortcut cassoulet recipe a few weeks ago,
to use up some random meat leftovers in our refrigerator and a stale half-baguette on our counter. In a half-hour, I had a delicious spin on homemade cassoulet on the table.
Best of all, we all agreed that it was every bit as tasty as the ones that take much longer to make. It was such a hit, the girls and Dear Husband said I could make it again as often as I like.
If that's not a ringing endorsement, then I don't know what is.
Ready to give it a try? Read on:
Weeknight Shortcut Cassoulet Recipe
Serves 6-8 / Prep time 20 minutes / Total time 30 minutes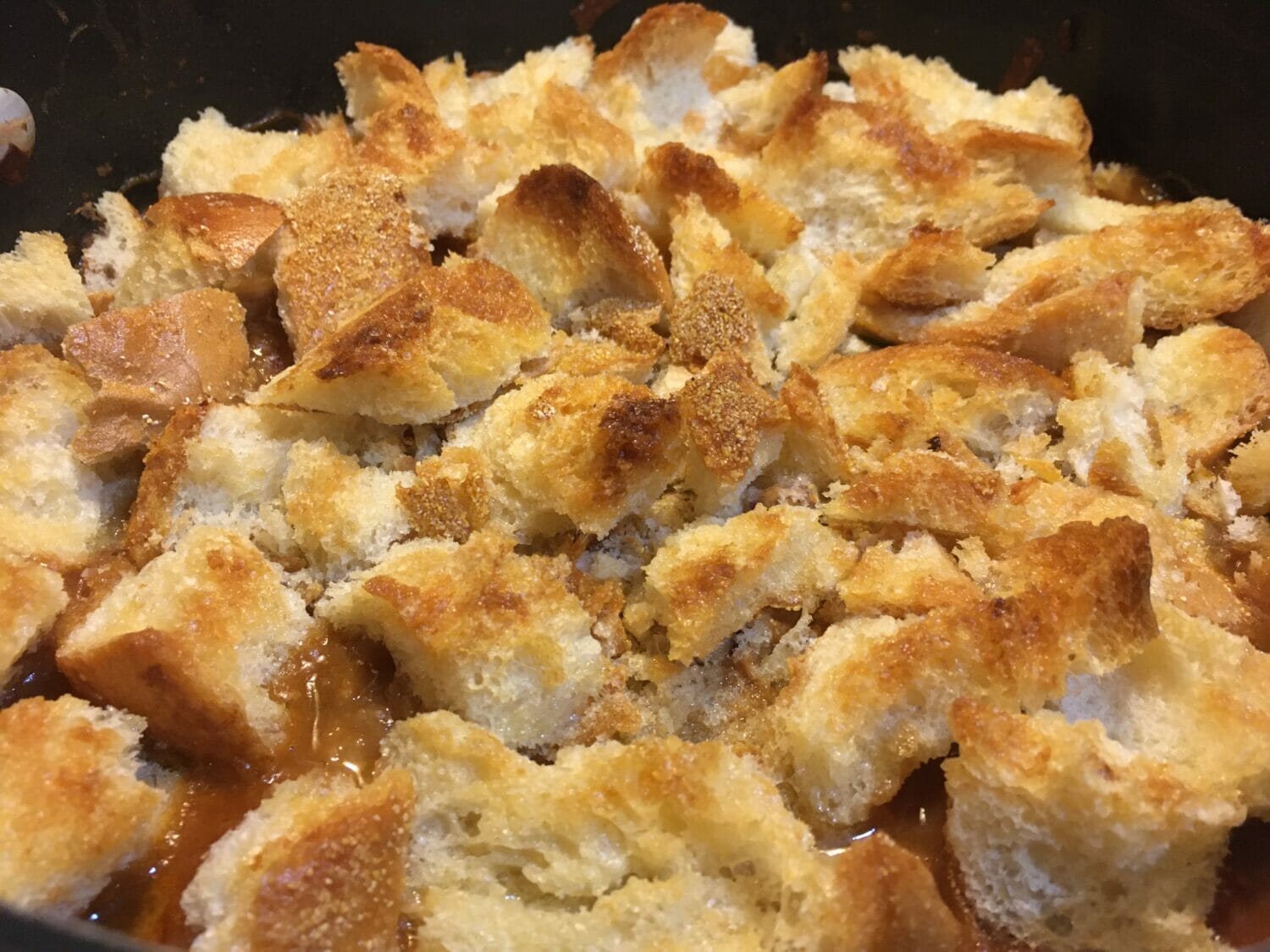 A few recipe notes:
While traditional cassoulet includes meat, you can skip the meat for a tasty vegetarian comfort food dinner. Swap out the butter for margarine, and you have a vegan version. Use gluten-free bread or crumbled gluten-free crackers for a gluten-free version.
The easiest way to make this is with a heavy pan that's safe for stovetop as well as in the oven, like a Dutch oven or

cast-iron casserole

. If you don't have one, that's OK, but you'll have to dirty twice as many pans in the cooking process; transfer from your stovetop pan to an oven-safe casserole before the final 10 minutes of cooking.
Cassoulet traditionally uses white beans, so if you have those on hand, use those – but realistically, whatever beans you have in your cupboard will work. And if you haven't been

making a batch of my no-fuss cooked beans

every week or two like we have, just use canned beans instead.
If you chop the celery and onion first, you'll have time to chop the cooked meat and bread while the other steps cook.
What you'll need:
2 T olive oil
1 medium onion, diced
1 stalk celery, diced
1-2 t. chopped garlic
1-2 c. leftover cooked meat, chopped
3-4 c. (2 14.5-oz cans) cooked beans, undrained (preferably white, or 1 each white/red if using canned)
1 (14.5-oz) can diced tomatoes, undrained
Salt and pepper to taste
1/4 loaf stale baguette or similar crusty bread
1/4 c. (4 T) butter
The basic idea:
Heat oven to 350 degrees F; place a rack in the top half to top third of the oven, so that the top of your cooking dish will be a few inches below the top of the oven.
Over medium heat, heat oil in heavy pan that's safe for both stovetop and oven (see Notes above).
Sauté onion, celery, and garlic until they soften and start to brown, approx. 10 min.
While the vegetables are cooking, dice meat and add to pan.
Add beans and tomatoes; season with salt and pepper to taste (go easy on the salt, unless you're using unsalted beans and unsalted tomatoes). Stir to combine, and continue to cook on stovetop approx. 5 min.
While the mixture is cooking, cut the bread into chunks approx. 1-2 inches. Melt butter in microwave.
Turn off stovetop heat. (If you need to transfer to an ovenproof dish, grease it with cooking spray first and do so now.) Scatter chunks of bread/any crumbs on top of mixture; drizzle butter evenly over top.
Cook in oven approximately 10 minutes more, until bread-chunk topping is golden brown and crunchy.
Mix it up:
You can also throw in other vegetables you have on hand, if you like. Some recipes also include diced carrots; in the version I photographed for this post, I also thin-sliced a random zucchini we had lying around.
Vegetarian? Looking for a recipe idea for Meatless Monday? Just omit the meat, and/or use meatless sausage/crumbles instead.
For a vegan version, swap out the butter for margarine.
Traditional cassoulet uses duck, sausage, and sometimes pancetta, but pretty much any leftover cooked meat will work for this shortcut version (except perhaps steak). When I first made this, I used two sliced of leftover cooked pork and two leftover hotdogs.
I've also used chicken with an uncooked bratwurst. Since the brat was straight out of the freezer, I cut it into chunks and sautéed it along with the onions and celery. If you use any uncooked meat, just add it to the pan along with the onions/celery/garlic, and make sure it's cooked through before adding the beans and tomatoes. Cutting into small chunks will help with this.
If you don't have stale bread lying around, you can toast a few slices of regular bread and break/cut into small pieces. Or sprinkle the top of the casserole with plain breadcrumbs, plain panko, or unseasoned croutons before drizzling the butter on top.
Have you had cassoulet before? Have you ever made cassoulet from scratch? If so, we hope you find this weeknight shortcut cassoulet recipe as yummy as we do!
If you enjoyed this weeknight shortcut cassoulet recipe, please share with others by pinning this image!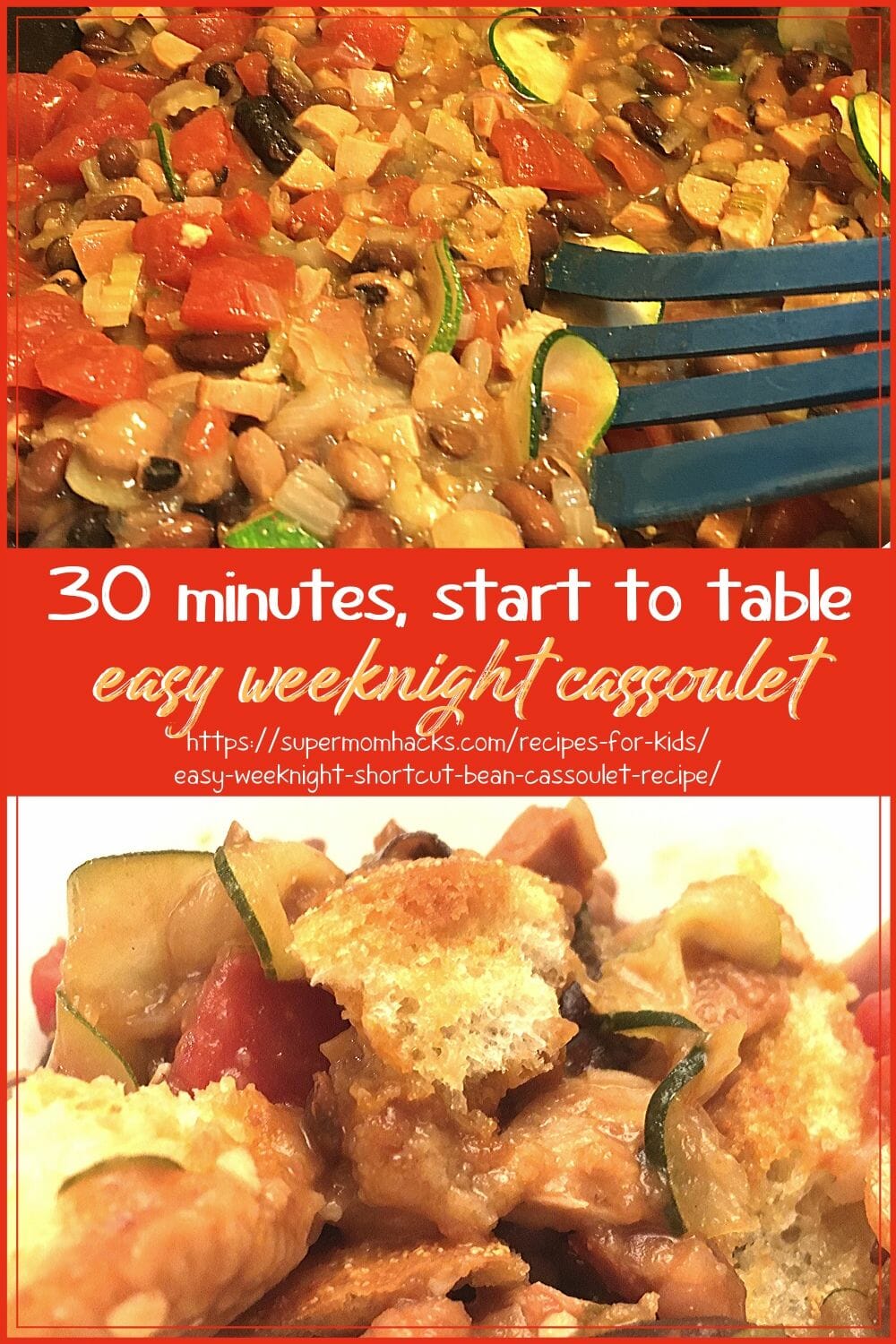 NOTE: This site contains affiliate links. I may earn a small commission from any purchases made through affiliate links, at no additional cost to you. For more information, please read the full disclosure/privacy policy.