Are your kids going nuts, now that Christmas is over and school vacation lasts another week? Are they not ready to let go of their favorite holiday? Either way, making Christmas pizza for lunch or dinner might help.
Why Christmas Pizza?
If your kids are like mine, they could do Christmas 365 days a year. But when Kimmie found a book called Christmas Things to Make & Do last April at our annual church garage sale, I told her we had to wait to December to actually do any of the activities.
Well, come December 1, she remembered my words – and held me to them.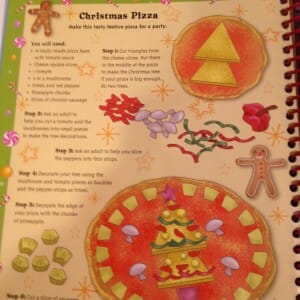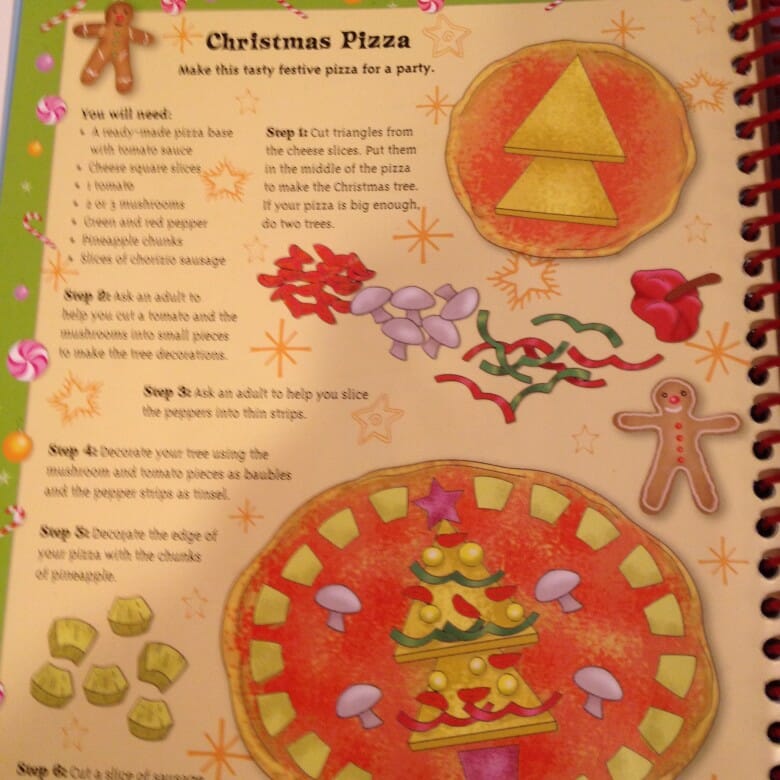 Of all the things we've done so far, making Christmas pizza was hands-down the favorite of both girls. Not only was it something seasonal to do, but it got them involved in healthy food prep, which guaranteed that they would eat up every bite of the ensuing creation.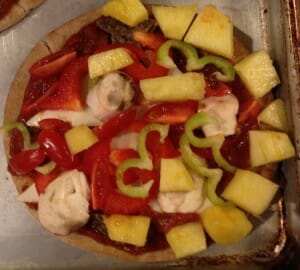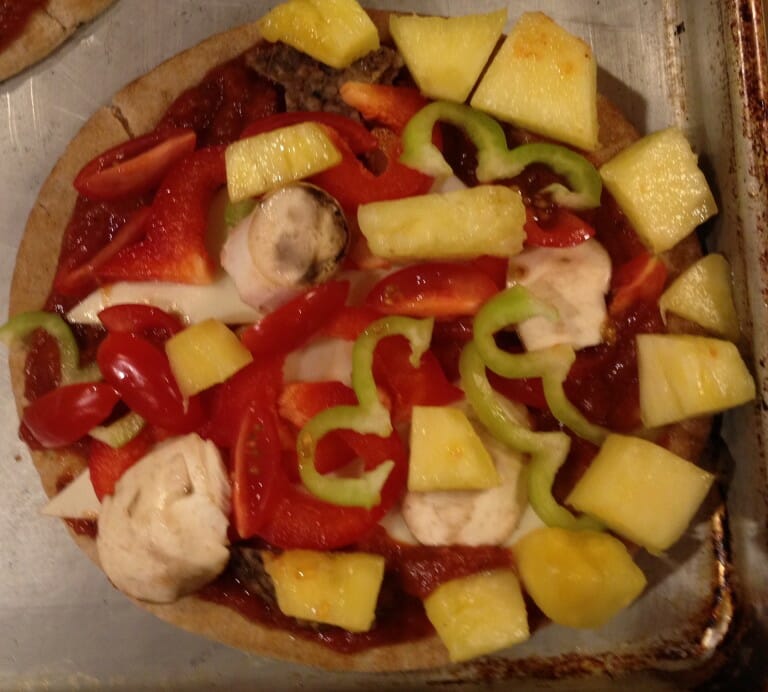 We modified the recipe in several ways. For one, we each made a personal-sized Christmas pizza (so that I could have a boring "normal" pizza with just my favorite ingredients in the proportions I prefer). It soon became clear that it's easiest to make the pizza actually look like a Christmas tree when you're using a full-sized crust.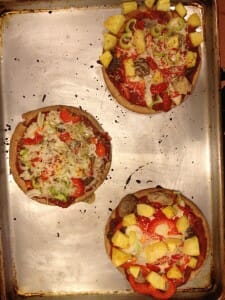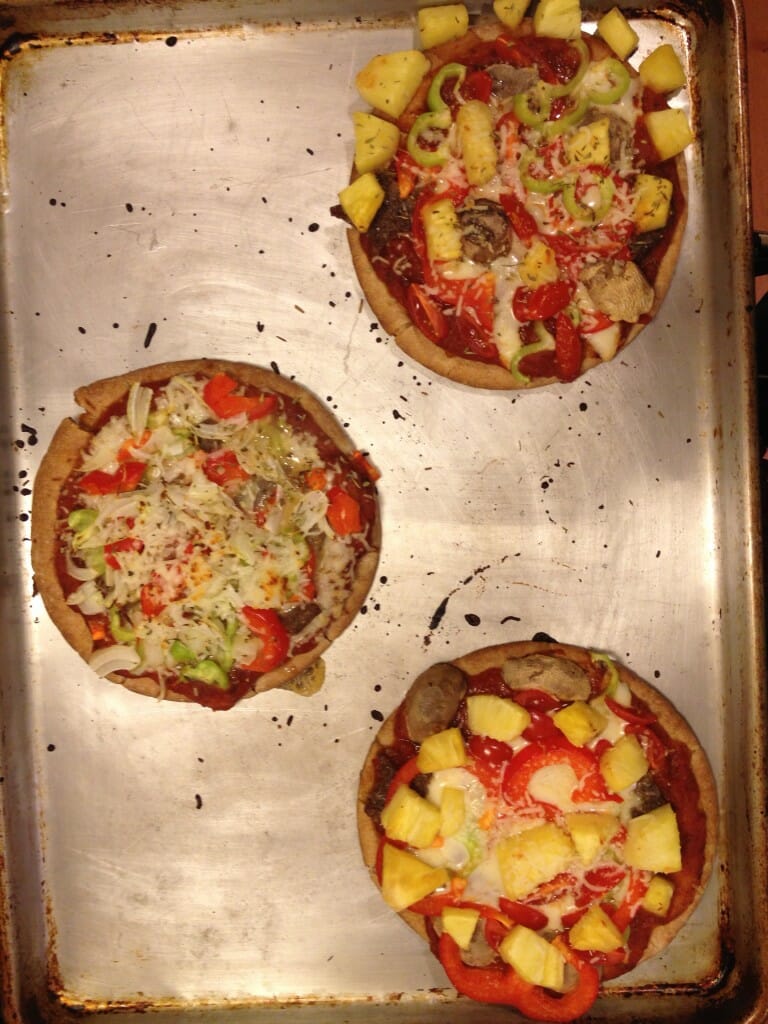 When things melted together and the finished products came out of the oven, they were even less recognizable. But the girls didn't care, and were so excited about the whole project that Kimmie made another one the next day. The second time around, she was OK with varying slightly from the original recipe, so not overloading the ingredients also helped with making the results more identifiable.
Not only was the whole process simple, but it made meal prep more fun and got several veggie-laden lunches into the girls.
So if you're looking for something to do to entertain, feed, and/or focus your kiddos while they're going stir-crazy around the house in the madness of post-Christmas rush, give this project a try.
Recipe: Christmas Pizza
Prep time: 10-15 min; cook time 10-15 min; total time 30 min; servings vary
What you'll need:
Individual-sized pizza crusts or whole pita breads
Tomato sauce or pizza sauce
Slices of flat cheese (deli cheese or American singles)
Pepperoni slices, round sausage patties, sliced mushrooms, or slices of ham
Red and green peppers, sliced into rings and then cut into smaller pieces
One small onion, sliced thinly and then cut into smaller pieces, or chopped green onion
The general idea:
Preheat oven to 400 degrees. Place one crust or pita per person on a large baking sheet. Spread several tablespoons of pizza sauce on each crust.
For each Christmas pizza, cut a square of flat cheese diagonally into two triangles. Arrange on each piece of pizza into a tree shape. With a sharp knife, cut a star shape out of a slice of meat/mushroom for the top of the tree, and a half-circle or pot shape out of another piece for the pot under the tree. (Save the extra pieces from around the edges of the star, to use later for "ornaments.") Add the star to the pizza at the top of the "tree" and the pot at the bottom of the "tree."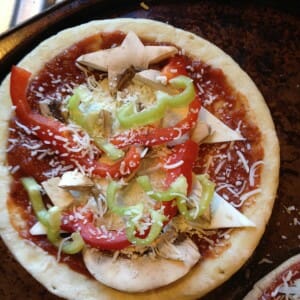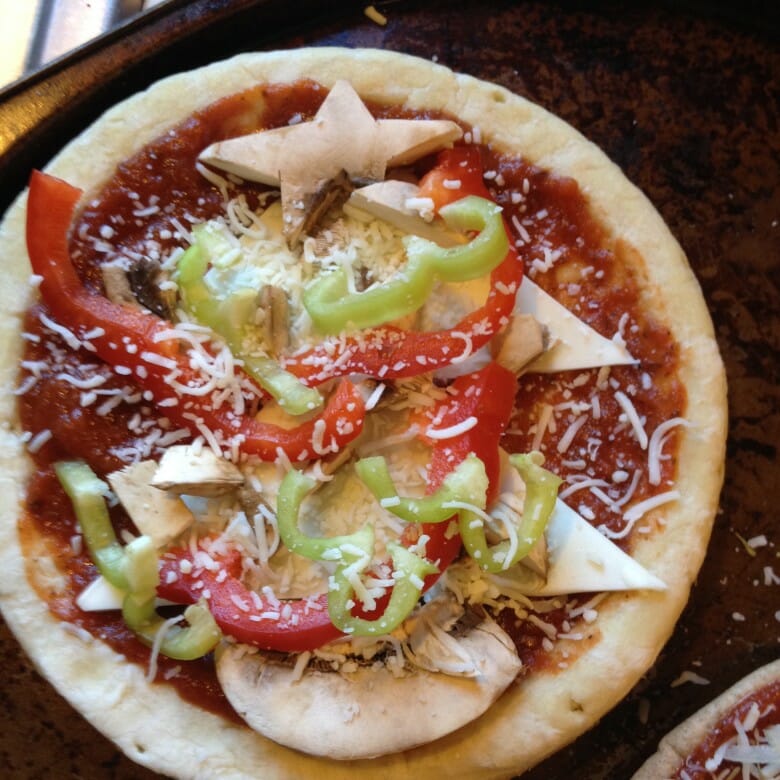 Decorate the "tree" with partial rings of pepper and onion, draped across like garlands. Sprinkle the leftover bits of meat, additional chopped mushroom bits, and/or green onions over the tree as "ornaments." Sprinkle additional "ornament" ingredients across the red-sauce background as desired. Ring the edge of the pizza with additional pepper/onion garland pieces, half-circles of meat, or cut-up pieces of mushroom, if you wish.
Bake at 400 degrees for 10-12 minutes, or until the cheese has melted and the edges have started to brown. Let cool for a few minutes before serving.
Mix it up:
I'm not much for sweet pizzas personally, but the original Christmas pizza recipe in Kimmie's book called for chunks of pineapple ringing the edge of the pizza. If you like sweet-and-savory combinations, go for it.
For that matter, swap in whatever ingredients are your family's favorites. Little black olive rings would make super ornaments on the tree, as would crumbled hamburger or sausage. If you can't imagine a pizza without shredded cheese on it, sprinkle some on top and call it "snow."
Though we haven't tried it, this is an easy project to adapt to lots of different holidays. I can imagine making hearts out of red pepper strips and cut-up grape tomatoes for Valentine's Day, doing a dessert version with blueberries/raspberries/strawberries/whipped cream on an oversized sugar cookie for the 4th of July, and decking out a crust with orange peppers and black olives for Halloween.
If you enjoyed this Christmas Pizza recipe, why not share it with others by pinning this image?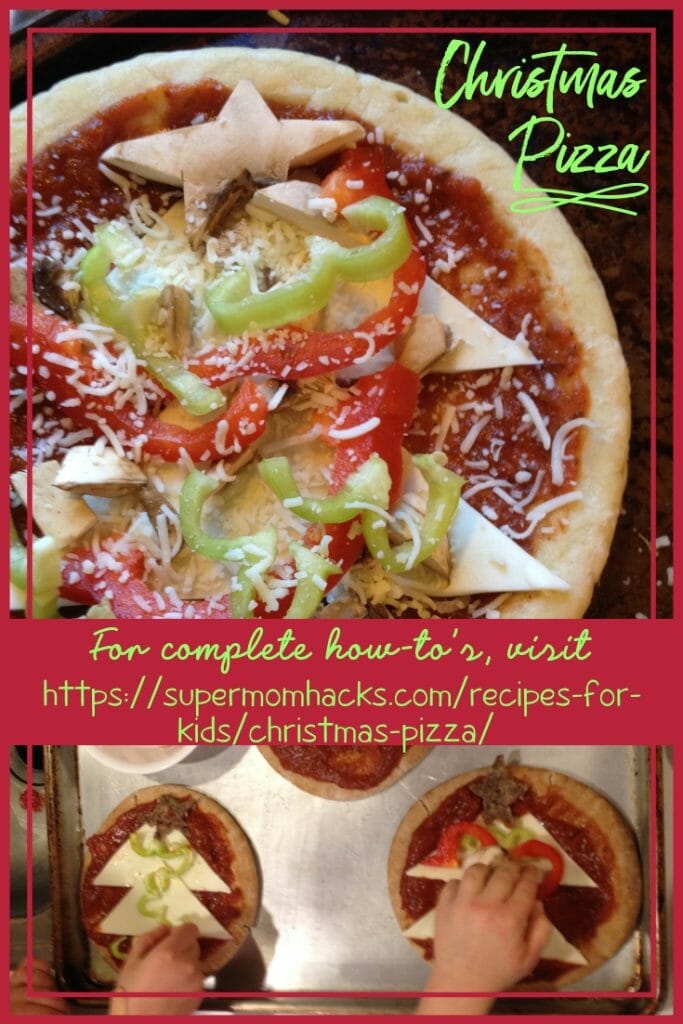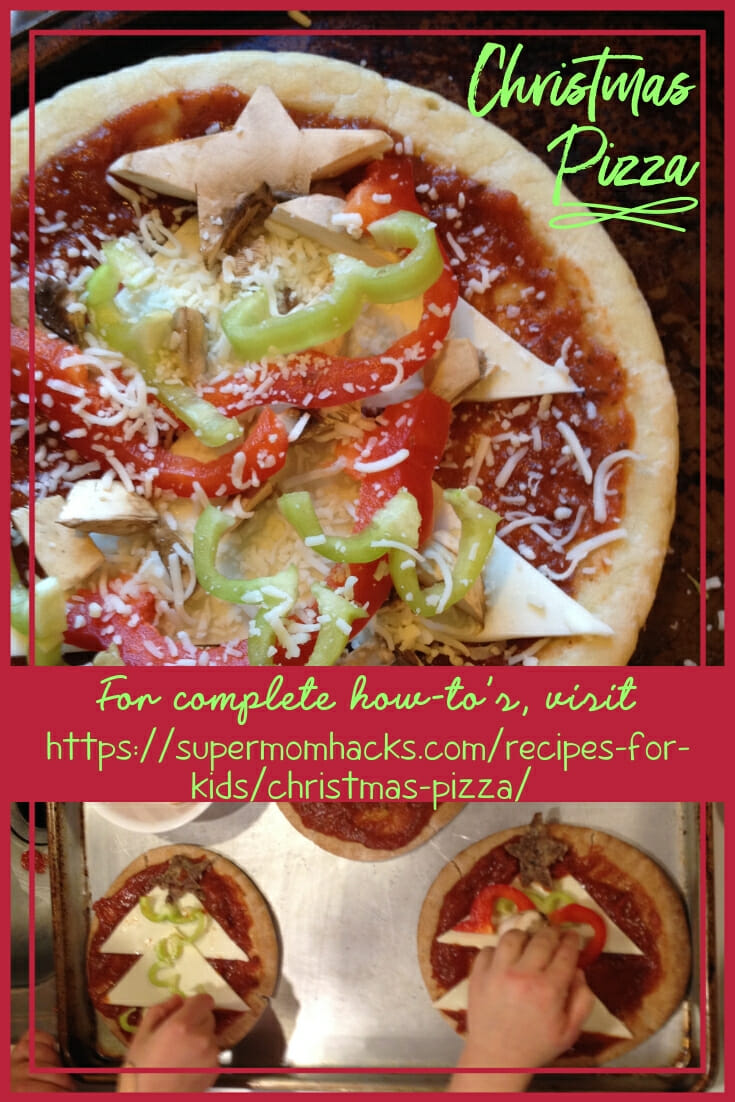 NOTE: This site contains affiliate links. I may earn a small commission from any purchases made through affiliate links, at no additional cost to you. For more information, please read the full disclosure/privacy policy.