The final countdown to the big day is on; Christmas Day is two weeks from today! Have you finished your decorating and other house-prep for the big day? No worries if you're not quite there yet. These tips will help with getting your living room ready for Christmas in no time flat.
RELATED POST: Christmas Morning Hacks: How To Have Your Smoothest Christmas Morning Ever
And once things are ready to go, you'll be able to sit back and enjoy the holidays more!

This is a collaboration post. However, please know I stand behind everything written here, and only include links to products/services/resources I'm willing to recommend personally.
1. Put up the Christmas tree
If you don't already have your tree up, then make sure you get it up right away! (True confession: we just bought ours last weekend.)
Time is ticking, and the earlier it's up, the longer you can keep it up. This is obviously the main thing that transforms your living room from its usual self into a more Christmas-themed area. Some people love real trees, while others prefer artificial ones. But it doesn't matter whether you're in Camp Real Tree or Camp Artificial Tree – just get it up.
In an ideal world, we'd put up our tree on the day after Thanksgiving. This is not our reality, though, as we spend all of Thanksgiving week with my in-laws each year. But regardless of whether our tree goes up weeks before Christmas, or just days, it always brings so much joy into my life. The girls love helping to decorate every year, including many ornaments that I made as a child. It's a great time to go over the stories of where each ornament came from, and how old it was, and (if it's a handmade one) how old each of us was when we made it, and how much we've grown since then.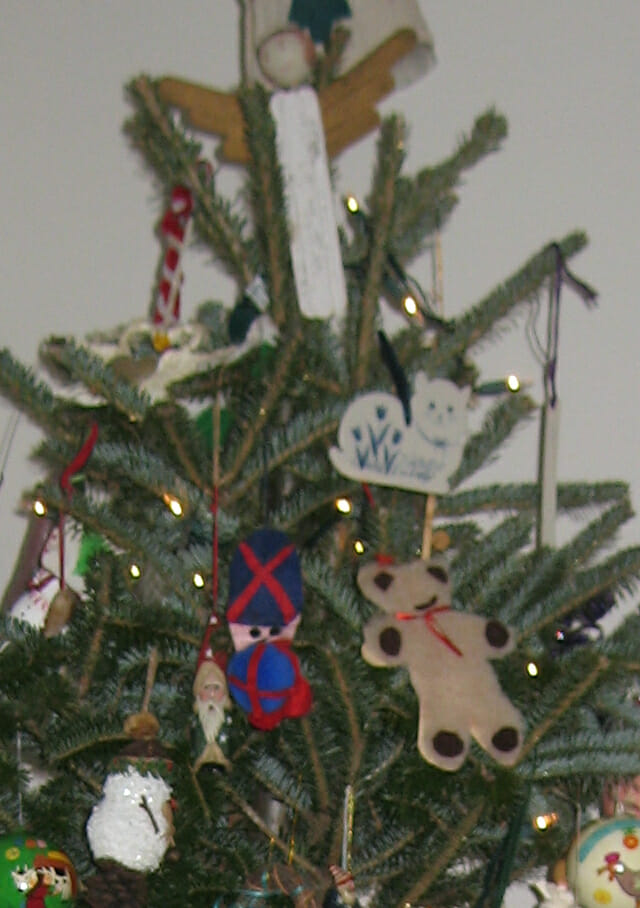 And even if you do minimal decorating beyond the tree, there's something magical about having that tree up. I love nothing more than reading, relaxing, or snuggling in the living room each December. There's something magical about sitting in the room lit only by the lights on the tree.
Which brings me to step #2:
2. Hang fairy lights around the room
Nothing is more lovely than twinkling white lights hung around a room for a soft, calming evening mood. Although the scope of our current living room is not conducive to this, in several of our former homes we had tiny white lights strung around the edge of the ceiling, for some soft mood lighting before bed. We used to keep them up year-round (a practice we've continued in the girls' bedrooms to this day). But even if you don't use them year-round, at least hang them at Christmastime.

Worried about damaging the walls? You don't need to. Command 3M damage-free hanging strips are one of the greatest inventions ever, in this mama's opinion. We use them to hang so much more than twinkling white lights all over our house. We've used them to hang small racks on the wall, keep electrical cords out of the way, etc. We even have a few underneath the mantel for hanging extra stockings!
If you physically don't have anywhere to hang lights, that's OK. Just throw a pile of them into a vase for a DIY fairy light and put that on the mantel. The effect is stunning. To take this several steps further, you can get a fancy old wine bottle, thread them down the neck, and paint the bottle with a decorative design. Kimmie actually has a handmade lamp like this in her bedroom, and LOVES it.
3. Make sure your entertainment system is ready
Since the 1950s, no traditional American living room has been complete without a TV set. For over a half a century now, gathering around the family TV set to enjoy a movie or pro sporting event together has been a traditional way to spend quality time together as a family. As recently as a decade or two ago, families spent at least one or two nights each week this way.
Nowadays, we don't always have time to do this, and there are more things to keep kids entertained away from the television. But, the best thing about Christmas is that it brings out some classic traditions. Ever since I was a kid, once the gifts are opened and Christmas dinner is in the books, the rest of the day has been for lounging around in our PJs and enjoying movies together. If this is going to be a part of your family Christmas tradition this year, then you need to have everything in place for the perfect home cinema experience.
The 21st century version of this setup generally includes a surround-sound system, a cable or dish subscription, and high-speed internet as well. No living room is complete without a TV and entertainment system. In olden times (by this I mean, ten or fifteen years ago!) families would spend most evenings in the living room watching TV together.
Clearly, you need a TV that's capable of satisfying everyone's viewing pleasures. Maybe you picked up a nice 4k one in the Black Friday sales, if not, then why not pick up an early Christmas present for the family?! Some of you already have a TV that you're happy with, so now it's time to double-check your sound system and viewing options. Doesn't matter whether you plan to rely on your cable subscription, satellite dish, or streaming service, so long as you've got at least one option ready to go. Iv you've been thinking about switching or upgrading anyway, there are loads of great bundled services out there where you can get everything rolled into one,
4. Bring out the Christmas candles
Everyone needs to have some Christmas candles that make an appearance every year. All the leading brands do them, and you can even get cheap ones from your local grocery store. Think spiced apple, cinnamon, berries and evergreen – all the festive scents of the holiday season. Lighting a few of these in your living room will instantly set the mood for all your holiday get-togethers.
If small children or pets make the thought of live flames scary, consider holiday-scented plug-in air fresheners instead. Or, even better, put a pot of water on your stove, add cinnamon sticks/cloves/orange peel/dried apple rings, and set it on a low simmer. Not only will this waft the most wonderful holiday aroma throughout your house, but the slowly evaporating water will help add humidity to the dry winter air.
5. Rearrange the furniture as needed
Most of the year, your furniture is set up a certain way in order to maximize your day-to-day existence as a family. But when Christmas comes, all the rules change. Needing to fit a tree plus lots of extra guests into the room means that we usually rearrange the furniture for the month of December. If you're finding yourselves similarly crunched for space, give this hack a try.
Moving things around does more than give the room a special feeling that sets aside Christmas as different from the rest of the year. In our case, with both sets of extended family spending Christmas with us, it's absolutely necessary if we're going to fit everyone into the living room for present-opening. But it's also a great opportunity to rearrange things for other holiday activities. A different traffic flow can be very helpful for Christmas parties and open houses. Likewise, switching things up may give you more opportunities for everyone to get comfortable as you settle in together to watch those Christmas films.
Regardless, a simple little re-arrangement can make a serious difference to the look and feel of your room. If you keep doing this every year, then it'll become symbolic, and is something that will stick with your kids forever as well.
And that's all there really is to it! If this list of five simple steps seems overwhelming, trust me – we're talking a day's worth of prep, or a weekend's worth at most. My girls are super-excited to put the finishing touches on our own Christmas decorating, and trim our own tree, Once the tree is up and the living room is in Christmas mode, the whole house feels ready to celebrate Christmas in style!
What about you? What other things do you do when getting your living room ready for Christmas? Let us know in the comments – and have fun with the rest of your preparatiojns!Get your living area ready for the big days ahead, and you'll have the perfect family Christmas this year.
If you enjoyed this post on getting your living room ready for Christmas, why not share it with others by pinning this image?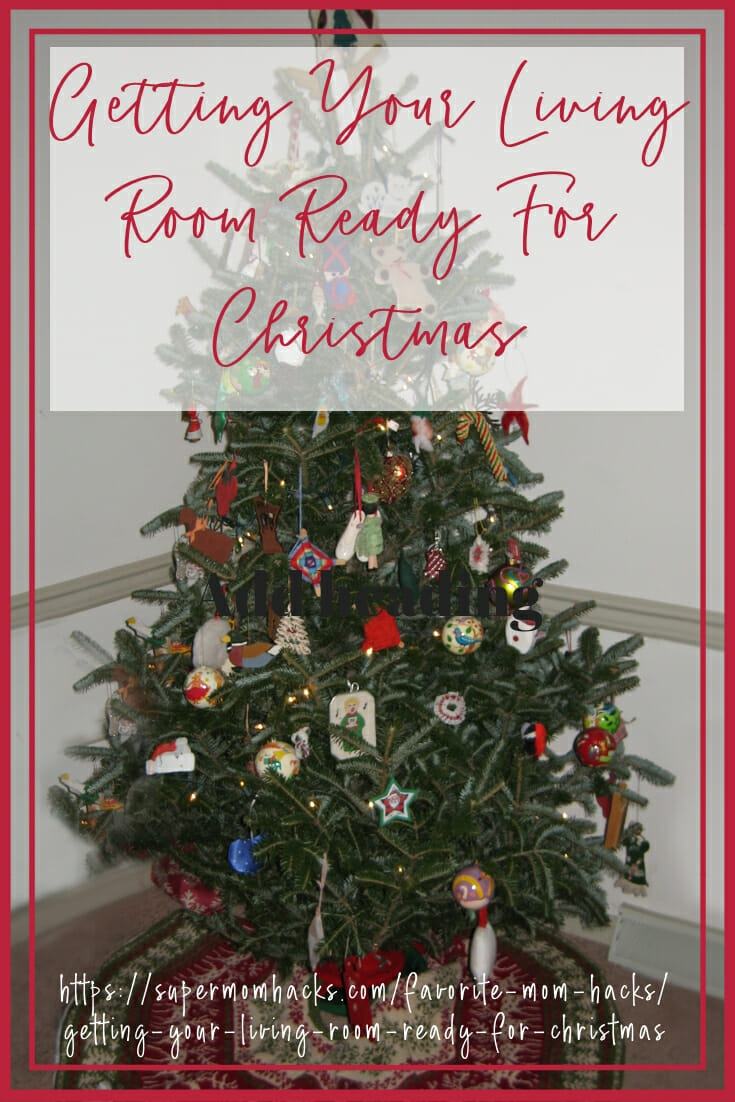 NOTE: This site contains affiliate links. I may earn a small commission from any purchases made through affiliate links, at no additional cost to you. For more information, please read the full disclosure/privacy policy.