The first Halloween costume I ever "made" the girls was an accident. My husband and I were set to take our infant to an outdoor fall social event for his work. Since it was a few days from Halloween, I got out Kimmie's black pants and a jack-o-lantern T-shirt. The night before the event, I realized she needed a hat – and that with the right color hat, she could make a super-cute jack-o-lantern. So I dug out some bulky olive yarn and whipped one up with my crochet hook. And our easy-peasy jack-o-lantern Halloween costume was born.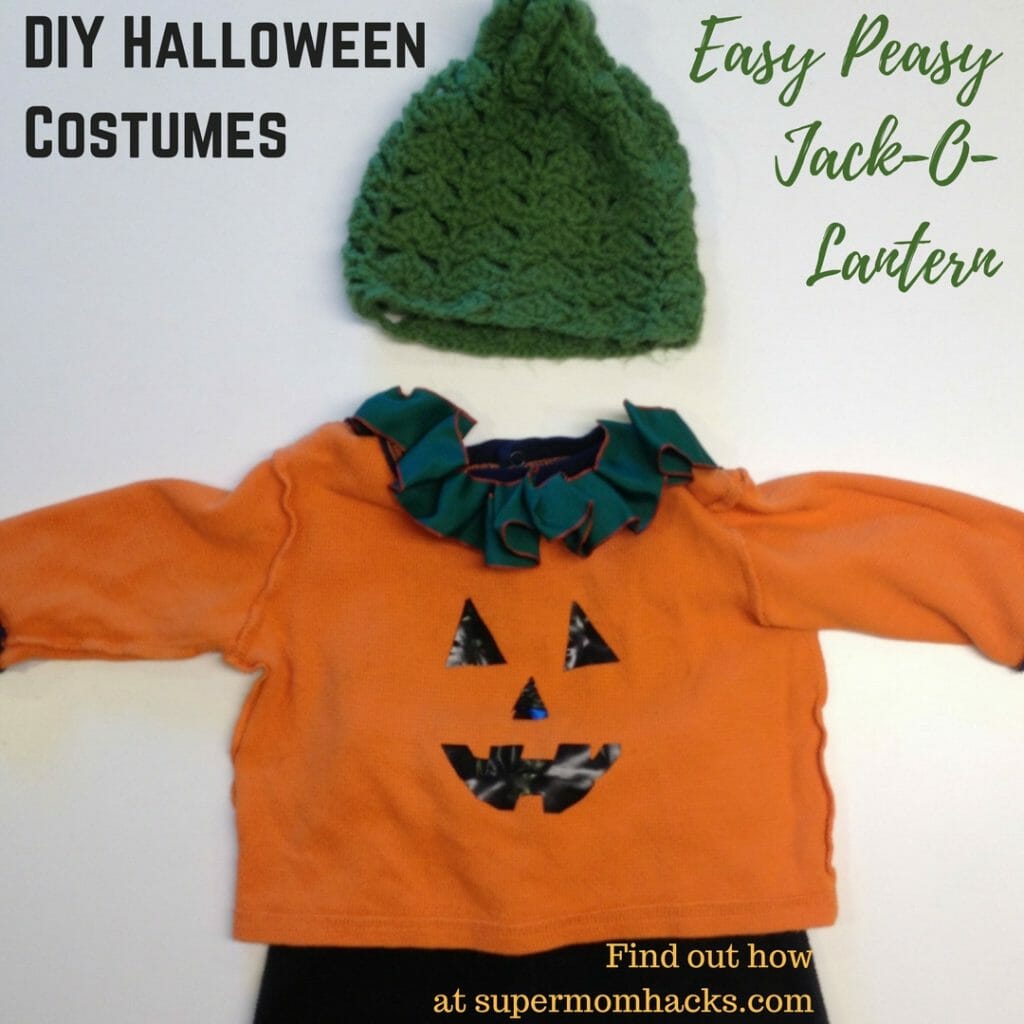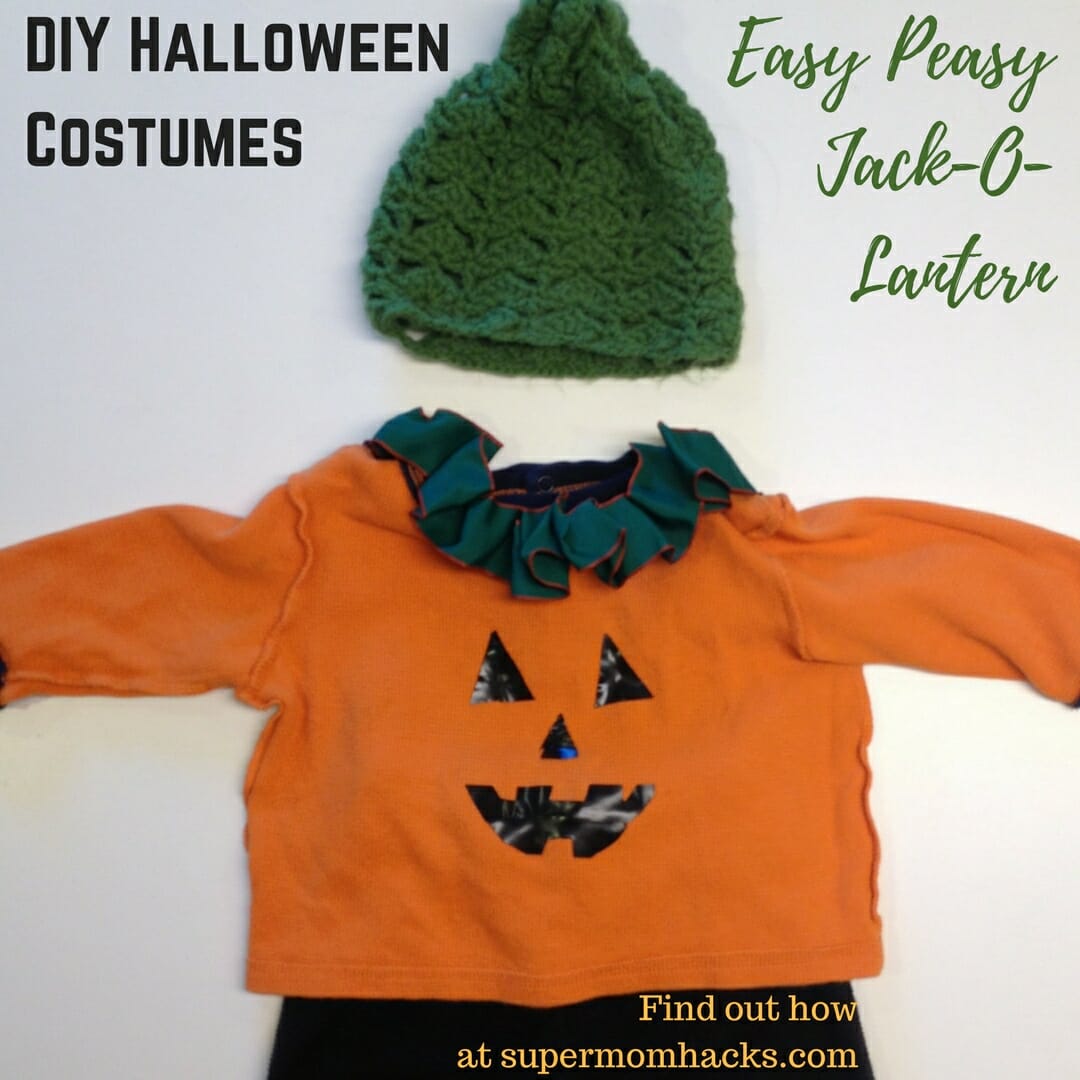 DIY costumes the hard way
When I was a kid, my mother always made Halloween costumes for my brother and me. Elaborate affairs that took weeks at the sewing machine. We're talking E.T., Rick the Raccoon from Shirt Tales, a witch with a gorgeous fringed cape, an incredible Dutch doll with a hand-knotted yarn wig.
This is the same woman who later stitched my prom dresses for less than we paid for the dyed-to-match shoes, and later still sewed my wedding gown from scratch, complete with a beaded bodice that I was all but sewed into.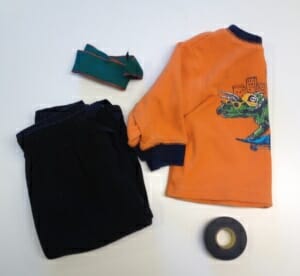 I share her zeal for saving money and creating memories at the same time, but am neither as gifted with a sewing machine as she is, nor as capable with organizing my hours around such time-intensive costume creation.
Easy Fast DIY Costumes On the Cheap
Yet so far my kiddos and I have managed to come up with an assortment of DIY Halloween costumes that average around $10 apiece, and require only an hour or two to make. Best of all, the pieces generally incorporate stuff they already have in their wardrobes, or can easily reuse once Halloween is over with.
That first DIY Halloween costume I "made" for 9-month-old Kimmie, and later reused on 6-month-old Essie, was a jack-o-lantern. The inspiration came from an orange long-sleeved Tshirt my mom brought Kimmie during a pre-Halloween visit; printed on the front was a cute jack-o-lantern face.
What I lack in speed at the sewing machine, I make up for with my crochet hook. Using a simple pattern and a large hook made it easy to crochet that stem-colored hat during an hour of video streaming with my hubby. Add black pants, and voila! – my little pumpkin was born.
Make Your Own DIY Easy-Peasy Jack-o-Lantern Costume
Though a green or brown hat is a nice finishing touch for this costume, if you can lay your hands on one, it's totally optional.
If you can't find a shirt with a jack-o-lantern face on it, you can also make your own with a long-sleeved orange T-shirt, and some black felt or black electrical tape.
If the orange shirt already has a picture on the front, just turn it inside out; cover the tags with a green collar made of felt or ribbon, if you like.
Don't worry about sewing the pieces on too securely, if you're using felt or fabric. Just baste them on by hand with big stitches, so you can easily reclaim the shirt for everyday use once Halloween is over.
Want more step-by-step tutorials for fun and frugal Halloween costumes? Love getting the latest parenting tips and tricks delivered right to your inbox?
Then you should be on our mailing list, so you don't miss out on another time-money-sanity-saving hack!
✅

Click here

to get signed up!
Have you made a jack-o-lantern costume? How did yours turn out? Let us know in the comments!
If you enjoyed this DIY jack-o-lantern costume, why not share it with others by pinning this image?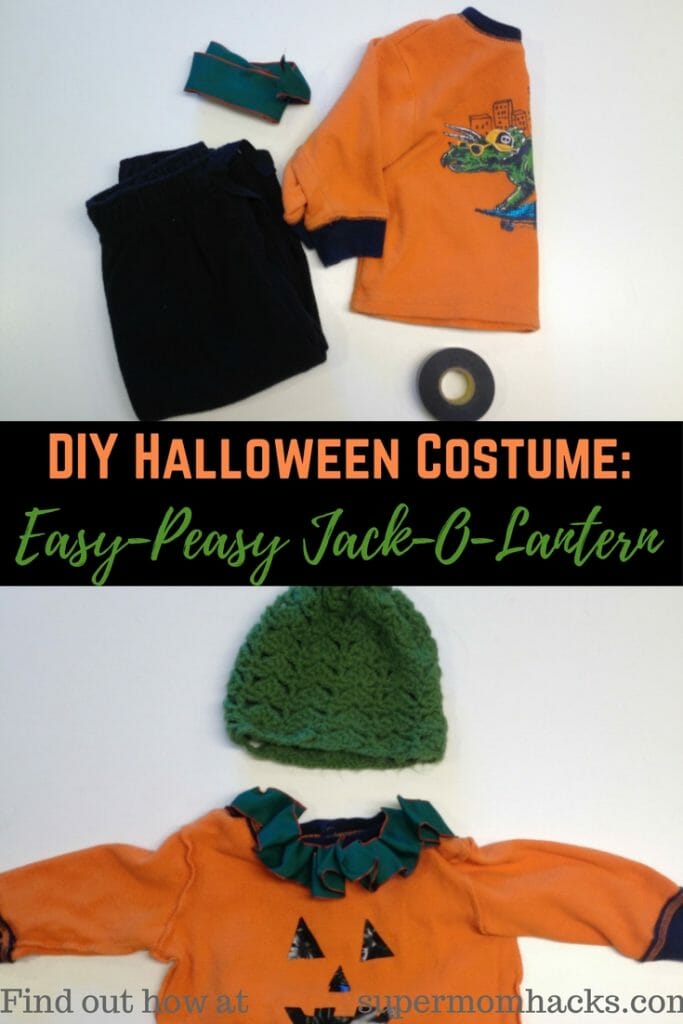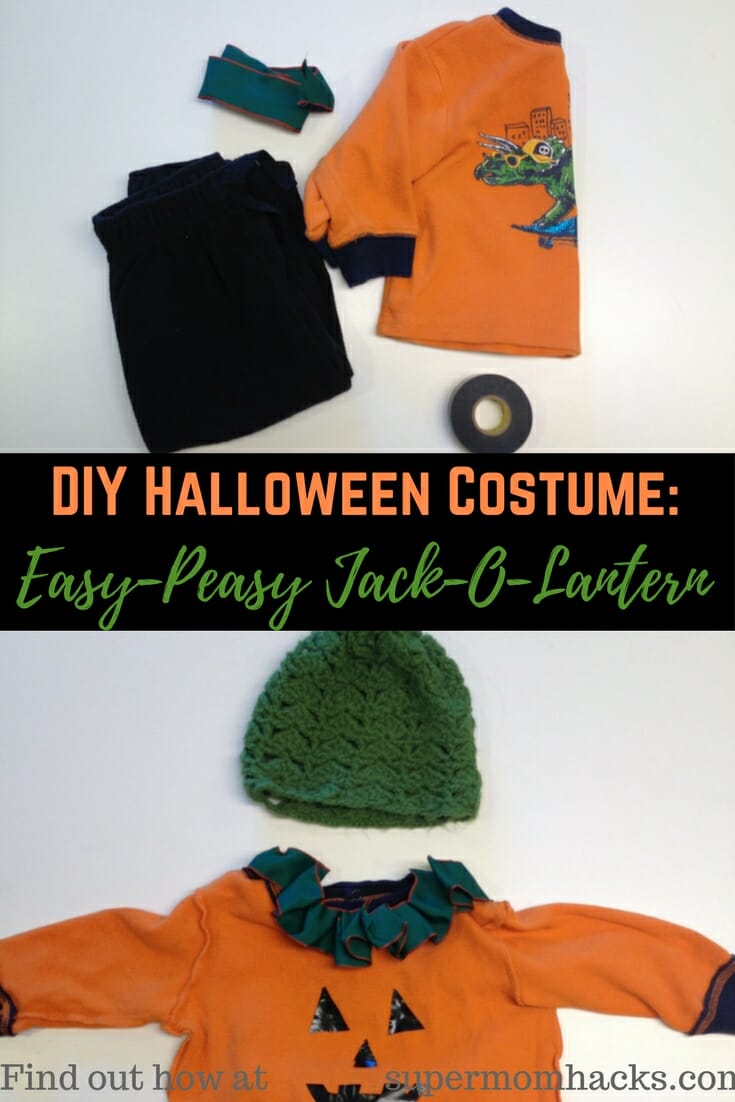 NOTE: This site contains affiliate links. I may earn a small commission from any purchases made through affiliate links, at no additional cost to you. For more information, please read the full disclosure/privacy policy.