Need a last-minute holiday gift idea for someone on your list?
Short on time and/or funds?
Then you need some of
The Best Homemade Christmas Gifts that are Fun to Make AND Give:
Time's running short – Christmas is almost here! But
you're still looking for the perfect "little something" for the neighbors, the neighborhood kids, the aunts and uncles, or that one last person on your Christmas gift list.
Or your kiddos' gift-giving plans are more expansive than their wallets.
Or your own finances are tight this season.
Whatever the reason, you're still scrambling for Christmas gifts that won't break the bank. That's why I've pulled together this list of over 100 quick and easy homemade gifts. These quick holiday homemade gift ideas are so simple to make, your kids can help. Many of them use inexpensive ingredients that are easy to get, or that you may already have on hand. And they're as fun to give as to receive!
Imagine how proud your little ones will be to say, "I made it myself!" If you're ready for some crafting fun, grab a cup of coffee or tea, sit back, and enjoy scrolling through all the clever holiday homemade gifts, perfect for kids and adults alike to gift this holiday season, in this collection!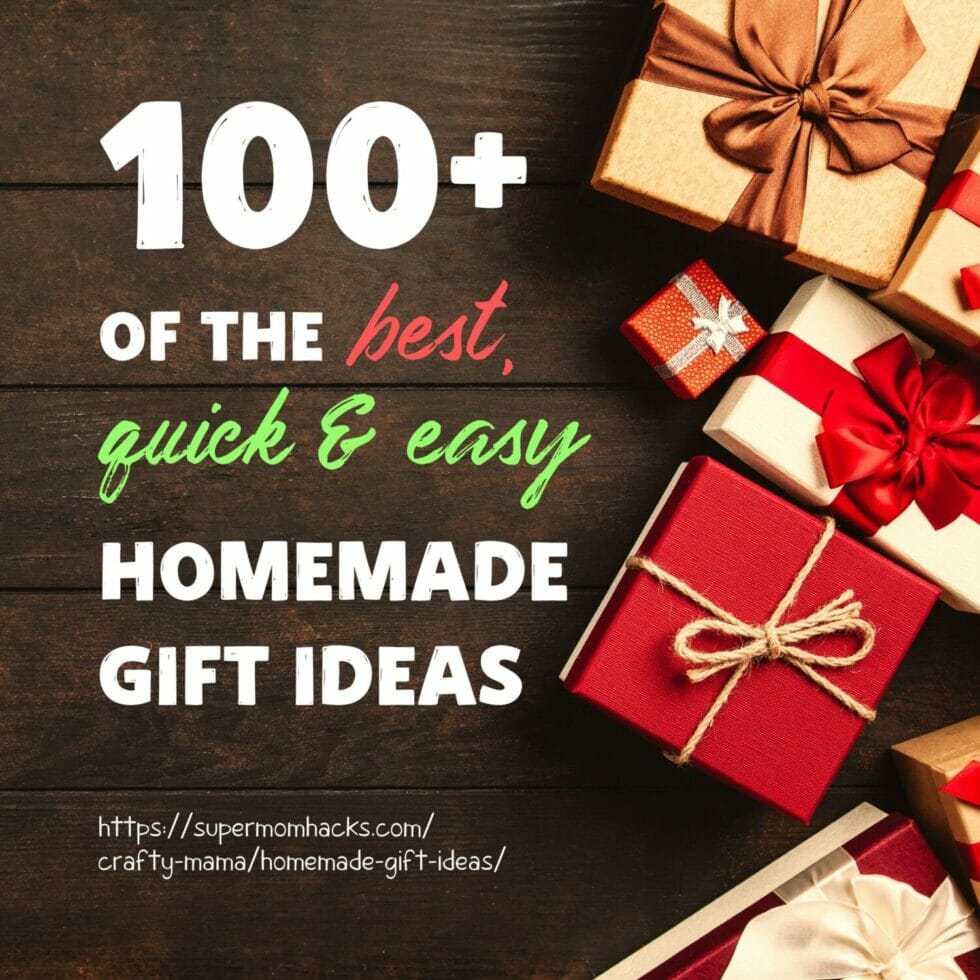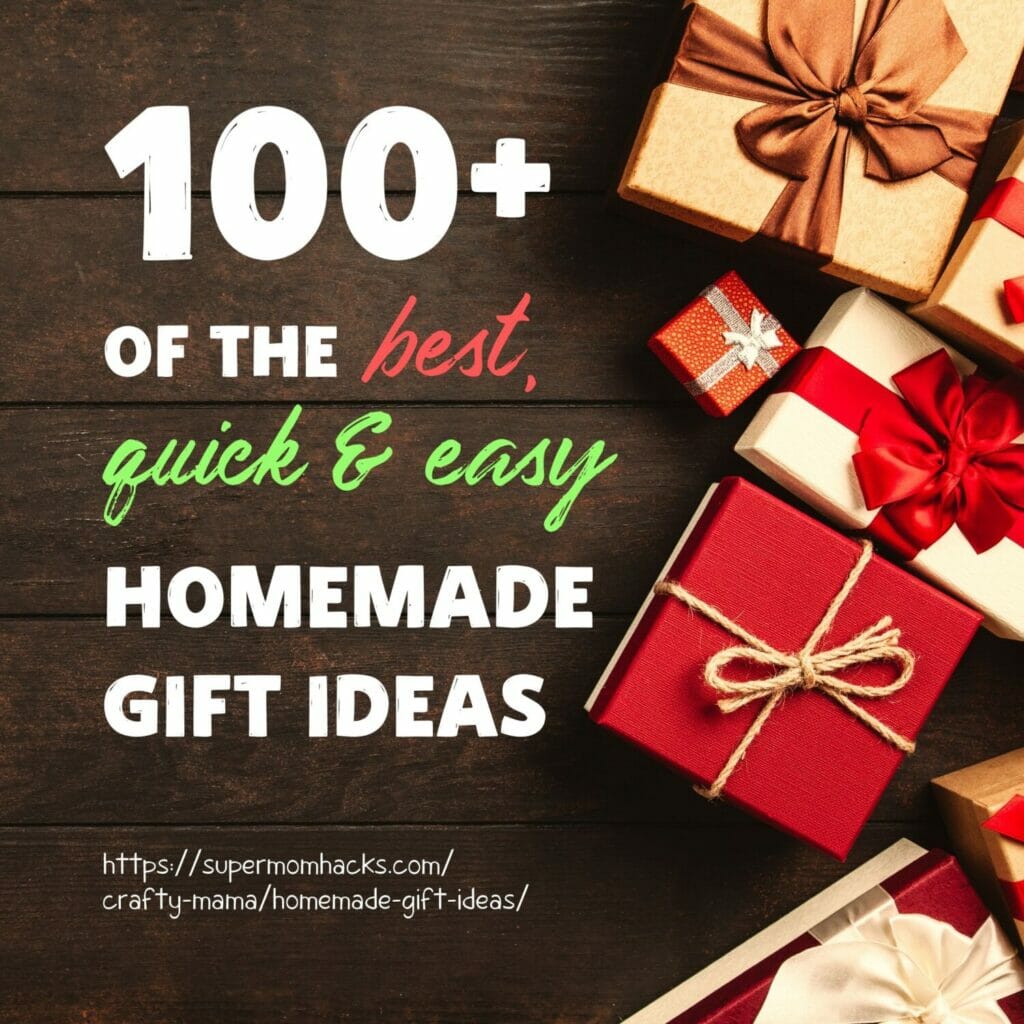 Many thanks in advance to all the fellow bloggers who generously allowed me to share their ideas, and their photos, in this collection of homemade gift ideas! See a gift you like in the photo collages below? Each photo is numbered to correspond to the post listed below; click on each post link for more photos along with complete step-by-step instructions.
The BEST Easy-To-Make Homemade Gift Ideas, for Christmas and Year-Round:
Food and Drink:
Everything Hot Chocolate/Cocoa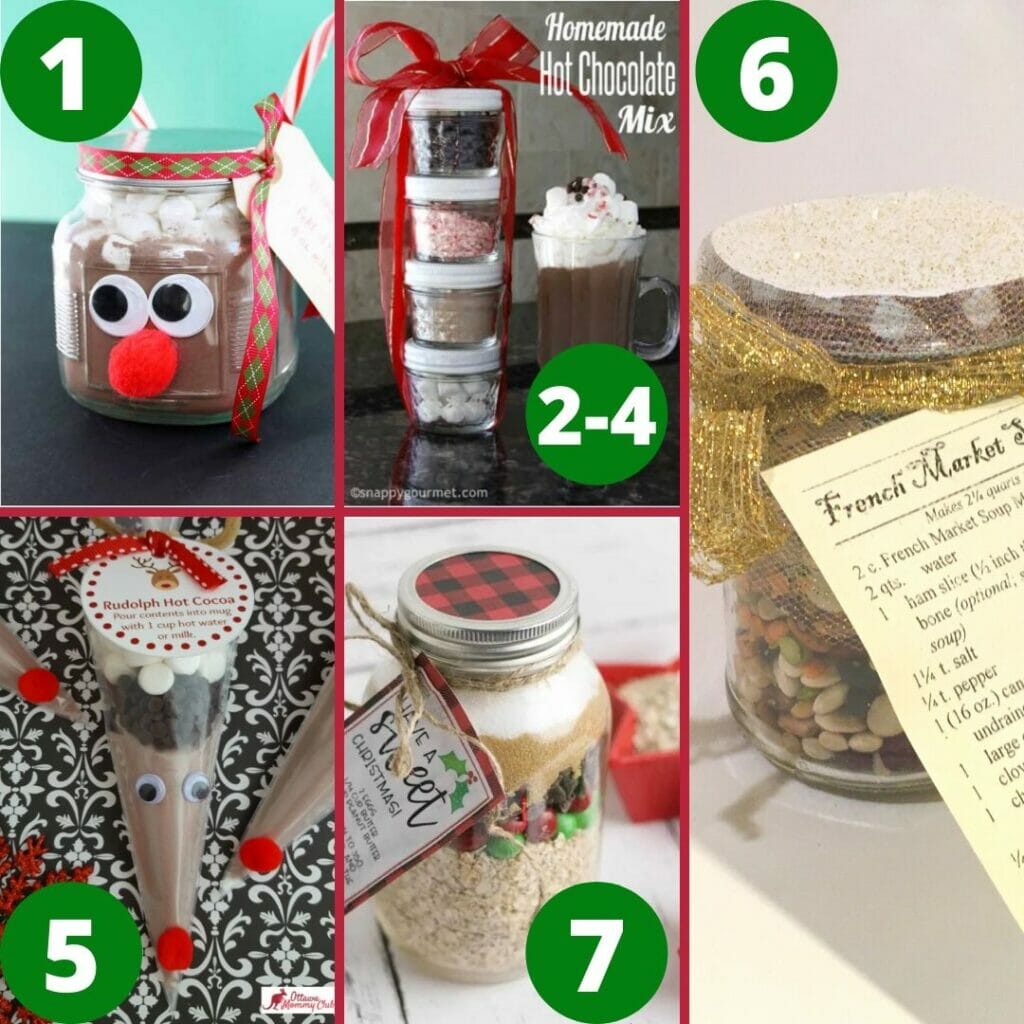 The only thing better than a mug of warm hot chocolate on a cold winter's day, is one that comes from a special homemade cocoa mix! The extra add-ins give your cup of cocoa an extra flavor kick, while reminding you of the love that went into making them! Give these a try:
1) this adorable hot chocolate in a Rudolph-decorated jar, compliments of The Country Chic Cottage;
2-4) three different varieties (original, Mexican, AND Peppermint!) from the Snappy Gourmet;
5) or this super-cute reindeer-themed cocoa mix from the Ottawa Mommy Club.
Mason-Jar Mixes
Mason jar mixes are so fun and easy to assemble. Moreover, they're a practical gift that helps the recipient whip up something yummy and home-cooked, with minimal time and effort.
6) For a yummy meal-in-a-jar idea, get your kids to help you assemble a batch of French Market Soup Mix, then cook up some for your own family. (It's naturally gluten-free and dairy-free, and I include vegetarian/vegan options in the recipe.)
And here's a secret: As long as you have the correct jar size for the contents (preferably wide-mouth for easier filling), you can put the dry ingredients for pretty much any cookie or muffin mix into a jar for an instant gift! Layer the ingredients in the jar, attach a tag with directions (including what additional wet ingredients the recipient will need to add), and decorate as you wish!
For some sample ideas along these lines to get you started, see 7) Hunny I'm Home's jarred Monster Cookie Mix (gluten-free!).
Fudges and Candies