The Perfect Winter Warm-Up Comfort Food
Does your family do Meatless Mondays? Eating a more plant-based diet can help your family save money while conserving natural resources. While we don't do Meatless Mondays every week (or always on Monday), I try to do them at least a few times per month. Today's recipe, Minestrone Casserole Bake, is a Meatless Monday recipe I invented a few weeks ago, and have been tweaking ever since.
This Minestrone Casserole Bake derives from a tomato casserole recipe that Kimmie loves and Essie could do without. When I started experimenting with transforming this dish from a side into a main course, Essie loved the results – but now Kimmie wasn't so keen on it! In the recipe's final form shown here, though, BOTH girls love the taste and eat it up. And Dear Hubby had seconds, another good sign that this Meatless Monday recipe is a winner.
So if you're looking for a new Meatless Monday recipe, or just a new comfort-food meal for cold winter days that's budget-friendly, this recipe has you covered.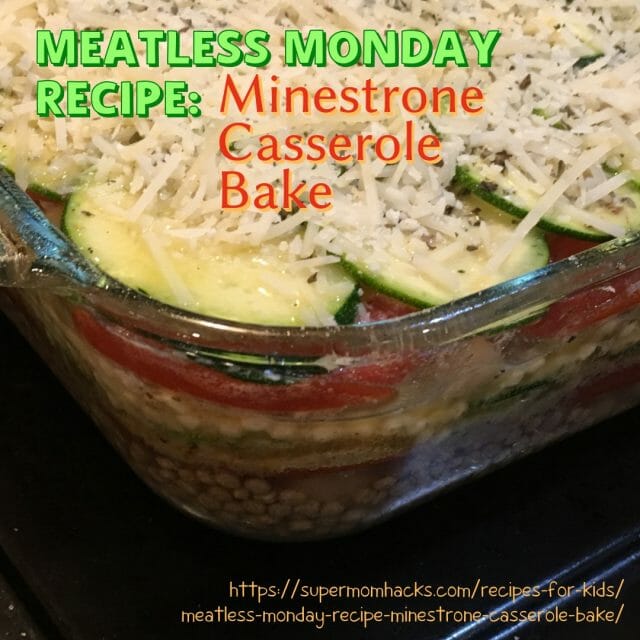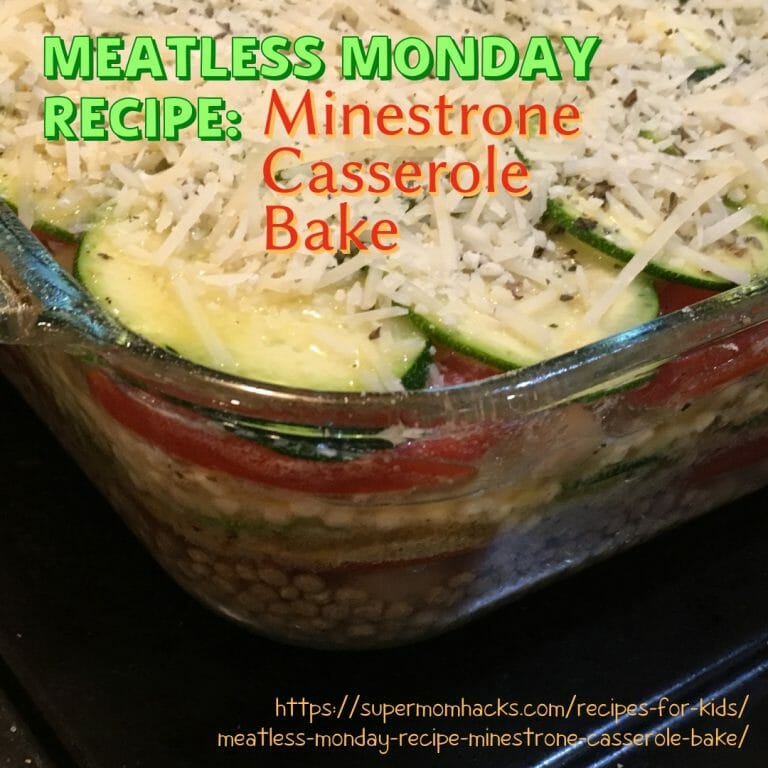 Meatless Monday Recipe: Minestrone Casserole Bake
Serves 4-6 as a one-course meal, or 6-8 if you add a vegetable side and/or salad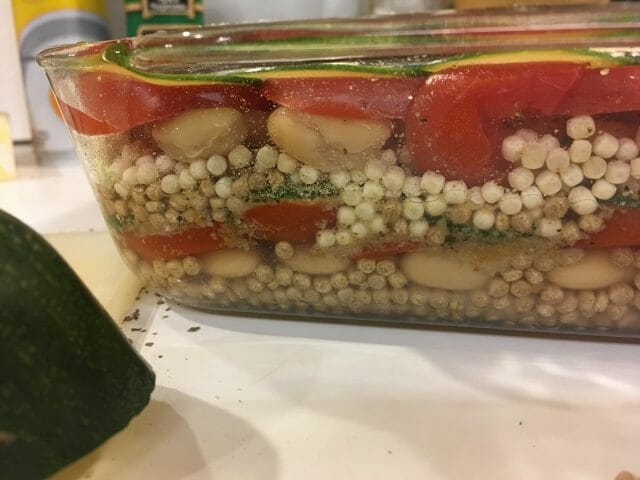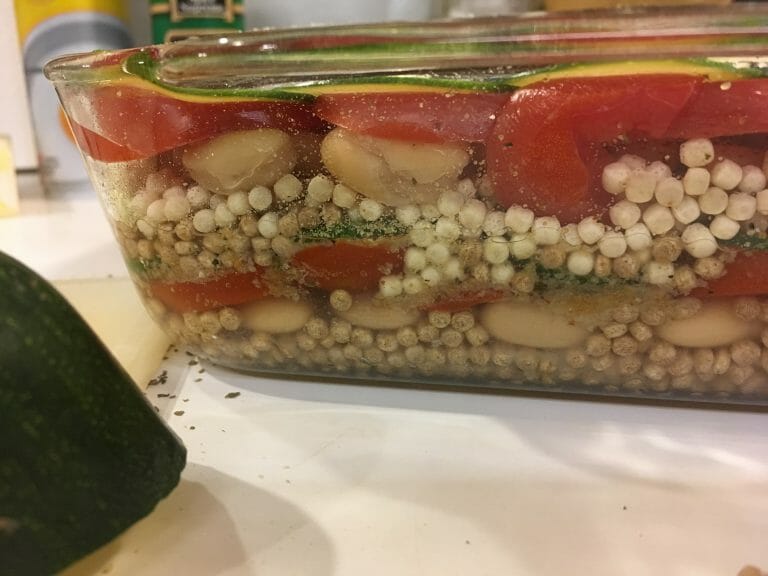 What you need:
Nonstick cooking spray
A 2-4 quart casserole dish with deep sides (I like our Pyrex 8×8″ brownie pan because it came with the matching lid, which made it easy to cover/store the leftovers; you don't want to go any shallower than that)
Large-grain (Israeli-style) couscous
1-2 cans cannellini (white kidney) beans or other white beans, undrained
4-6 Roma tomatoes
Dried basil
Seasoned or Italian-flavored bread crumbs (optional)*
One small zucchini
Shredded Parmesan cheese
1/4 c. butter
Salt (or garlic salt) and pepper
Water
*While these aren't strictly necessary, they do add a little extra flavor to the casserole.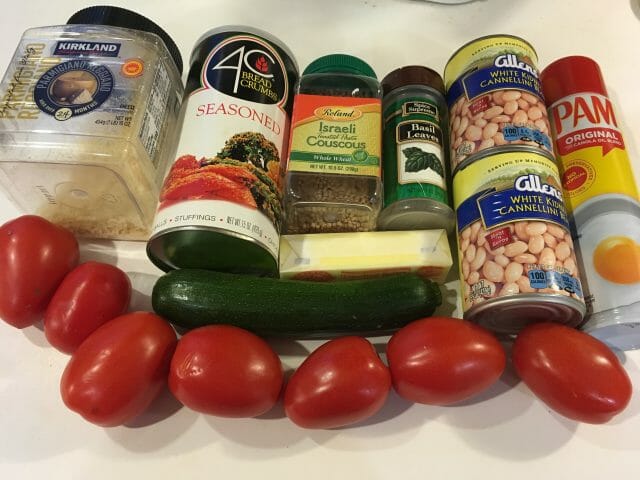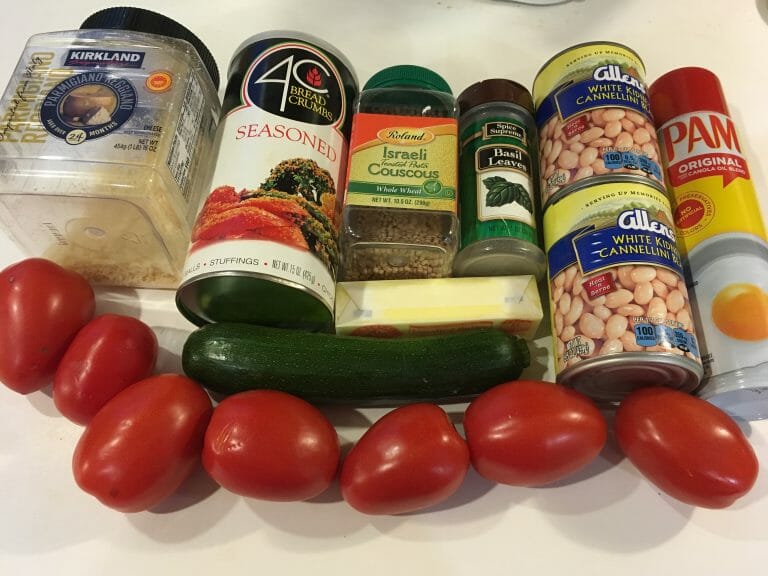 The basic idea:
1. Preheat oven to 350 degrees F. Spray inside of baking dish with nonstick cooking spray
2. Pour a single layer of uncooked couscous over the bottom of the baking dish. Open one can of beans and carefully pour the contents, liquid and all, over the couscous; use a spoon to carefully spread the beans into a single layer over the uncooked pasta.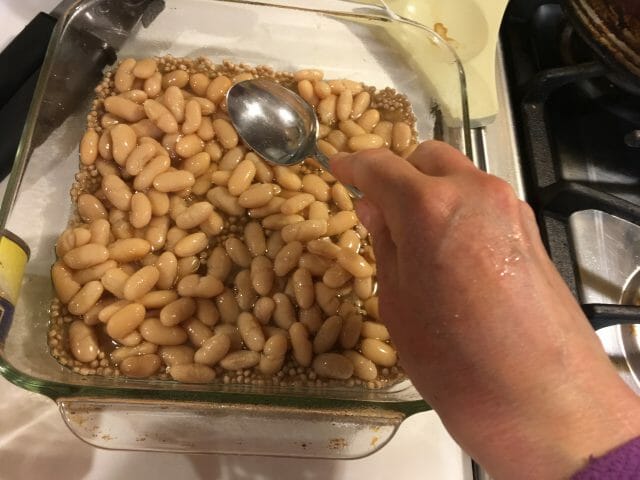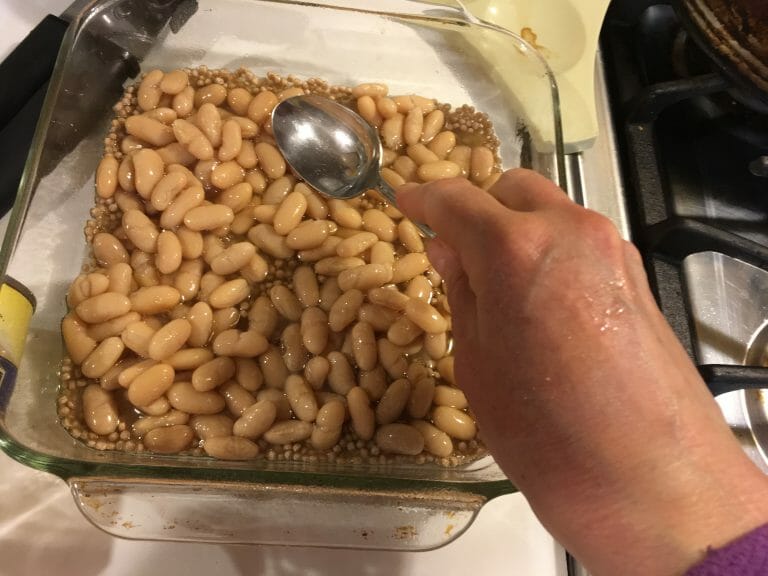 3. Slice the tomatoes, one at a time, into slices approximately 1/4 inch thick. (It's best to just slice each one as you need it, so you don't end up with a bunch of extra slices.) Use a mandoline to make super-thin slices of the zucchini, or slice it as thin as you can by hand.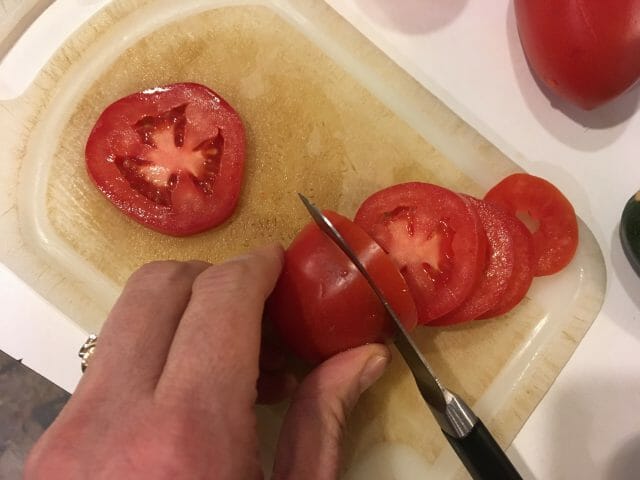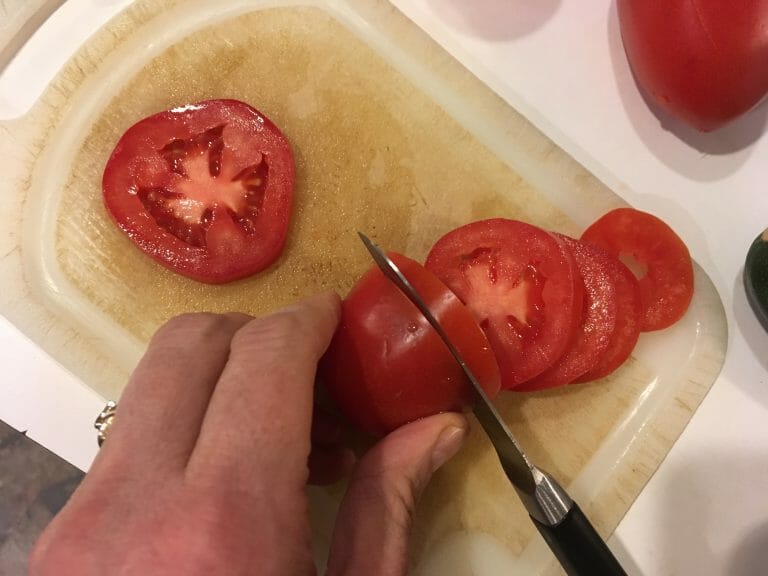 4. Add a layer of tomato slices on top of the beans. Sprinkle the tomatoes lightly with bread crumbs, then with basil. Top with a layer of the zucchini slices.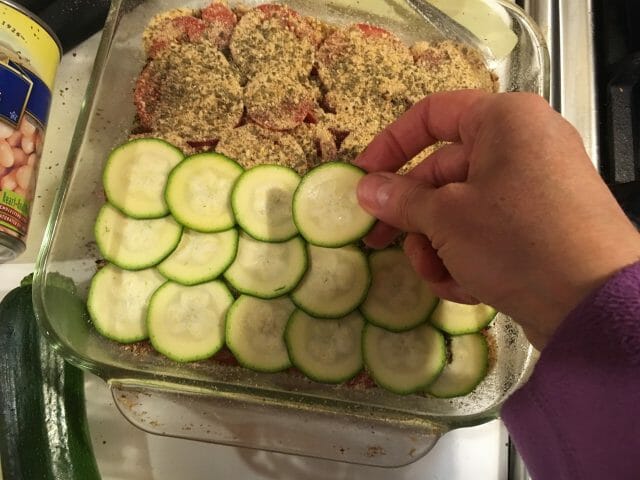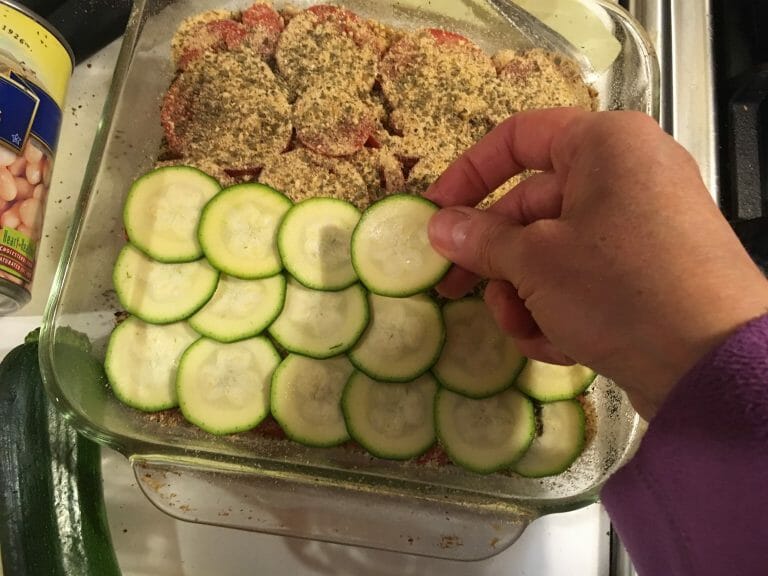 5. Repeat each layer in order. Top with a sprinkling of shredded cheese, a little more basil, and salt/pepper to taste.
6. Drizzle the butter evenly over the whole casserole. Carefully add a little water to the side of the casserole dish as needed, until the liquid level inside the dish is higher than the top layer of couscous.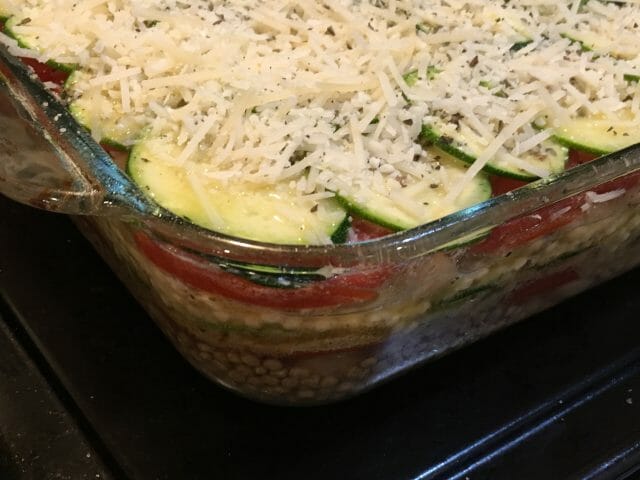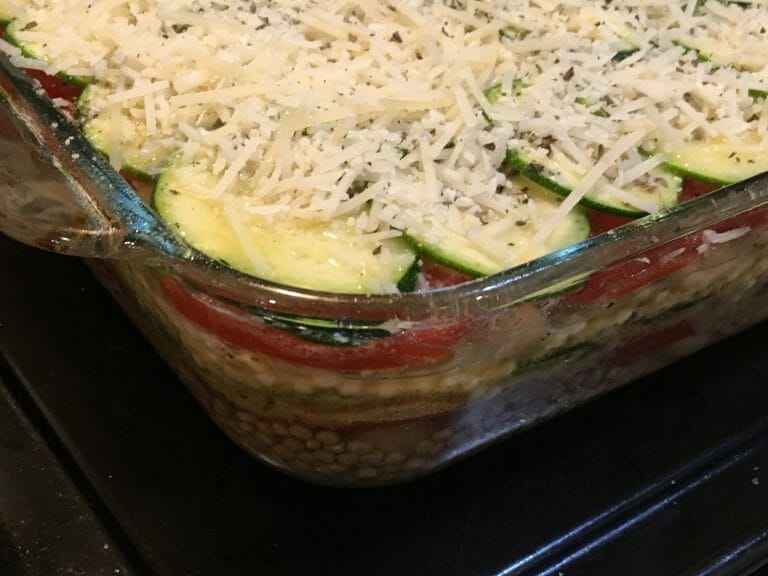 7. Place on a baking sheet (to prevent oven spills, in case it bubbles over) and bake for 30-45 minutes, or until bubbling at edges and cooked through. (Deeper layers will require a longer cooking time.)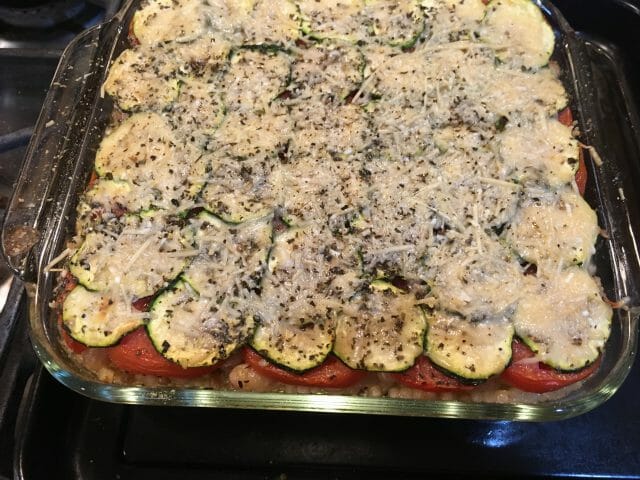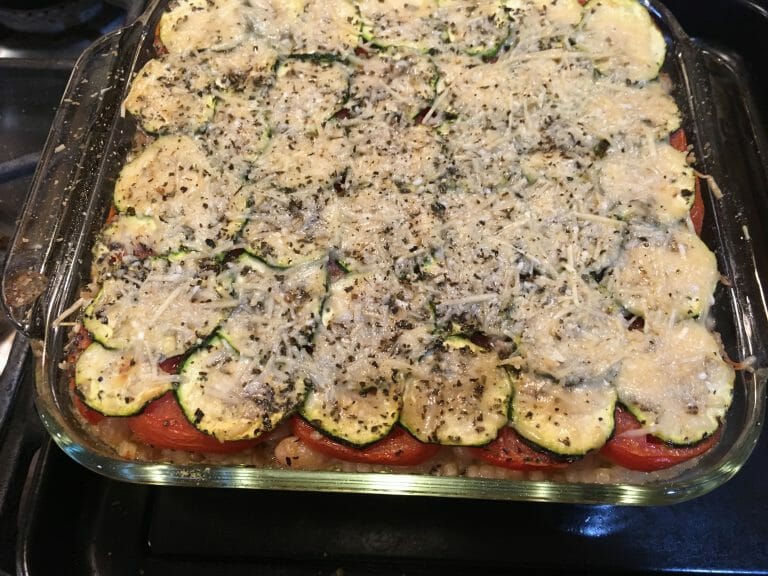 8. Top with additional cheese, if you like, and serve hot.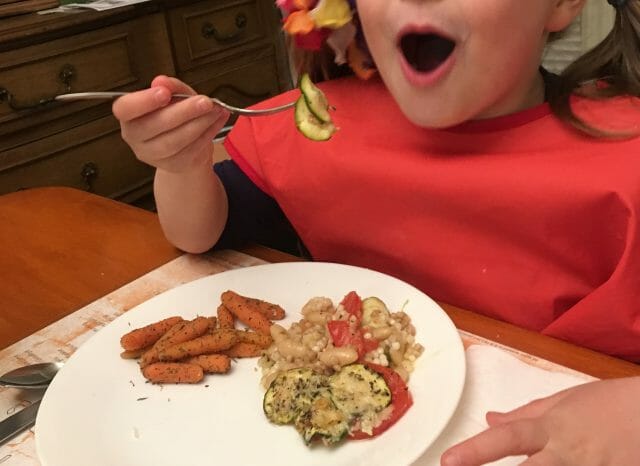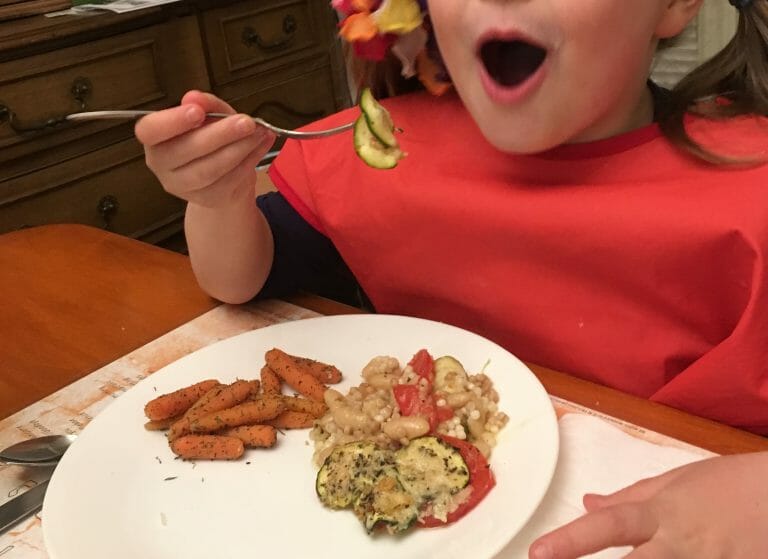 Mix it up:
Really, you can layer whatever vegetables you like into this casserole; look up your favorite minestrone recipe for inspiration. If you add firmer vegetables, like carrots/onions/celery, be sure to slice them extra-thin with your

mandoline

, and/or pre-cook them a little.
You could even add 1/2 lb. lean ground beef or other ground meat if you wanted (though it would no longer be a Meatless Monday dish, of course). Just pre-brown and drain, and make sure you add enough extra water to cover the pasta layers.
If you add lots of different ingredients, you may only need one layer of each ingredient. Or you might want to just do a single layer of couscous/protein at the bottom, then repeat as many vegetable layers above that as you have room for.
If you have access to fresh basil, then chop some of that up instead of the dried basil! Likewise, if you don't have fresh tomatoes, you can substitute canned diced tomatoes (undrained).
This recipe works fine with not-peak-of-summer-freshness tomatoes from the grocery store, or even with those super-ripe tomatoes on the clearance pile.
While this recipe can make a one-pot meal, you can also serve it with a side and/or a salad. On the night I took these pictures, we also had a salad and roasted carrots.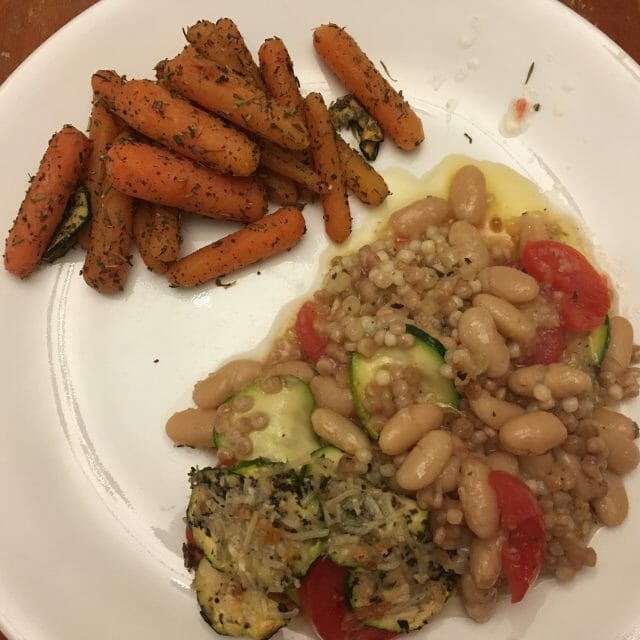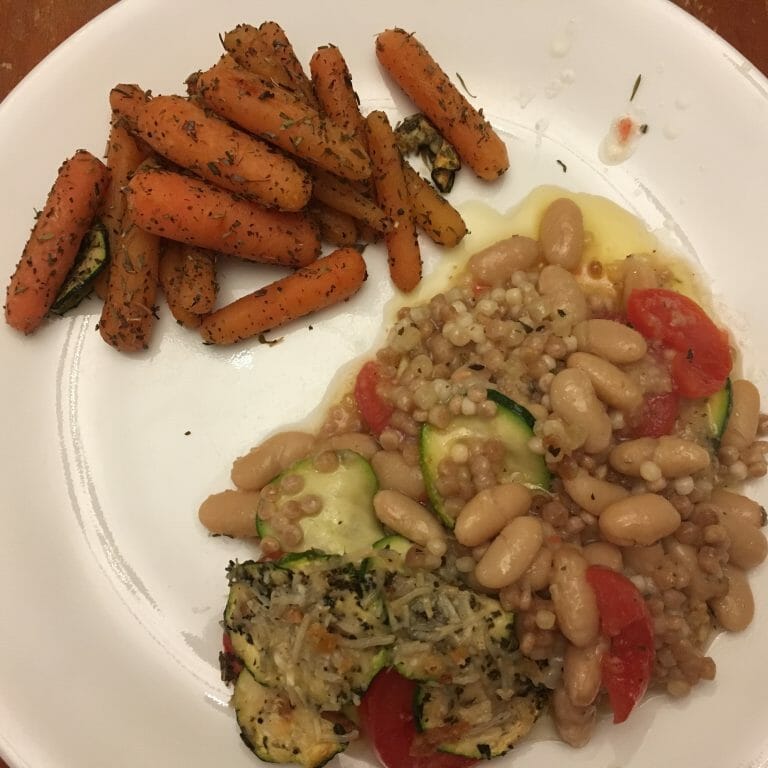 If you enjoyed this Meatless Monday recipe for Minestrone Casserole Bake, why not share it with others by pinning this image?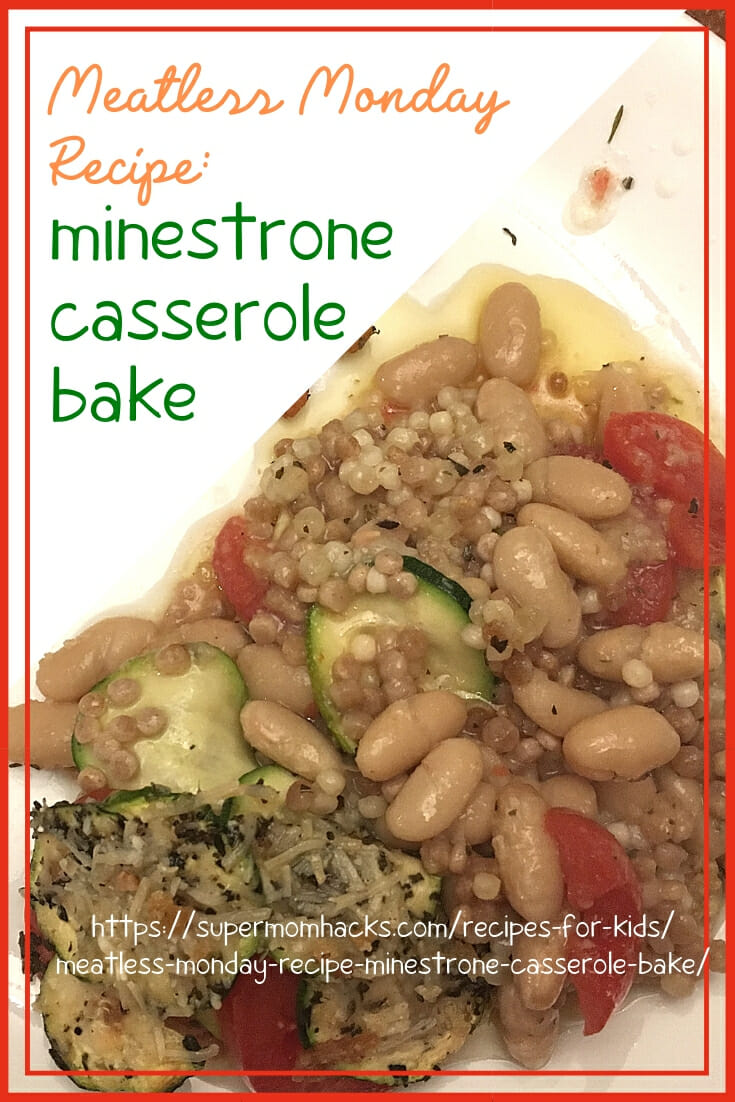 NOTE: This site contains affiliate links. I may earn a small commission from any purchases made through affiliate links, at no additional cost to you. For more information, please read the full disclosure/privacy policy.