My mama is famous for her Christmas baking. Every year she bakes loads of Christmas cookies, of every possible variety. Some are on a perpetually-refilled platter, ready to serve any guests who stop by. Others, she gives to friends, family, and neighbors in pretty tins. So this is a tradition I now carry on with my girls. But unlike my mama, who just does rolled sugar cookies, we also do a deliciously simple shortbread cookie called Grandma's Shortbread.
RELATED POST: Christmas Pizza
I don't know whose Grandma's Shortbread recipe this is (not mine!). I got the recipe from the back of a cornstarch box well over a decade ago, when I was living in Canada. All I know is, it's the best shortbread cookie I've ever made by far.
What Makes This Shortbread Cookie The Best?
If you've ever made a traditional shortbread cookie but disliked the thought of eating what's basically pure butter, then this cookie is for you. Not only is this 4-ingredient cookie super-easy to make, but it's much lighter than traditional shortbread because it substitutes cornstarch for some of the butter. The result is a cookie that is just as melt-in-your-mouth delicious, but at the same time light and fluffy.
There are several variations on this cookie:
You can add flavored extract of your choice to give it an extra layer of flavor.
You can make it either as a rolled cookie or a drop cookie.
You can make an almond variation and cook it as almond crescent cookies, which you can then eat as-is. OR dip in melted chocolate.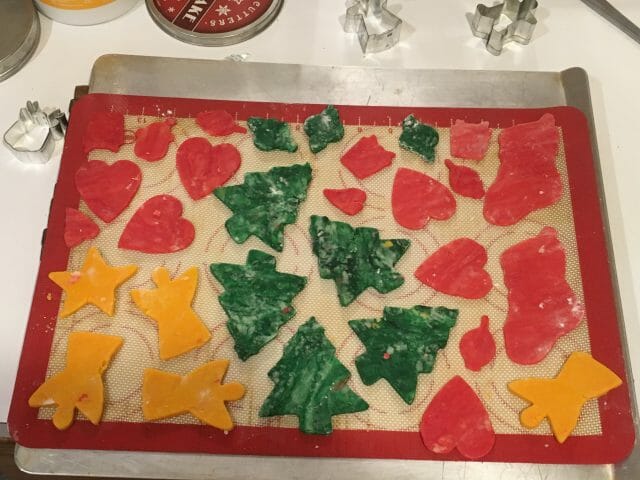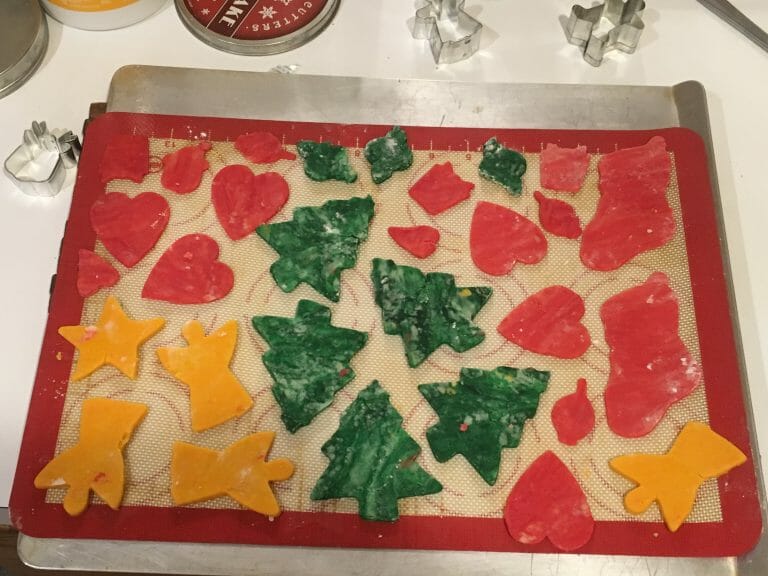 But all of them are super-simple to make. And since I almost couldn't find the recipe when the girls and I made them last week, I figured I'd better put it on my website. Partly so I don't misplace it again, partly so you-all can enjoy it, too!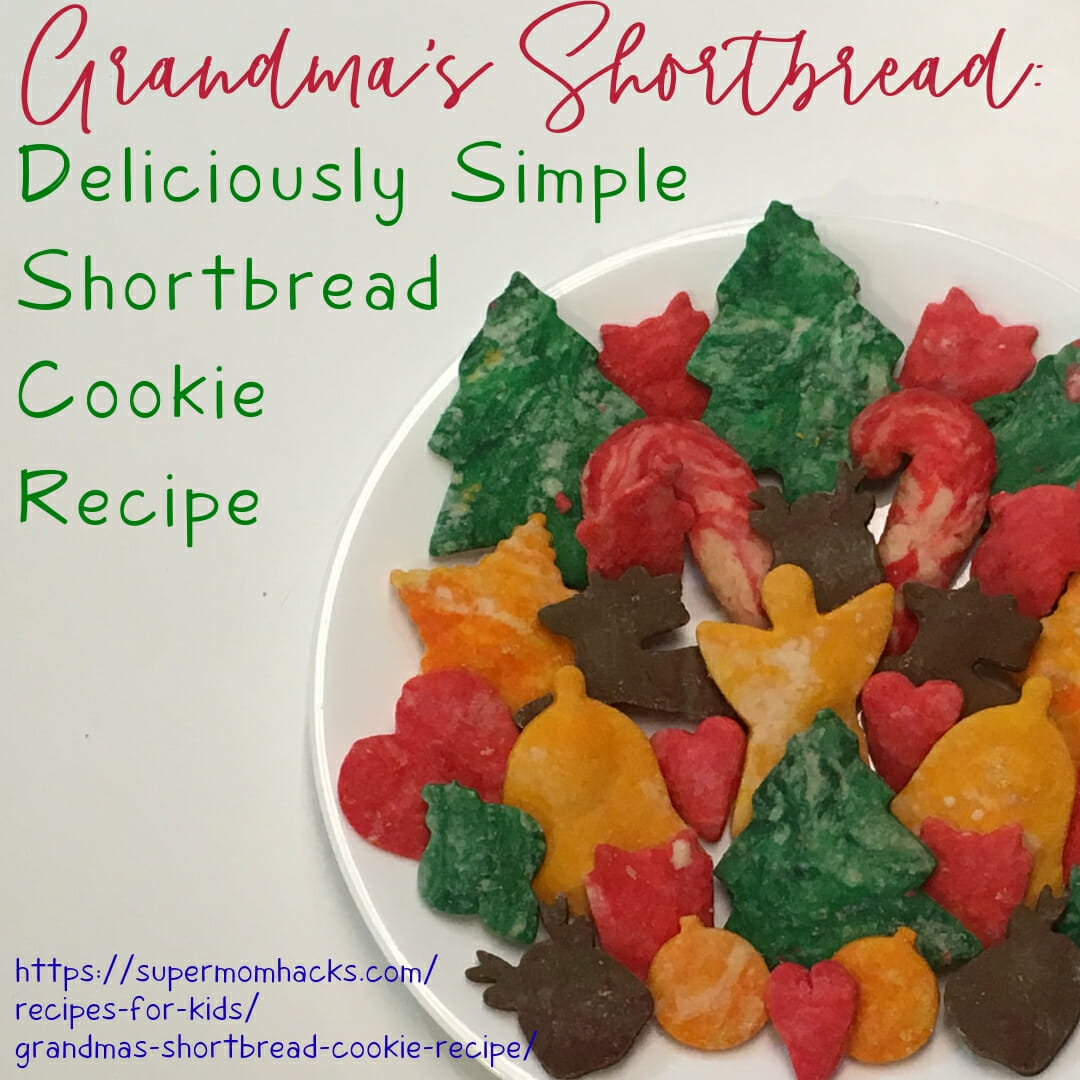 So without further ado, here is the recipe for
Grandma's Shortbread Cookies (Sablés de Bonne-Maman)
Approx. 2 dozen cookies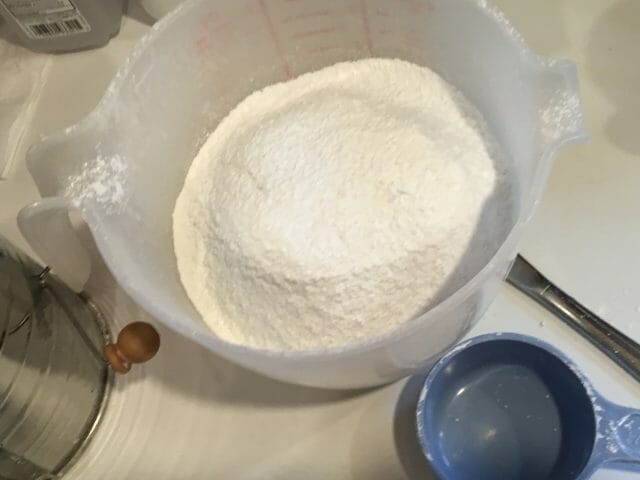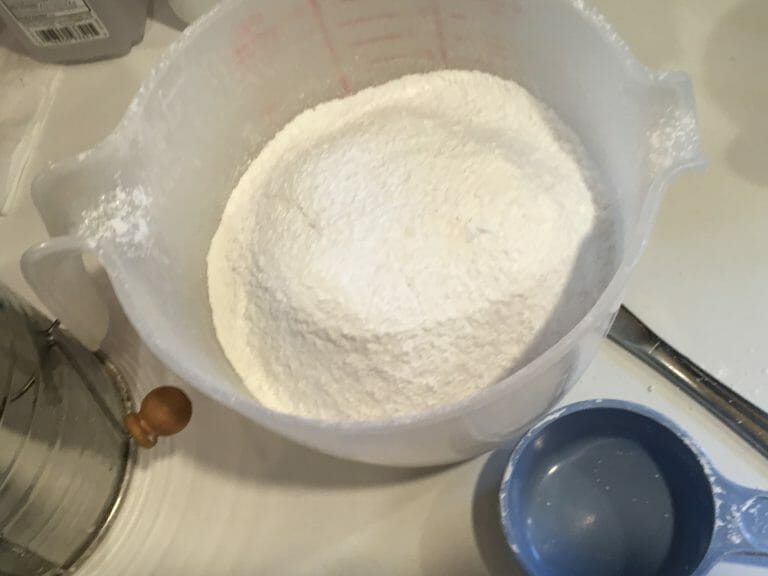 What you need:
1 c. all-purpose flour (or use almond flour for gluten-free cookies)
1/2 c. cornstarch
1/2 c. powdered (confectioner's/icing) sugar
3/4 c. butter or margarine*, salted
(optional) 1 1/2 tsp. almond extract, or whatever flavor extract you prefer (this is not in the original recipe, but I always add it)
(optional) food coloring, colored sugar, etc. for decorating the cookies
*Using margarine will make this a vegan cookie, but then it technically won't be a shortbread cookie because it won't contain butter. However, they will still be tasty. While you can use unsalted butter, the cookies just won't taste as good; the flavor will be somewhat bland.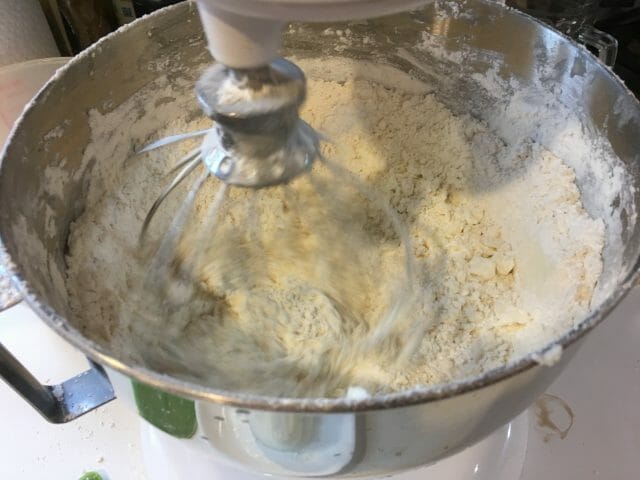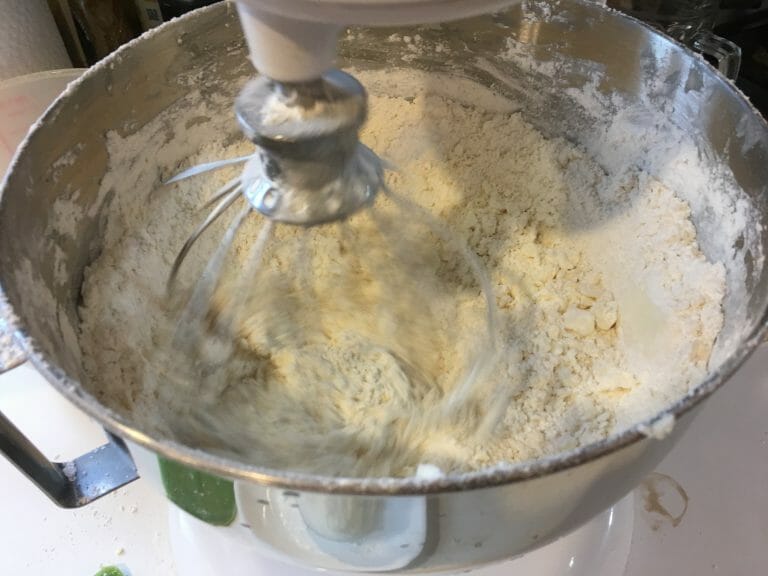 The basic idea:
Preheat oven to 300°F (150°C). Sift together dry ingredients.
With a wooden spoon (or a stand mixer on medium-low setting), mix the butter or margarine into the dry ingredients, until the dough has an even consistency throughout. (If it's too sticky to handle, cover and chill 30-60 minutes.)
For drop cookies, roll dough into 1-inch (2.5 cm) balls and flatten them with a fork dipped in sugar.
For rolled cookies, on a lightly floured surface, roll the dough out until it's ¼ inch (6 mm) thick. Cut with your favorite shaped cookie cutters, and decorate.
Or you can roll the dough into a log and slice it into slices 1/4 in (6 mm) thick.
Bake on ungreased cookie sheet 8-10 minutes, or until slightly browned at the edges.
Cool the cookies thoroughly on a wire rack, before storing them in an air-tight container.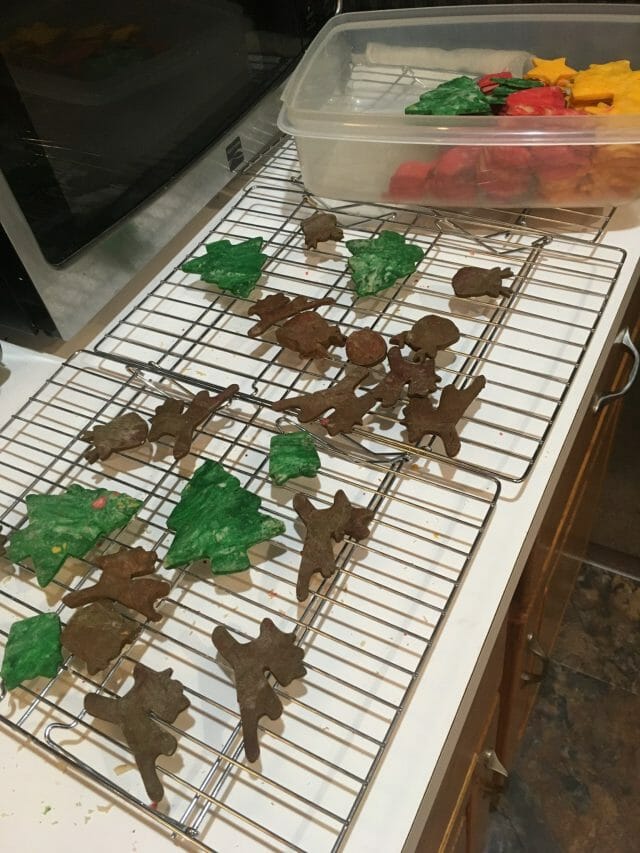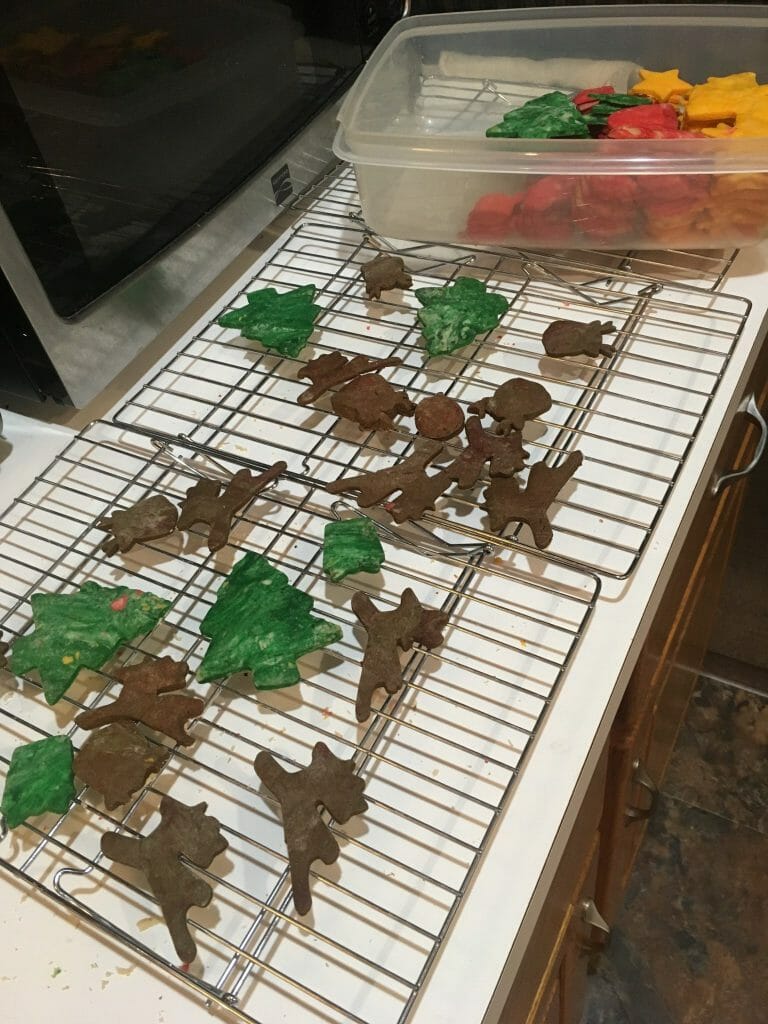 My Fave Baking Hacks:
If you and your kid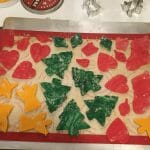 s like baking cookies, it's worth investing in some quality baking equipment. I love
air-insulated baking sheets
, which help cookies bake evenly instead of burning. Likewise, using
silicone liners
on your baking sheets helps keep your baked goods from sticking (especially between batches), and makes cleanup a breeze. And finally, I love using an
extra-large silicone mat
to protect our countertops while rolling out and cutting the dough!
Mix it up:
Be careful not to roll the dough too thin, or the cookies won't taste as good.
If you like, you can add food coloring to the dough before baking. To make the dark-brown reindeer cookies in the pictures, I mixed together the leftover bits of green, yellow, and red dough. Once they were blended, I added more of each coloring as needed, until the dough turned a dark, chocolatey brown.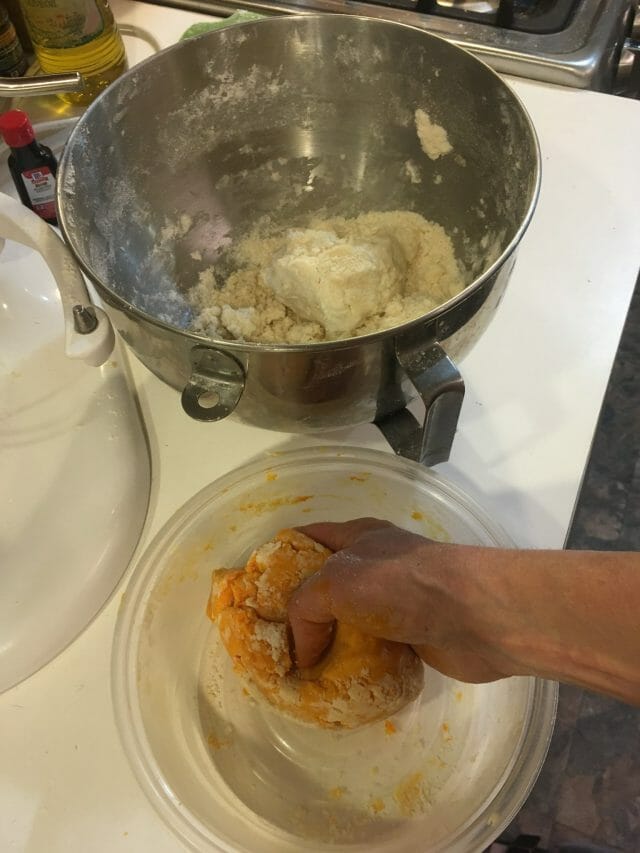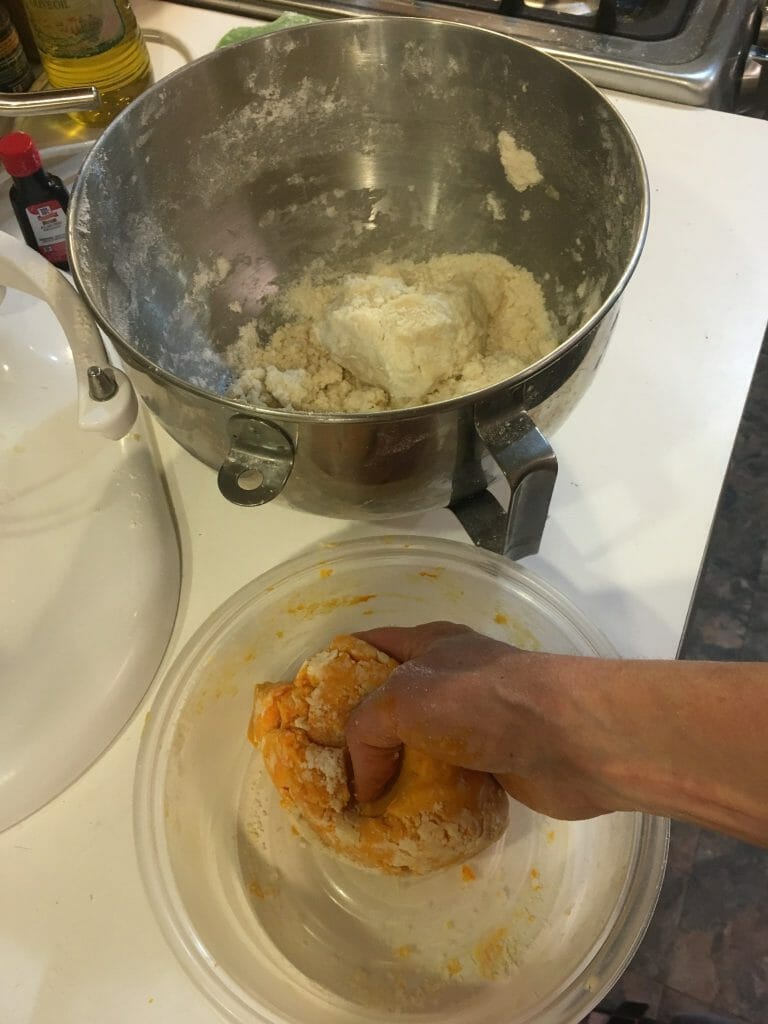 It's OK if the dough is still crumbly after you've mixed it with a spoon or your stand mixer. Once you start handling it to form it into balls for drop cookies, logs for cutting, or a ball for rolling and cutting, it should hold together better.
If the dough still seems dry and crumbly, or doesn't hold together well when you try to cut it, add a little water (or add your food coloring) to moisten it just enough to become "dough"-y again.
Almond Crescent Cookies: As you're mixing the dough, add in 1/2 c. ground almonds and 1/2 t. to 1/2 T almond extract. (If the dough ends up too wet, add a little more cornstarch.) Roll into logs 1/2 in. (1 cm) in diameter by 3 in (7 cm) long. Form each log into a crescent shape. Bake as directed above. (Optional) Dip one end of the baked, cooled cookies into melted chocolate; dry on a piece of wax paper.
Your turn:
Do you bake cookies for Christmas (or another wintertime holiday) with your kids each year? Have you ever made shortbread cookies? What is your favorite cookie type for holiday baking/eating? Let us know in the comments!
If you enjoyed this recipe for Grandma's Shortbread, why not share it with others by pinning this image?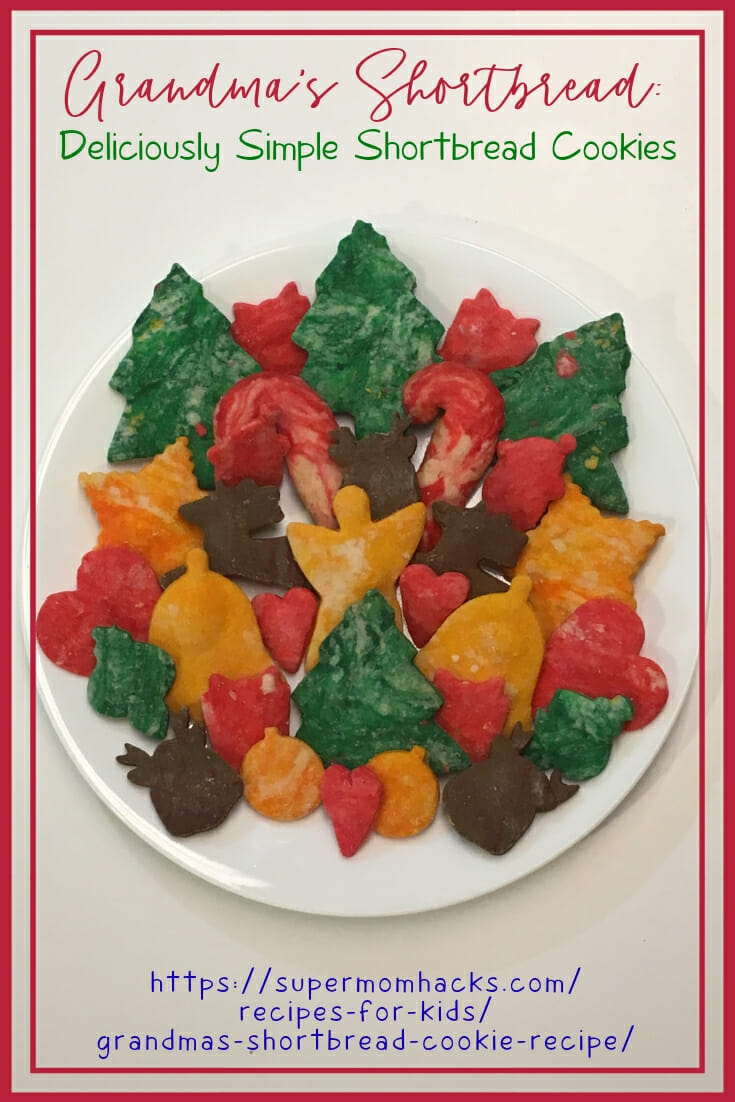 NOTE: This site contains affiliate links. I may earn a small commission from any purchases made through affiliate links, at no additional cost to you. For more information, please read the full disclosure/privacy policy.