You already work. You already have kids. And now you want to go back to school, too? OK, you're Supermom. Or crazy. Or maybe a little bit of both. Regardless of which it is, any working mom going back to school needs a plan. As a mama who's been there, done that, allow me to offer a few basic survival tips.
I was scared stiff when I went back to school a few years ago. I was closer to the instructor's age than that of my fellow students, who were slightly more than half my age. It was more than a decade since the last time I'd been a student, and I was terrified that I wouldn't be able to handle it.
What I quickly realized, though, was that my multitasking mama existence had given me a HUGE advantage over my fellow students. They were either recent college grads or still in undergrad, and the added life experience I had in meeting deadlines and keeping a ton of balls in the air at once made my coursework toward my professional certificate a relative breeze. (Though to be fair, I only took 1-2 courses at a time, too! – that also helped, a lot.)
RELATED POST: How Bullet Journaling Has Made Me A Better Parent
RELATED POST: How To Start A Bullet Journal, The Easy Way
All of which goes back to having a plan for how you're going to make this happen. So if you're a working mom going back to school, these are the pieces-of-the-plan you need to nail down first: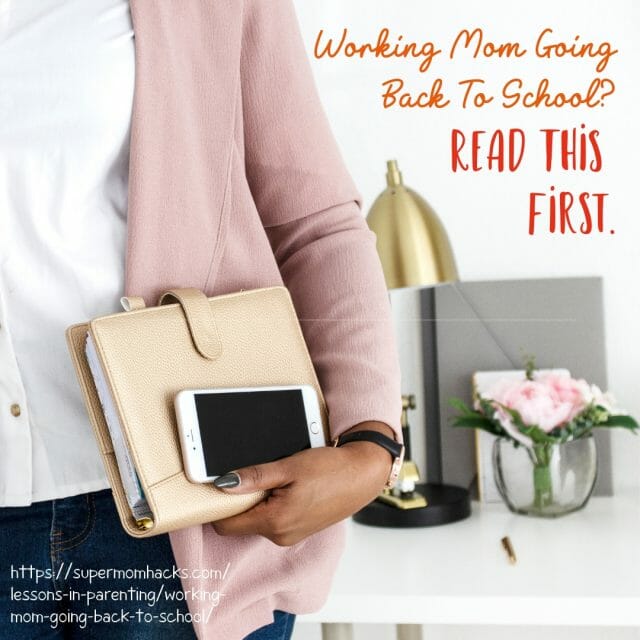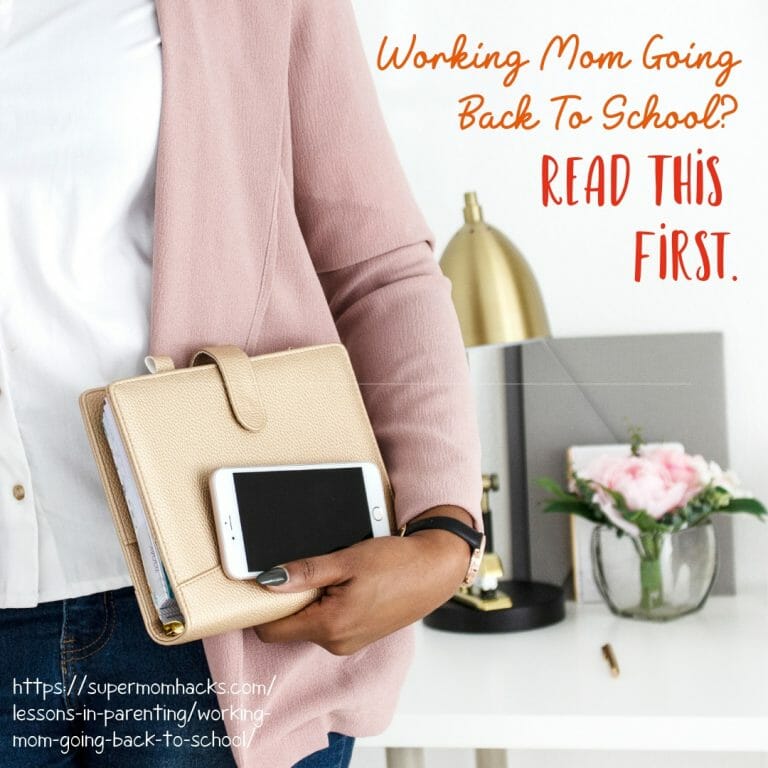 This is a collaboration post. However, please know I stand behind everything written here, and only include links to products/services/resources I'm willing to recommend personally.
Your Working-Mom-Going-Back-To-School Checklist:
1. Childcare
Like most mamas considering going back to school, the first thing I had to figure out was childcare. At the time, the girls were still in preschool, and I was only working part-time because Dear Husband's job meant I was primary parent on duty for the 21 hours a day the girls were home.
Fortunately, you have plenty of ways to work around this:
Ask loved ones for help. Especially if you have family nearby – don't be ashamed to do this.
Look into on-campus childcare options. Depending on the school/program and degree you're pursuing, you may have access to the campus children's center. Don't assume this is not an option until you've investigated it thoroughly.
If your kids are in school all day, see if it's possible to take your classes when they are in class – even if it means rearranging your work schedule a little. (Perhaps you can work some flex time from home to make up the hours?)
Coordinate with your partner. If you already coordinate work schedules with your spouse to minimize child care costs, see if you can get your co-parent to cover one or two extra nights a week, if that is when your courses meet.
If none of these options will work, then definitely look into online coursework. Did you know you can even get graduate degrees online these days? With options like an

Online Masters in Early Childhood Education

, there's really no excuse not to go back to school if it will help you advance your career.
In my case, I got my husband to arrange his work commitments, one semester at a time, around which nights I had class. It wasn't always easy for him to get off work early, so he could watch the girls before I headed off to school for 4 hours. But with the advance notice of which night I needed free the following semester, we were able to make it work. And during the summer (when he wasn't teaching anyway), I was able to double up on classes.
2. Money
So now that we've covered childcare (hopefully without a major hit to your budget): How will you afford tuition?
For me, taking the slow path (mostly one course per term) definitely helped. Since we'd survived the first few years after Kimmie's birth on only one income, we were used to getting by on this, with my part-time earnings for "extras." So I set aside some of my earnings each semester to cover next semester's coursework.
And don't rule out scholarships and grants, either! There are so many options out there, if you know where to look:
See if your employer has a tuition reimbursement program. Or a scholarship/grant program. One of the reasons I like supporting companies like

Starbucks

and

Lowe's

is because they DO give tuition assistance to their employees!
Check into your spouse's employer, too, especially if your spouse works for a college or university; many have spousal tuition benefits or waivers. (So does Lowe's, for what it's worth!)
Low-income student working toward your bachelor's degree or your teacher certification? You may be eligible for a

Pell Grant

, which does NOT need to be repaid.
Single mama on a tight income? See if your school offers grants to single parents.
Two other great resources are Scholarships.com and How2WinScholarships.com. The latter site is run by a mama named Monica who helped her son locate and nail down over $100,000 toward college costs! One of the things I love about her site is that she not only highlights crazy scholarships you'd never hear about otherwise, but she also has tons of practical advice to help you WIN scholarships you apply for.
Including working moms going back to school. Read this interview she did with one satisfied-customer mama who used Monica's tips to finance going back to school!
3. Time Management
The final thing you have to nail down to make your return to school successful is time management. This is non-negotiable. There will still be only 24 hours in the day, and your kids will still only be young once. You don't want to neglect them, or your health, or (if you have one) your significant other. So this means you need to be able to budget your time accordingly. You (and those around you) also need to be flexible.
This is another situation where online courses, evening courses, and only taking one course at a time can all come in handy. The time I spent in my evening classes was time I otherwise would have spent cooking, putting the kids to bed, and then hanging out with Dear Husband. By getting him to cover the first two for me (or throwing a meal in the slow cooker that AM) and then having a shorter time in the evening with him, we made it work short-term for the long-term gains of what I was learning.
But what if your coursework conflicts with work? Talk with your employer to see if you can rearrange your work schedule. Perhaps you can convert some of your work hours to flex time, and/or make up the hours from home?
And then there's homework:
Pack a bag of homework when you take your kids to the park.
If your kids are school-age, do your homework while they do theirs.
Set up a schedule to sneak out for a few hours to a coffeeshop or the library, so you can no longer be "on duty."
Have a gym membership with childcare? Consider sneaking in an hour of homework while your kids are at the childcare, either before or after your workout.
(For what it's worth, I've done all of these.)
RELATED POST: Your Summer Mobile Office Must-Haves
RELATED POST: Working From Home When It's Full Of Kids
You can DO it, Mama! Trust me! Go for it, good luck, and remember – you rock!!!
If you enjoyed these tips for working moms going back to school, why not share them with others by pinning this image?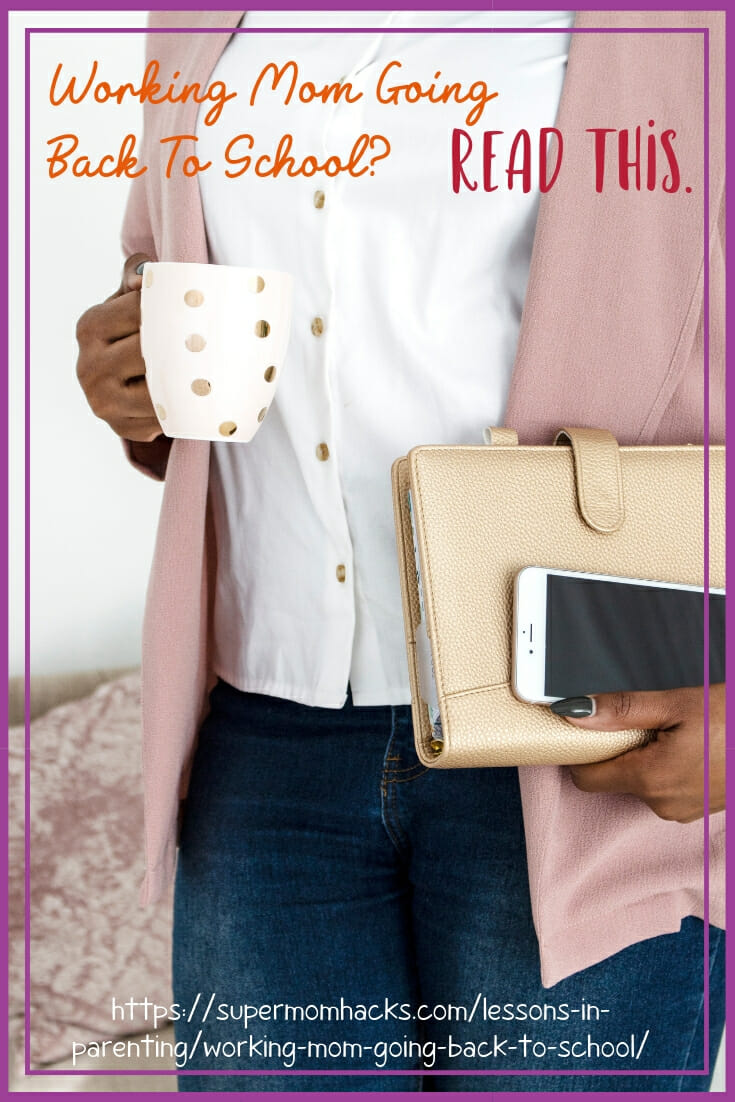 NOTE: This site contains affiliate links. I may earn a small commission from any purchases made through affiliate links, at no additional cost to you. For more information, please read the full disclosure/privacy policy.