Becoming a parent means new social responsibilities. Arranging playdates. Choosing the right child care and preschool. Finding the right schools. Safety concerns are often one of the driving factors behind parents' research. And most parents think about safety at home all the time, from basics like childproofing the kitchen to less-obvious concerns like dealing with lead paint. But when it comes to safety tips for kids' parties, are you prepared?
Whether you're hosting a big birthday bash for your child's preschool class, or a Halloween party for tweens, ensuring your guests' safety is critical. So once you've nailed down the basics – reserving the site, narrowing the guest list, and tackling killer goodie-bags – consider what you're going to do to keep your guests safe while making your own life easier.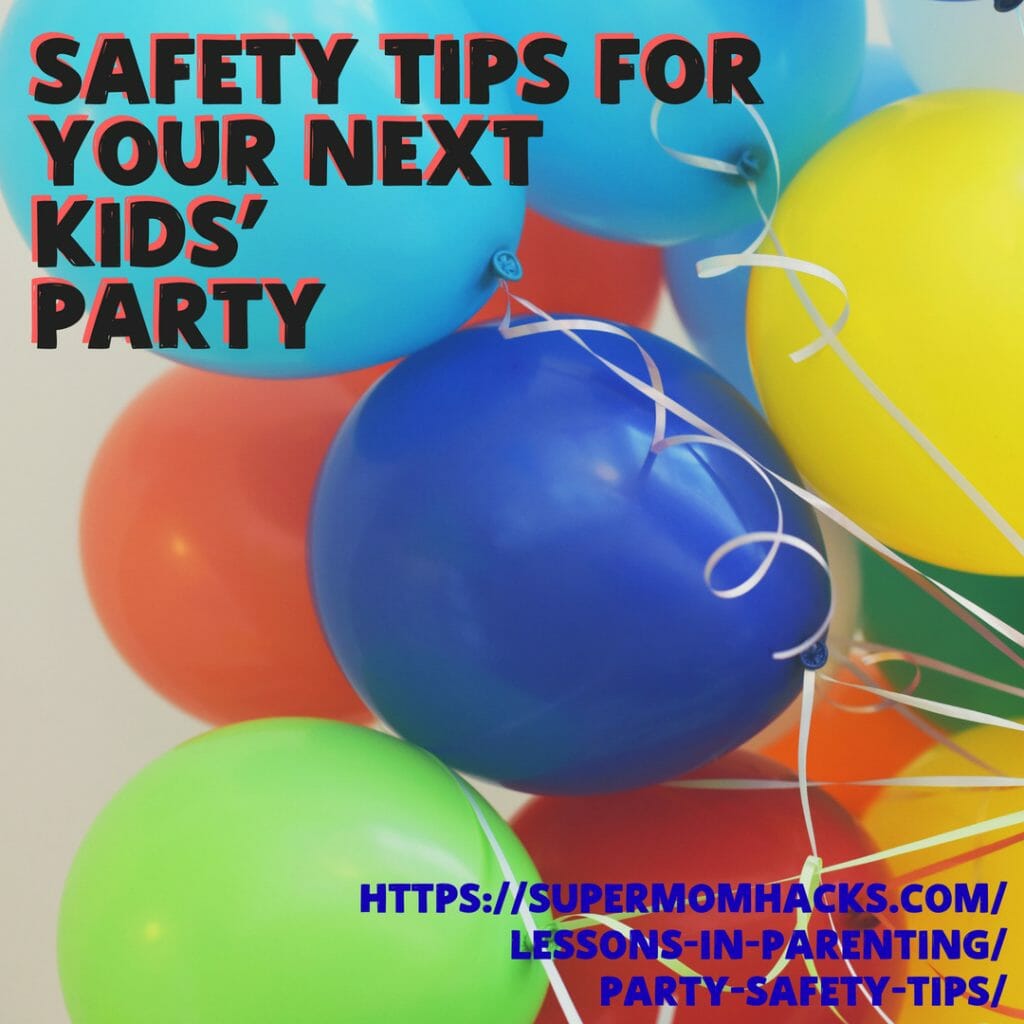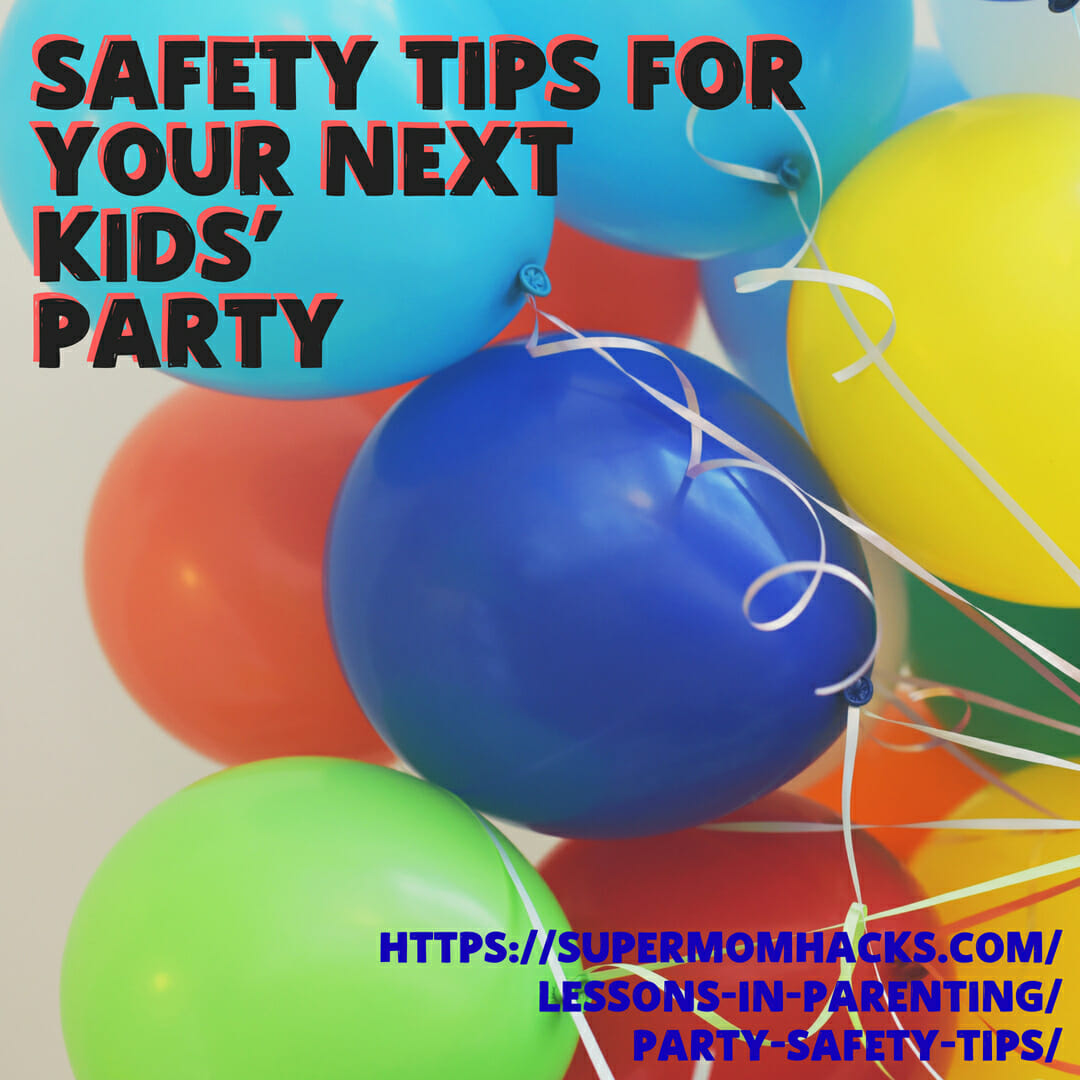 This is a collaboration post. However, please know I stand behind everything written here, and only include links to products/services/resources I'm willing to recommend personally.
Safety Tips for Kids' Parties
Limit your numbers
The more kids there are, the harder it will be to keep everyone safe. So limiting the number of invites you send out is always a good idea. Granted, this is often easier said than done.
For example, you can't get away with inviting only half the kids in your child's class. Trust me social rules (and sometimes school rules) mean that you really need to invite them all. This can get problematic when your child also wants to invite twenty friends from outside their class.
So you need to be firm about this from the start. If your child really wants to invite all their friends from church and Scouts, then start there – not with your child's classmates. In reality, you don't want any more than thirty invites out there.
Draw on your village
If you're a plan-ahead type, your brain has already jumped ahead to my next point: thirty invites is still a lot. Even though the chances of all of them coming is slim to none, there's no way you can look after that many kids at once.
This is where other parents come in. You NEED other grownups there. Throwing a kids' party is a perfect illustration of why it takes a village to raise a child. So your very first step in party planning should be figuring out a date that works for members of your personal village to help out.
Think of it like school: most classrooms have a student to adult ratio. You should apply these rules to your party set-up, too. When I'm trying to choose a party date for the girls, I always consult my mama's calendar and my friend Keisha's calendar as well as my own. That way I know there will be at least one or two other adults around besides my husband and me. Likewise, Keisha checks with me before choosing a date for kids' parties; she knows I'm there for her, even though we live a couple hundred miles apart.
As a general rule, aim for one adult to every five kids. This is a manageable number and will cut down on the chance of injuries.
Plan for safety
You also need to think about how safety concerns will impact your party location. I remember having lots of outdoor parties with school friends in the summer when I was little. But outdoor parties bring their own set of safety concerns – like keeping bugs at bay.
Some kids can have horrible allergic reactions to bites and stings. As such, a party with cake, sugary drinks, and kids is a recipe for disaster. Unless you live in an area that already commercially sprays to control mosquitoes, consider hiring a company like the Mosquito Squad. Treating the site ahead of time will help your young guests avoid not only mosquito bites, but also the deadly diseases (like West Nile Virus and Zika) that mosquitoes can carry.
Given that you'll have sweet food around to tempt other stinging insects, it's also worth considering whether you need wasp traps, or making your own and placing them around the party site. Also be sure to keep a first aid kit on site with antihistamines and bite creams, just in case.
Even if your party is inside, you need to do a little safety prepping ahead of time. If you're hosting a party in a gym or town hall, make sure to remove any dangerous equipment. If there's a kitchen attached, make sure the door is locked and only you have the key. These are all small steps which can make a huge difference to safety in every way.
Ask about allergies
This is a no-brainer in today's environment, where kids' food allergies are on the rise. I always include this on the party invitation, but I'm forever shocked at how rarely I see this on the invites my own kids bring home.
Given that severe allergies can be life-threatening, it's essential you consider this if you're offering food. Even if you're only handing out birthday cake, you need to know these details. Nut allergies are the most common nowadays, but wheat and egg allergies also pop up regularly among my kids' friends. This is a nightmare because even food made in nut-handling factories can be trouble. Just a small bite could lead to blocked airways and a child who can't breathe – NOT something you want on your watch, that's for sure.
Common courtesy dictates that at the very least, you should provide a plate of food that the child in question could eat. Think about it: how would you feel if you were invited somewhere, only to find that all the food being served was something you couldn't touch? Labeling foods is also a good idea.
Even better, see if you can think of ways to minimize or avoid the trigger foods in your party plans. We just don't even go near nuts anymore when considering something involving our kids' friends. If you're buying a commercially-made cake, you'll need to alert the bakery when you place your order of allergy concerns. If you're making one at home, double-check the ingredients if you use a box mix, and research appropriate substitutes for, say, egg in baking.
Also consider other dietary needs. For example, while Keisha's family isn't Jewish, half the kids in her boys' school are. So having ham sandwiches for her kids' parties will go over like a lead balloon. This is why I always add a note on my kids' invites, asking parents to alert me to food allergies or other dietary concerns when they RSVP to my child's party.
Think safety when planning activities

Lastly, make sure you choose activities which are easy to monitor on the day. Minimizing the chances for injury is a lot better than having to worry about injuries afterwards.
Sure, your kids would love it if you rented a bounce house. But spending that money on a magician or balloon artist would literally be a safer bet in most cases. Or, even better, buy a bag of balloons, blow them up, and let the kids chase them around; the kids will have just as much fun, but you'll save a bundle. This is especially great for winter parties where everyone's stuck indoors. I do this every time for my girls' parties, and every time the kids love it.
Another super option is a crafting activity that everyone can work on (bonus: a craft will count toward the take-home favor!). Making slime is a current favorite among my kids' friends that boys especially will like. (But not just boys – at the end of last school year, a ring of Kimmie's third-grade girl friends was set to open a slime business in their school, with their own homemade creations for sale, until the teachers got wind of the plan.) Girls would also love bead projects or DIY spa products.
As long as it's engaging and fun, your kids and their friends will have a blast. And as long as you've already lined up other adults to help supervise, you'll be set.
With these safety tips, everyone at your child's party will have a safer time – which will make your life easier, and set other parents' minds at ease. If you have a favorite party safety tip that I didn't cover, do be sure to mention it in the comments below!
If you enjoyed this post on kids' party safety tips, why not share it with others by pinning this image?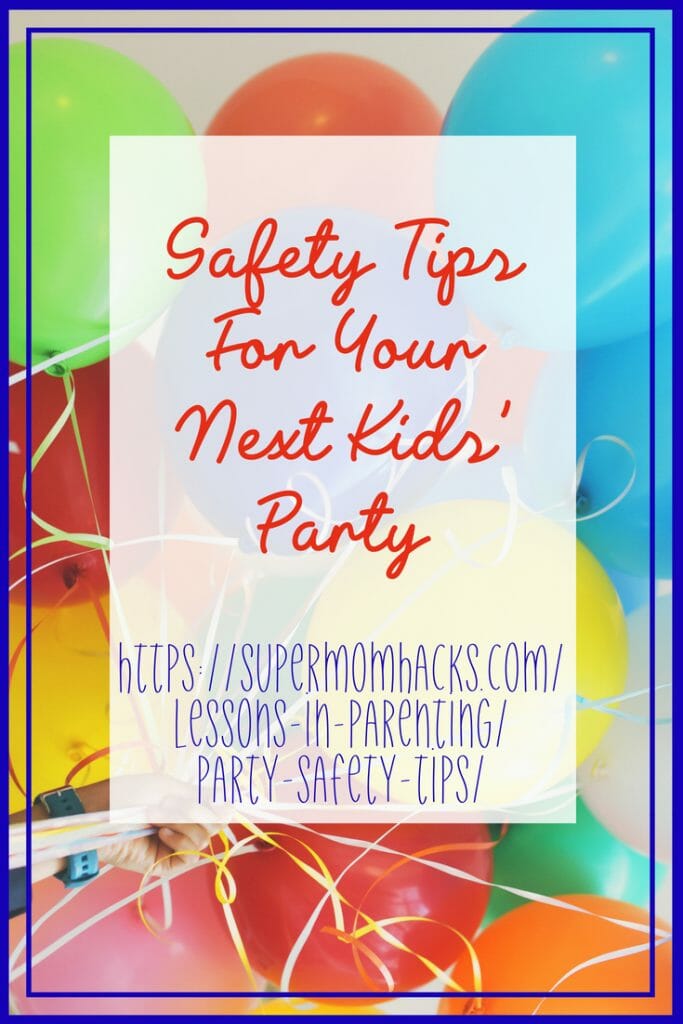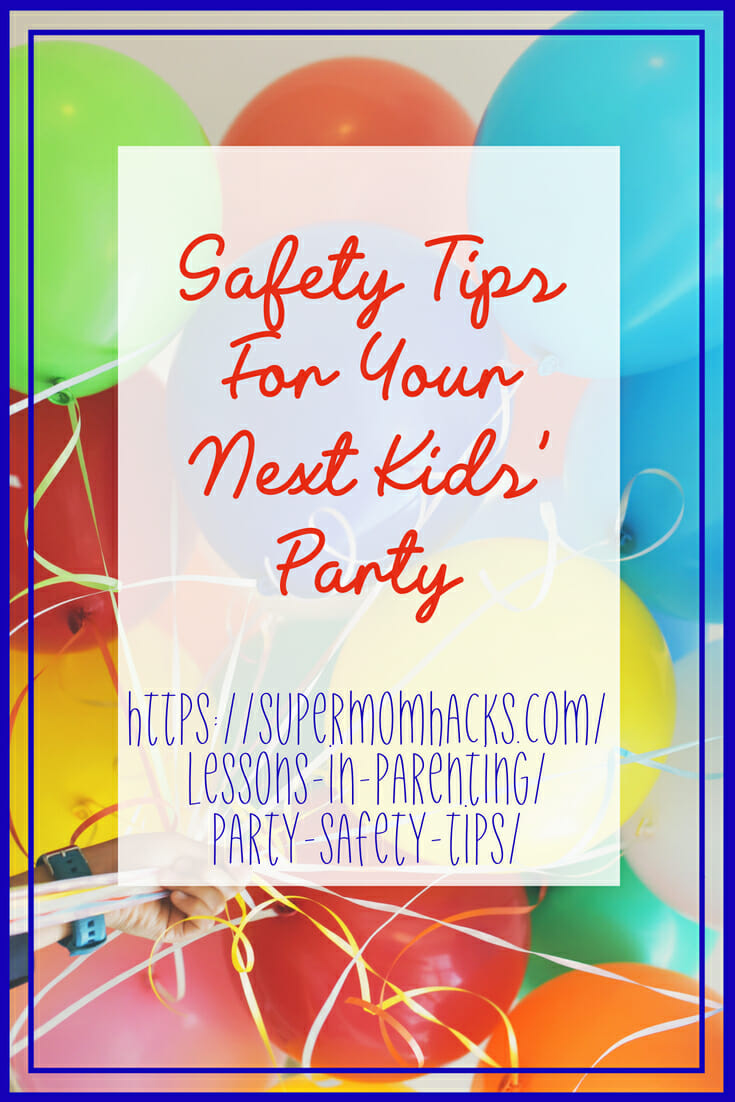 NOTE: This site contains affiliate links. I may earn a small commission from any purchases made through affiliate links, at no additional cost to you. For more information, please read the full disclosure/privacy policy.