Not only is this scarecrow costume fast AND simple AND adorable, there's a reasonable chance you already have everything you need to make it! (And if you don't, you can probably acquire what you need for well under $10 at your local thrift store.)
And with a few simple modifications, this costume will also work for a farmer or cowboy.
Why a scarecrow costume?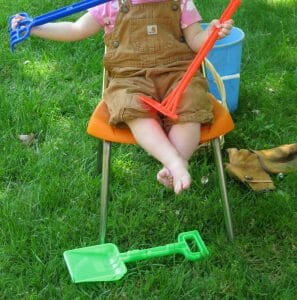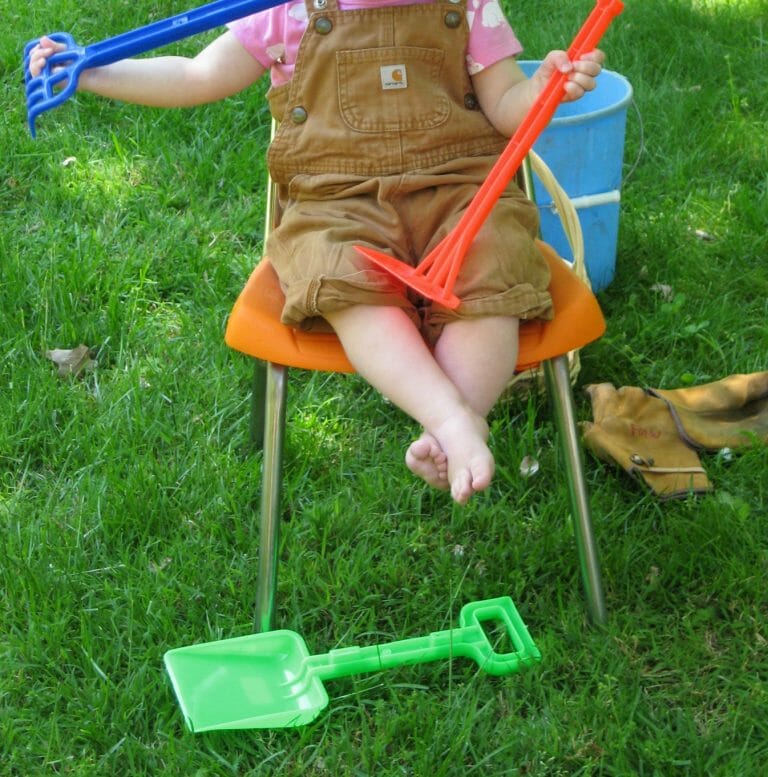 By the time Kimmie was ready for her second Halloween, picking her costume was a no-brainer for me. She and I had just spent an entire summer of Mama gardening outside with one VERY interested, VERY helpful little toddler. She had a little set of gardening tools that she loved to carry around in her rope-handled weed bucket. And she loved nothing more than keeping me company and "helping" when I pulled weeds, planted flowers, and spread mulch.
What could be more adorable than letting her take her tools and bucket along when we went trick-or-treating, and dressing her up as a scarecrow?
Super-Simple, Super-Fast Scarecrow Costume
Even better, we already had most of the items we already needed to make this costume on hand. And those we didn't were easy to find at local secondhand shops. Depending on your child's interests, this costume would also work for a farmer or cowboy, with just a few tweaks.
What you'll need for a scarecrow costume
A pair of overalls in your child's current size.
A plaid shirt. This is one item we didn't already have, so I snagged a couple at a local children's resale boutique for about $2 each. (Honestly, I couldn't decide which one I liked better. And since it ended up being very cold that Halloween, Kimmie ended up wearing one under the other for warmth.)
A brimmed hat. I used a woven straw hat that had been my brother's when he was little. Because it was personalized with his name, I covered this with a strip of bandana fabric from my sewing scrap pile.
Some sort of boots or shoes. if your little scarecrow doesn't already have work boots in their size, you can substitute high-top shoes or even rain boots/galoshes. (Or, if they're tiny enough, sock-shoe combined options like Skidders are also a great choice.)
A bucket, both for an accessory and for candy-collecting. Any small bucket or sand pail will do; we used a rope-handled one from my gardening stash.
Fabric scraps, to sew on some fake patches. I cut squares from the same bandana scrap I'd used as a band on the hat. Then I basted them on with large, loose stitches, so they were easy to remove afterward.
Child-sized gardening tools are optional, but cute.
Also optional: some straw to stick in the edges of the hat and coming out of the edges of the overalls. If you don't already have a decorative hay bale on your front porch for the fall, you should be able to scrounge a few scraps off the floor at any home or garden center that sells them. (I did collect straw to accessorize Kimmie's costume with, but then forgot to use it at the last minute!)
Finally, some red lipstick is nice for drawing red circles on your scarecrow's cheeks. Also optional, but an adorable finishing touch.
Farmer costume variation:
Instead of a brimmed hat, you could substitute a baseball-style cap. (Especially if it's one with a tractor company logo on it, like John Deere, my girls' personal favorite brand of tractor.)
Definitely the tools and (for hauling around their loot) bucket. Skip the patches, straw, and rosy-red cheeks; instead, stuff a bandana hanging out of a pocket somewhere.
If your little garden helper already has their very own gardening gloves, this makes another nice touch.
Got a kid-sized riding tractor? This is the perfect finishing accessory!
Speaking of which – if this gets you thinking ahead to Christmas, ✅these are my girls' Farmer Wish List picks to finish the look:
Cowboy costume variation:
Make sure you've got a brimmed cowboy hat. Skip the patches, and tie the bandana loosely around your cowboy's neck instead.
Swap the gardening tools for an old-fashioned stick horse, so your little cowgirl or cowboy can ride off into the sunset.
Want more step-by-step tutorials for fun and frugal Halloween costumes? Love getting the latest parenting tips and tricks delivered right to your inbox?
Then you should be on our mailing list, so you don't miss out on another time-money-sanity-saving hack!
✅

Click here

to get signed up!
How about you? Are your little ones super "helpers" out in the yard? Do they like digging in the dirt? Or are they more the type to gallop off into the sunset? Either way, this costume idea has you covered.
And if your kiddo's already into one of these types of pretend play, you
probably already have what you need to pull together this look in no time flat! If not, the finishing touches could well be as close as your nearest thrift store, kids' resale boutique, or children's consignment event. Happy DIY-costuming!
If you enjoyed this tutorial on how to make a scarecrow costume, why not share it with others by pinning this image?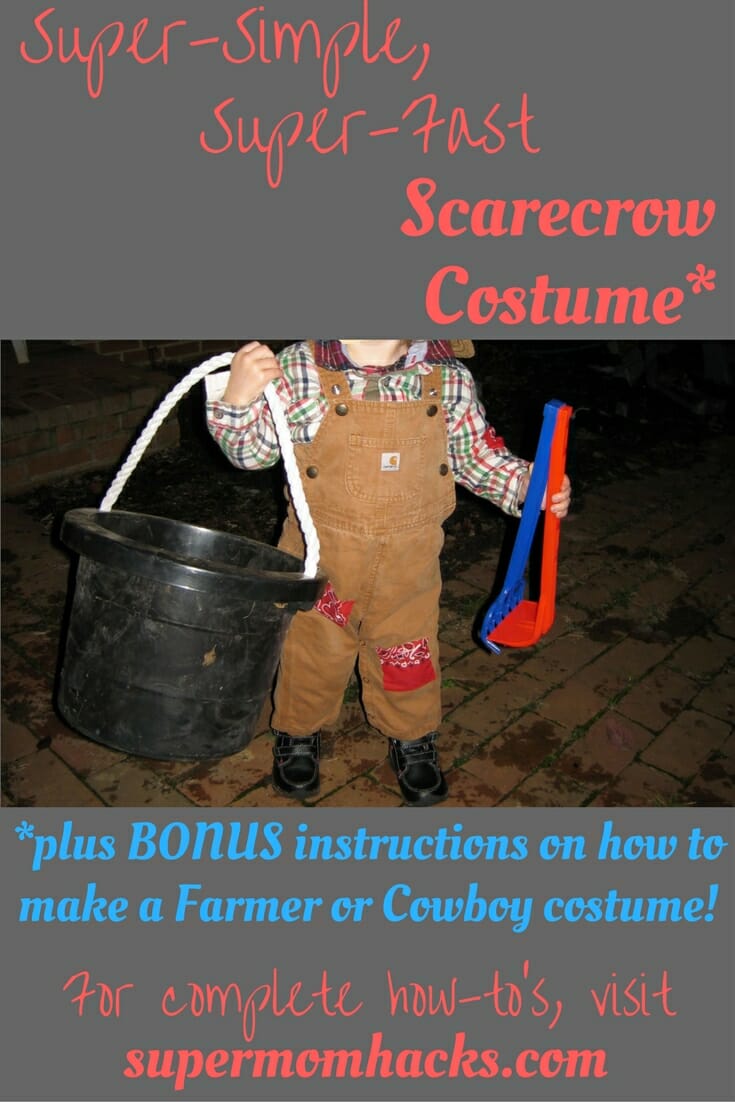 NOTE: This site contains affiliate links. I may earn a small commission from any purchases made through affiliate links, at no additional cost to you. For more information, please read the full disclosure/privacy policy.