OK – I can hear some of you groaning from here: "Roasted eggplant? You've got to be kidding me – my kid won't eat that!"
So don't call it "roasted eggplant." Call it roasted dinosaur eggs, or roasted purple plant, or whatever it takes to get you and yours to give this dish a try.

Then you'll know why both my kiddos give this roasted eggplant recipe two thumbs up.
Especially in the middle of winter, there's nothing that says home cooking and comfort food like roasted vegetables. But the fact that most roasted veggies take hours to get that way means they are not part of my cooking repertoire.
But this recipe for roasted eggplant, inspired by an invention of my mother's, takes less than a half-hour from start to finish – and most of that is cooking time. And it's so simple, it's practically foolproof.
And if you're not a fan of roasted veggies because you find them too leathery or dried out, rest assured – this one is still moist and delicious when it's done.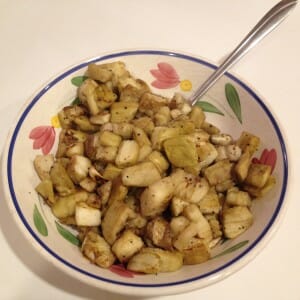 Four-Thumbs-Up Roasted Eggplant
Servings vary; 5-10 min prep time; 20 min cook time; 25-30 min total time
The basic idea:
One large or two medium eggplant (really, use as much as you like)
Italian salad dressing
Large mixing bowl
Large baking sheet (note: a jelly roll pan works best, but any sheet with edges will do)
Cooking parchment, aluminum foil, silicone liners, or nonstick cooking spray (to line the baking sheet)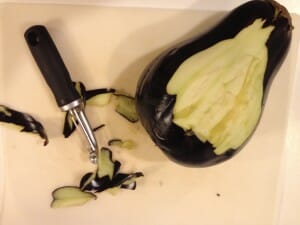 Preheat oven to 400 degrees F. Peel eggplant; cut into bite-sized cubes (roughly 1 inch). Put cubed eggplant into mixing bowl. Drizzle with dressing; try approx. 2T to 1/4 c., depending on how much cubed eggplant you have, and add more as needed. Toss eggplant to coat evenly with dressing.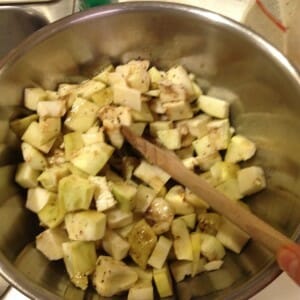 Line baking sheet with parchment/foil/liner, or spray with nonstick cooking spray. Spread coated eggplant evenly in a single layer on baking sheet.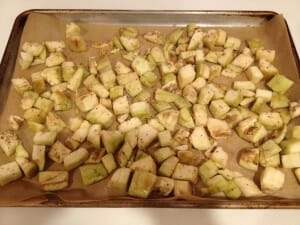 Bake at 400 degrees F for 10 min. Stir gently and rearrange into a single layer on baking sheet. Bake another 10 min. Serve hot.
Mix it up:
Instead of Italian dressing, mix and match from the list below:
Olive oil (drizzled on, or misted if you have an oil mister) and Italian seasoning
Nonstick cooking spray and salt/pepper or garlic salt
Your favorite cooking oil and fresh herbs, finely chopped
Your favorite oil-based salad dressing
Olive oil and dry salad dressing mix (e.g., powdered Italian dressing seasoning)
Olive oil and dry soup mix (e.g. lemon-herb)

NOTE: This post contains affiliate links. If you like what you've read here, please consider clicking on the links. All purchases made through affiliate links help to offset the costs of running this website. Thanks in advance for your support!