In an earlier post, I offered four tips on how to pack for traveling with kids, so you can learn from my mistakes and avoid some of the trial-and-error I've gone through in trying to streamline family travel. This post will focus on some of the hacks on what to pack that I've figured out over time. If this is your first trip traveling with little ones, consider including these items from my must-have travel list as you pack your bags:
Two Nightlights, an Outlet Adapter, and a Noise Machine

How does your little one sleep at home? Many kids have nightlights
in their rooms at home, so don't forget to bring a few with you when you travel. Besides putting one in or near the girls' sleeping space, I like to make sure there's one in the bathroom, so they can find their way there by themselves in the middle of the night.

I've also learned the hard way that it's wise to tuck in one of those multi-outlet adapters
, the kind that converts a single outlet into three places to plug things in, since our hosts never seem to have enough free outlets that aren't connected to the light switch for us to plug in both a nightlight and a noise machine
.
If your kiddo doesn't use a white-noise machine at home, it's worth considering whether something along these lines could be a good investment. At home, we often use them in the girls' rooms to drown out the sound of child A crying/singing/chattering to herself when child B is trying to sleep on the other side of the wall. On the road, we've found they are great both for providing a familiar drone when away from familiar surroundings, and for drowning out the noises that go along with sleeping in a strange place.
A Collapsible Diaper Caddy and Crossbody Diaper Pouch

We don't use a diaper caddy
at home, but I always travel with the Munchkin one I registered for
, back in the day. It's big enough to contain all the diaper gear in one place – diapers, a travel pack of wipes, a waterproof pad for changing on, diaper cream, and (if, like Essie, your little one is prone to various skin rashes) tubes of all your kiddo's prescription-strength creams.

While a caddy like this will serve you well at your destination, I also keep a very streamlined diaper bag – a diaper pouch
, really – accessible in my car and handy in my carryon for air travel. A few disposable diapers, a small container of sanitizer, a little tube of diaper cream, a few plastic bags for dirties, a sample-size pack of wipes, and perhaps also a disposable changing pad are all you need.

Having a strap long enough to wear it crossbody is, in my mind key; chances are good your hands will be full enough of squirmy kids and other gear at the moment you're ready to use it.  Granted, mine (a freebie from a baby registry) didn't come with a crossbody strap. Since I had a spare clip-on strap lying around the house, I used some scraps of fabric to sew looped tabs on the top corners, then put an extra keychain ring through one loop and a small carabiner clip through the other.  That way, I can either use the carabiner to clip the bag onto something else (purse, carry-on, stroller, etc.), or attach the strap to the carabiner and keychain ring to wear the pouch crossbody-style.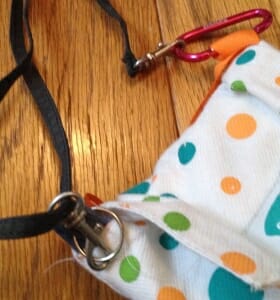 (A final note on diapers: Unless you know you're going somewhere that's literally hours from the nearest store, I urge you to consider bringing no more than 2-3 days' worth of diapers and wipes with you, and buying the rest at your destination. This rule may seem like a no-brainer, but not following it is a space-wasting trap I've fallen into more than once.)
A Couple of Diaper Covers
Unless you cloth-diaper at home, as we do, you probably don't use diaper covers
on a regular basis. I urge you to consider trying them, even if you only use them for travel. I've tried several different brands over the course of cloth-diapering our two girls; if covers are something you'll be using every day with cloth diapers or inserts, it pays to do your research to see which covers will stand up to thousands of uses and hundreds of washings.  But if covers are something you'll just use for travel, there are plenty of reasonably-priced options
out there.  No matter what brand you choose, just be sure to follow the directions when periodically laundering them. In particular, try not to put them in the dryer – even if they say they're dryer-safe – as line-drying will help to prolong their life.
Travel is full of the unexpected, and that includes unexpectedly long stretches between opportunities for a diaper change. Having a diaper cover can mean the difference between a blowout contained and a kiddo who has to travel the second half of the trip in soaked-through bottoms, or a carseat cover steeped in poop. (Been there, done that on both counts; not pleasant for anyone in the car or at your destination.) These are not your momma's diaper covers, by the way. Modern covers are made of soft PUL fabric, which line-dries overnight. One to wear plus a spare can save you lots of mess and dirty laundry over the course of a trip.
Did you ever make a special "Road Trip" mix when you were younger, or set aside a stack of trashy novels for a summer beach vacation? Acquire some special travel diversions for your kids, and even a long trip will go more smoothly.
There are, of course, lots of 21st-century options for keeping your kiddos entertained on long journeys, including in-car videos and endless games on your smartphone or tablet. But if you've got more than one kid who's old enough to care, you will of course need one device per child, lest they fight over whose turn it is. For those of you who, like us, prefer a more low-tech approach, consider having a special collection of "adventure" toys.
For an infant under one, this could be a special bag of favorite teethers
and other items that you only break out for time in the car, or trips to Grandma's, or whatever. For slightly older kids, toys that are compact but absorbing are key (and if it's something they're likely to fight over, then again, consider getting more than one). Among the favorites currently in our car's backseat for our two- and four-year-old: two pocket-sized Etch-a-Sketches
, two travel-sized Fisher-Price doodle board
, two Jacob's Ladders
(that centuries-old pocket-sized thingie made out of wooden blocks interwoven with colored ribbons), and some Wikki Stix
. For older kids who could afford a chance to unplug, try some old-fashioned card games
or puzzle books
.
A One-Volume Multi-Bedtime Story

If your kids are still of "bedtime story" age, consider getting a special "travel" hardcover that contains many nights' worth of bedtime tales, and saving it for those occasions when you're away from home. For the littlest travelers, a volume of nursery rhymes or first prayers works well. Slightly older kids might enjoy a collection such as The Complete Beatrix Potter
or one of the Little Golden Book Treasuries
(the one my girls love best is Farm Tales
). Kids (and adults) of all ages will enjoy one of Shel Silverstein's poetry classics; Where the Sidewalk Ends
is our family's favorite, but A Light in the Attic
is a close second.
I welcome your favorite must-have suggestions for traveling with kids in the comments section. Daunting though it may seem at first, it does get easier with practice, and starting your kids early will make them travel pros in no time.